Select an edition to view:


Weather Routing Launches New Special Severe Weather Alerts
By: Brian Whitley, Assistant Operations Manager
You are probably already aware that WRI offers several different alerts that can be sent to our clients, including tropical summaries/alerts, alerts for NOAA issued warnings, heavy weather events in the Mediterranean such as Mistrals, and tsunami bulletins.
There are occasions where relatively widespread severe weather is expected to take place ahead of time that is not covered by these alerts. WRI has now developed a system to help warn our clients ahead of time that there is a good potential for concerning weather in their last known location. These situations can include:
Large squall complexes moving off coastlines
Vigorous frontal passages
Out of season intense gales/storms
This new system is not intended for smaller, more localized events that can still create vigorous and sometimes damaging weather on their own. This is more for larger events that can affect many vessels simultaneously. Our goal is to advise 24 hours or so ahead of time so that our clients are aware of the threat and can act accordingly to protect lives and property.
Of course, if you were to receive one of these alerts and needed more information regarding specifics of the threat and the best course of action to take, WRI is available 24/7 to answer your call or email.

Unusual Cabo Verde Tropical Season 2018
By: DJ McGuinnes, Meteorologist
Cape Verde (Cabo Verde) is a region off of Western Africa located in the tropic region of the Atlantic. This region is the birthplace of many Atlantic tropical cyclones which often produces some of the biggest storms of the Atlantic Tropic Season.
In fact, 85% of major Atlantic hurricanes (category 3 or higher) originate from Africa
.
Cape Verde storms usually start off as a
tropical wave
or
disturbance
moving westward over Africa and passing over the Cape Verde Islands. These storms often grow very large due to having abundant warm open waters to feed off of before reaching land. Once one of these systems has continued westward, gaining momentum and strength, it can take on several different scenarios before weakening from land interaction or other environmental factors. The system can continue on a westward track towards the Lesser Antilles and into the Caribbean (which we have seen with Hurricane Beryl earlier this season).
These systems can also shift more north affecting areas in between the Lesser Antilles and the U.S. East coast. In some cases, these storms can make it to the Gulf of Mexico similar to
Hurricane Harvey
in 2017. If these systems shift north early enough, they will likely reach the belt of westerly winds in the mid-latitudes and track northeastward without ever reaching land.
This year's Cape Verde tropical season has been unusually quiet through the past few months as we reach the peak of the Atlantic tropic season. Up until September this year we had only seen two of these hurricanes (Hurricane Beryl and Hurricane Florence). By that time last year, we would have already witnessed hurricane Harvey, Irma, and Jose (all major hurricanes). In May 2018, NOAA's seasonal outlook predicted a near to above average season for 2018. Later in August, NOAA revised their prediction, calling for a near to below average season for the remainder of the 2018 Atlantic tropic season.
There are a few contributing factors we had observed leading to this particularly quiet season up until September:
Dust:

Dust storms off Western Africa suppress development due to the very dry Saharan air mass associated with the dust.

Wind Shear:

Vertical wind shear prevents tropical disturbances from organizing and becoming tropical cyclones.Strengthening ridges which only interacted with gales to further enhance SW'lys.

Cooler Waters:

Warm waters are what give tropical cyclones the fuel they need to strengthen and grow into hurricanes. Colder waters act to suppress rapid growth of tropical disturbances.

El Nino:

El Nino is linked to increasing amounts of vertical wind shear across the Atlantic.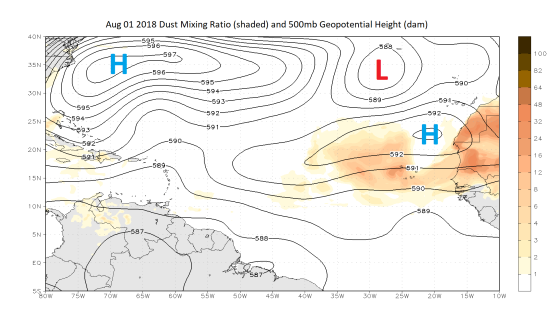 Reanalysis of the GEOS-5 AGCM model at 0.25 degree resolution. Notice the large dust concentrations over Cape Verde.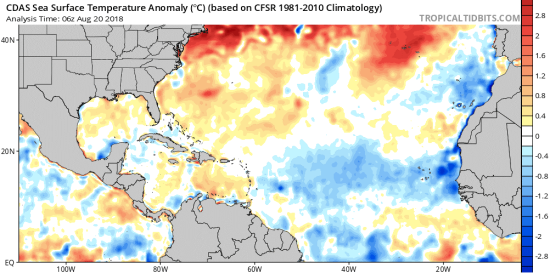 Courtesy of TropicalTidbits.com. Notice the anomalously colder waters across Cape Verde.
The tropics have become more active early this September over the Cape Verde region as we can see with Hurricanes Florence, Helene, and Isaac. As we are now at the peak of the season, we are seeing conditions becoming more favorable, with the Saharan dust subsiding and reduced wind shear (normally seen around mid-August). The Atlantic tropic season is usually the most active, with the majority of major hurricanes occurring between late August and late September. With all this activity recently, we may now be looking at a near to above average hurricane season, contrary to what was predicted in Augusts.
As we are now in the peak of the season with another 2 months left of the Atlantic tropic season, more storms and/or hurricanes are likely to form. WRI's team of meteorologists are constantly monitoring the tropics. In the case where a potential system may develop, WRI creates alerts and tropical summaries that are sent to vessels and can be viewed online to keep clients well advised of any potential threats. Let us know if you are interested in more about how we can assist.

Weather Routing Exhibiting at the US Sailboat Show
By: Alex Avalos, Meteorologist
If you plan on attending the US Sailboat Show in Annapolis this October 04-08, 2018, please stop by the Weather Routing booth. We are located at Tent K, Booth 14 and Operations Manager Jeremy Davis and I will be staffing the booth.
We have updates to our customized routing and forecasting services and SeaWeather.net supplemental website. We will also be highlighting our upcoming SeaWeather Onboard service, which allows you to view products found on
SeaWeather
with limited to no internet access required. In addition, we will have several WRI branded giveaways available, and will be more than happy to discuss our services with you.
We always enjoy meeting our present and future clients and hope you can stop by our location. If you plan on visiting, please let us know by e-mail at
wri@wriwx.com
and we can arrange complimentary tickets for you. We look forward to seeing you all at the show, and our attendance at Annapolis this year.

Upcoming Events

•

10/03/2018-10/09/2018 - United States Sailboat Show (Annapolis, MD)

•

10/30/2018-11/02/2018 - Ft. Lauderdale International BS (Ft. Lauderdale, FL)

•

04/03/2019-04/08/2019 - Pacific Sail & Power Boat Show (Richmond, CA)