Select an edition to view:

Weather & Fleet Managing at your Fingertips!
By: Mark Neiswender, Director of Yacht Operations
We are pleased to announce the release of SeaWeather's online management tools for land based administrators.
SeaWeather Dashboard
is now available in the top tool bar providing sleek and modern user-friendly options to manage weather and safety for your fleet.
Here are just some of the items that SeaWeather Dashboard includes:
Weather and Safety

A snapshot of upcoming weather conditions and hazards in the next 5 to 10 days for active vessels in the fleet.




Seaweather Dashboard - Weather & Safety.



Fleet Status

Monitor vessel activity with WRI through latest positions, itineraries, and edit or request new voyages for WRI assistance.



Reports

Access to all message traffic between WRI and yacht captains viewing forecasts, summaries, and reports.



Global display of updated AIS ship positions and their tracks on worldwide weather charts.


We encourage all the fleet management companies to take part in a complimentary trial of SeaWeather Dashboard at
seaweather.net
. If you are interested in a Fleet Management subscription, then let us know, and we will get the account up and running.
With SeaWeather and any other products/services provided by WRI, you can be rest assured that you will always be "in the know" on the latest weather concerns for your fleet; allowing for managing assistance while coordinating your vessels.
Another "Swell" New SeaWeather Addition!
By: Chris Iraggi, Meteorologist
You've provided your feedback, and we've delivered with this new addition to our SeaWeather website. You are now able to overlay both wave periods and wave directions on the same map, rather than having to select each product separately. This allows you to:
Determine the height at which seas are building
Find the direction at which seas are coming from
Visualize the period of the seas in seconds
To utilize this new feature, simply log into your SeaWeather.net account and open up the Forecast Parameters sidebar along the right side of the page. The "Wave Direction and Period" feature is located about halfway down the list.
You'll notice once clicked you'll be able to see a wide variety of colors which refer to sea heights. Now, once this feature is enabled, you'll also be able to see black arrows which refer to the wave directions, and black solid numerical values which refer to the period, in seconds. As normal, the user may toggle this feature on and off to view other products as well.
We hope you enjoy this new feature, and welcome any feedback one may have on this product or suggestions for new ones.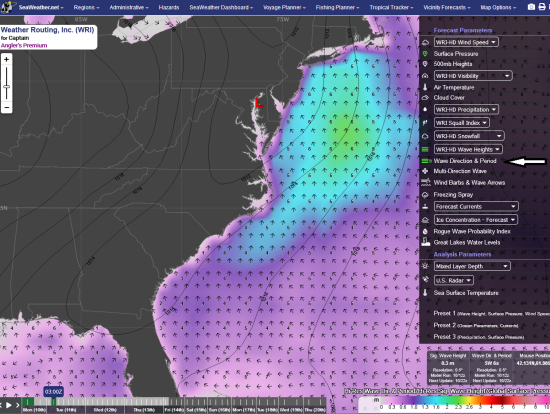 The figure above displays the new feature Wave Direction and Period on SeaWeather. Note wave heights in color, wave directions noted by black arrows, and wave periods by black numerical values.
Upcoming Events

•

06/15/2019-06/26/2019 - Sailing on Ice Bear (Nova Scotia - Newfoundland, CAN)

•

10/09/2019-10/15/2019 - United States Sailboat Show (Annapolis, MD)

•

10/21/2019-10/14/2019 - AWEA Offshore Conference (Boston, MA)