Select an edition to view:


WRI Partnership with IMSA and the ARMS Platform
By: David Cannon, Director of Operations
Safety of Captains, crew, and guests is paramount in importance at WRI. This dedication to safety is shared by our new partners at the
International Maritime Security Associates
(
IMSA
). IMSA has developed a software platform called ARMS (or
Automated Risk Management Solution
). Users of this software will have global access to navigational hazards, such as
port, canal, and waterway delays and closures
civil unrest that would affect ports, canals, marinas, and waterways
piracy and maritime security threats
Also included are updates on major worldwide disease outbreaks and health epidemics, and cyber security threats and issues. These update in real-time, and updates can be synched for multiple parties to view concurrently, such as owners, crew members, and management. Customized protocols can be created with vessel specific information to align with regulatory agencies, company protocols, and insurance requirements.
As part of our working relationship, we at WRI provide
special weather statements
to advise of impending weather dangers such as severe squalls and localized heavy weather events. As many of you know, these are already included on our
SeaWeather
website and are provided complimentary to recent users of our customized routing/forecast services. Now, each statement that is issued is automatically uploaded to the ARMS platform, to keep their clients in the know of upcoming weather concerns.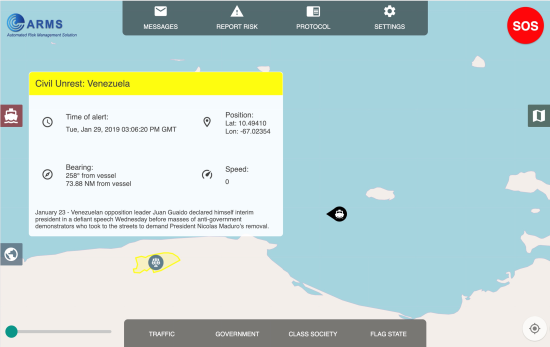 The ARMS platform includes navigational hazards, as well as WRI's special severe weather statements, to keep mariners in the know about upcoming dangers.

2019 Atlantic Hurricane Season in Review
By: Brian Whitley, Assistant Operations Manager
This past season was yet another season that was more active than normal, with 18 named systems, 6 hurricanes and 3 major hurricanes (a "normal" season has 12, 6 and 3 respectively). It is interesting to note that while the number of "named" storms was 50% greater than normal, the number of hurricanes and major hurricanes was normal.
Five Tropical cyclones developed in the Gulf of Mexico this year. This is tied for the most ever in the Gulf of Mexico with 2003 and 1957. Of those 5, Barry, Imelda and Nestor all made landfall in the US.
Of course, the system that will be most remembered for this season will be
Major Hurricane Dorian
.
The deadliest/costliest system to impact the Atlantic basin this year.
Tied for second strongest system in terms of maximum sustained wind speed (185mph) to occur in the Atlantic. (1935 Labor Day Hurricane, 1988 Hurricane Gilbert, & 2005 Hurricane Wilma)
The strongest storm to ever make landfall in the Bahamas.
Simply looking at the numbers of these different systems doesn't tell the full story of the intensity of a particular season's activity. Another way to look at a season is to look at the
ACE
value, or Accumulated Cyclone Energy. This is a formula that considers the strength of each individual system and is calculated every 6 hours and totaled for the lifetime of each individual system. The numbers for each system are added together to give an ACE total for a season. The ACE for 2019 was 130.425. Anything above 111 is considered to be above normal, which is an ACE value of 93.2. Hurricane Dorian alone was responsible for 47.8 of that total, which is the 14
th
greatest ACE for an individual system in the North Atlantic.
The Eye of Hurricane Dorian over Grand Bahama Island August 02nd 2019. Image taken by Astronaut Nick Hague from aboard the International Space Station.
Upcoming Events

•

02/13/2020 - 02/17/2020 - Miami International Boat Show (Miami, FL)

•

03/28/2020 - 03/29/2020 - Ocean Sailing Seminar (Annapolis, MD)

•

04/16/2020 - 04/19/2020 - Pacific Sail & Powerboat Show (Richmond, CA)