Select an edition to view:


Atlantic Hurricane Season Outlook 2020
By: Alex Avalos, Meteorologist
With the start of the Atlantic Hurricane Season less than one month away, many are likely wondering what is in store for this year?
As you may know, hurricane season officially begins in the Atlantic Basin on June 01
st
, peaking around September 10
th
, before ending on November 30
th
. On average, the Atlantic experiences 11 named tropical systems, 6 hurricanes, with 2 major hurricanes of Category 3 strength or higher.
For tropical development to occur, it is important to understand some of the atmospheric and oceanic parameters which must first come together:
Warm sea-surface temperatures of at least 26.5C (80F)


Light winds aloft


An atmosphere rich in moisture
The El Niño Southern Oscillation, also known as ENSO, is a primary driver of climate across our world's oceans, and especially ocean temperatures in the E'rn Pacific. ENSO also plays a significant role in tropical development across the Atlantic Basin. When ENSO yields a warming phase in E'rn Pacific sea-surface temperatures, El Niño develops, while a cooling phase will result in a developing La Niña. The effects of ENSO on the Atlantic Tropical Season are shown in the below table:
| | | |
| --- | --- | --- |
| | El Niño | La Niña |
| Trade Winds | Stronger than average | Weaker than average |
| Sea Surface Temperatures | Cooler than average | Warmer than average |
| Squalls | Less frequent | More widespread |
| Tropical Cyclone Development Frequency | Below normal | Above normal |
Looking ahead, we expect that ENSO will remain neutral into the Summer and Autumn months. A weak La Niña is more likely to develop closer to the peak of Hurricane Season. Sea surface temperatures are currently averaging between 1-2 degrees Celsius above average across the W'rn Tropical Atlantic through much of the Gulf of Mexico, coupled with weaker winds aloft. If a more notable La Niña develops, then expect an increase of tropical activity in the Atlantic basin.
For these reasons, WRI predicts an above average season in the Atlantic Basin, with 16-19 named tropical systems.
At WRI, we offer a number of ways to keep you informed of potential tropical development around the world, from Tropical Tracker on our SeaWeather website, to emailed tropical summaries and alerts for vessels in affected regions. We also create our own in-house tropical lows, often before official agencies, allowing for advanced notice of hazardous tropical concerns. You can also receive the most up to date information by consulting one of our Meteorologists and actively obtaining forecasts. SeaWeather subscribers at basic and higher levels each have access to the Tropical Tracker and tropical summaries.
Be sure to join us on June 04
th
for our Tropical Webinar, where our own Meteorologist Jeremy Davis will discuss the 2019 Atlantic Hurricane season. With the development of Tropical Storm Arthur, the 2020 season is already underway, and we will also discuss the numerous tools we offer to keep you aware and safe during the upcoming season.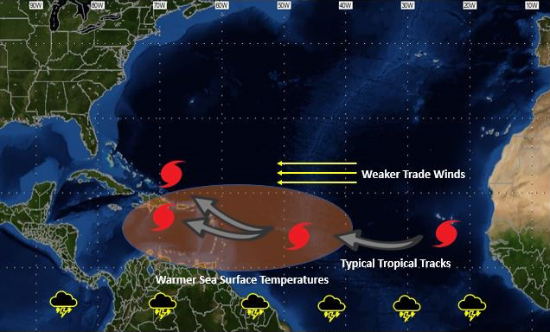 Typical tropical setup and features during a La Niña year in the Atlantic Basin.

SeaWeather OnBoard - How to Access, View, and Change Data
By: Brian Whitley, Assistant Operations Manager
Did you know that SeaWeather OnBoard has all the tools of SeaWeather Online, but you don't need a constant internet connection? Simply download the data packet emailed to you on a schedule that you have set. Once it is downloaded, you can utilize that data offline!
As with SeaWeather Online, OnBoard features multiple sets of data sources for many different forecast parameters. To reduce the size of the data packet, the data defaults to WRI's high resolution computer model data for the short term, then switches to the GFS in the long range.
Also similar to SeaWeather Online is the ability to customize how you view your data in OnBoard. Using the menu bar along the right side of the page of OnBoard, one can:
View and adjust various weather parameters as colors, lines, or vectors


See land, buoy, and ship observations


Plot various tropical forecast parameters


Load navigation concerns and geographical features


Adjust the 4 available "Pre-Sets" for your viewing preferences
There are also several helpful features that can be found under the "Map Options" dropdown near the top left of the program.
Please see the demo video for additional instructions.
Be sure to join us on June 04
th
for our Tropical Webinar, where our own Meteorologist Jeremy Davis will briefly recap the 2019 Atlantic Hurricane season. The 2020 season is already underway with the development of Tropical Storm Arthur, and Jeremy will also discuss this year's outlook, along with the numerous tools we offer to keep you aware and safe during the upcoming season.
Upcoming Events

•

06/04/2020 - Webinar - 2020 Atlantic Tropical Outlook

•

08/18/2020 - 08/20/2020 - Virtual IPF Meeting

•

10/07/2020 - 10/13/2020 - US Sailboat Show (Annapolis, MD)

•

10/27/2020 - 11/02/2020 - Fort Lauderdale International Boat Show (Fort Lauderdale, FL)