Select an edition to view:


WRI's NEW Trans-Ocean and Sailing Yacht Packages
By: David Cannon, Director of Yacht Operations
Is a trans ocean crossing in your future travel plans? Looking for a memorable experience on your sailing vessel? Are you looking for the sound, quality service that you have come to know from WRI but perhaps something more cost effective? If so, then WRI has an offer for you.
We are pleased to announce special packages for vessels embarking on trans-ocean crossings
, with discounts based on a tier level structure, relative to your forecast requirements. This is good toward our customized services, including:
Personalized route/forecast information
Wind and Sea Forecast Maps
Meteograms
Weather Window Analyses
For those on sailing yachts, we also offer tiered level discount packages
, which include forecasts out to 3 days, in either a verbal or hard copy format.
Of course, we also offer our
SeaWeather.net
weather information service as a supplement to our customized services, with a myriad of real-time and forecast information right at your fingertips.
WRI is available 24 hours a day, 7 days a week to answer your questions and if you would like more information on our special discount packages. Call us today and see how we can assist for your upcoming transits!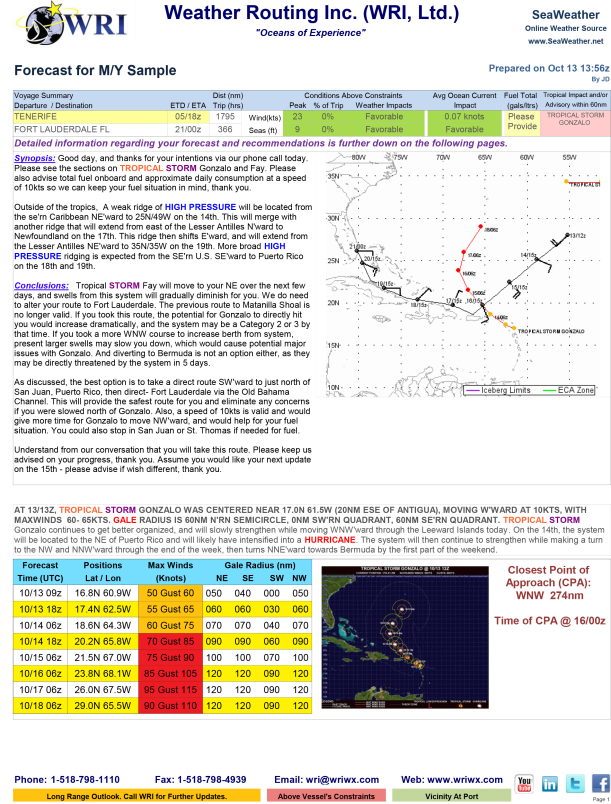 WRI's detailed, customized forecasts as depicted here are now offered at special discount packages, providing continued quality as a cost-effective solution to those interested (click to enlarge).

Weather Routing at the Pacific Sail and Power Boat Show
By: Jeremy Davis, Operations Manager
If you plan on attending the Pacific Sail and Power Boat Show in Richmond, CA from April 4-7, 2019, please stop by the Weather Routing booth. We are located at the Craneway Pavilion, Booth L16. Senior Meteorologist Amanda Delaney and myself will be staffing the booth. We will have several WRI branded giveaways available, and will be more than happy to discuss our forecasting services with you.
At the show, we will be demonstrating SeaWeather OnLine, including our upgraded Fishing Planner, as well as our SeaWeather OnBoard software packages. These are two interactive software packages that enable fast access/viewing of weather and marine data with optimum route calculations.
SeaWeather OnLine
is an internet-based program that allows the user to view the latest global and high-resolution weather and ocean data, along with charts for their upcoming itinerary in order to plan the most efficient and safest route.
SeaWeather OnBoard
is a similar program which is downloaded to your desktop and does not require continuous internet connection.
We always enjoy meeting our present and future clients and hope you can stop by our location. If you plan on visiting, we offer this special code for $2 admission if you purchase online by March 30. Use the code WEATHEPBS19 at check out when buying tickets from the following link:
https://secure.interactiveticketing.com/1.26/8dd66f/#/select
Upcoming Events

•

04/03/2019-04/08/2019 - Pacific Sail & Power Boat Show (Richmond, CA)

•

05/13/2019-05/17/2019 - Saratoga Sailing School (Saratoga Lake, NY)

•

06/15/2019-06/26/2019 - Sailing on Ice Bear (Nova Scotia - Newfoundland, CAN)

•

09/23/2019-09/30/2019 - Monaco Boat Show (Monaco)

•

10/09/2019-10/15/2019 - United States Sailboat Show (Annapolis, MD)