Select an edition to view:


WRI Exhibits for a Second Year at the Pacific Sail and Power Boat Show
By: Amanda Delaney, Senior Meteorologist
For WRI's second year, Operations Manager, Jeremy Davis and I were in attendance to the Pacific Sail and Power Boat Show held in early April.
Some highlights of the show were:
We were invited and spoke briefly at John and Amanda Neal's Mahina.com seminars on offshore sailing. We would like to extend a warm thank you to John and Amanda Neal for giving us the opportunity to speak at the Mahina.com seminars.
Captain Dana Smith of S/V Sweet Seas, Captain Roy Rard of M/Y Daedalus and Captain Chris Curtis of M/V Bohemian stopped by our booth and we posted their testimonies on social media.
At the the Sail America's "State of the Industry" breakfast we learned how much the sailing industry took a loss after the damage inflicted from Hurricanes Irma and Maria over the Northeastern Caribbean Sea in 2017. However, with rebuilding in place and a good economy, the economic trends appear more positive for the coming year.
Several rally and regatta organizers met up with us to solidify our partnership with their upcoming events.
A few sailors mentioned they had seen Jeremy Davis' video weather presentation at the San Jose Sailing Club and wanted to learn more about our company.
The Pacific Sail and Power Boat Show provided us with the opportunity to meet with many of our previous contacts in person. This event also gave us the chance to meet and explain to sailors/cruisers, especially those who are new to offshore sailing on how they can utilize our services prior to departing and while underway. We look forward to meeting more of our clients when we attend the upcoming U.S. Sailboat Show in Annapolis and Fort Lauderdale International Boat Show later this year.
Operations Manager Jeremy Davis and Senior Meteorologist Amanda Delaney at the WRI booth during the Pacific Sail and Power Boat Show.

The 2019 Atlantic Tropical Outlook
By: Brian Whitley, Senior Meteorologist/Asst. Operations Manager
May is here and a lot of our clients are on the move, heading to more moderate climates such as the Mediterranean or New England and leaving the tropics behind. Of course, everyone wants to know what is going to happen this season as far as hurricanes are concerned.
Trying to forecast tropical activity for a season in May can be a challenge, but meteorologists can look at a number of climate-related tools to see how what is happening now could affect the tropics in the months ahead. Among them are the status of
El Niño/La Niña, sea surface temperatures, and anticipated wind shear
within the atmosphere.
El Niño (or La Niña) can have significant effects of the wind shear in the atmosphere downstream from the East Pacific across the Caribbean Sea to the Tropical Atlantic. There is a weak El Niño ongoing now, and most signs point to this continuing through the summer and likely into the fall as well. This would result in stronger W'ly winds aloft in the Tropical Atlantic, and that increases shear in the atmosphere, which in turn can make it more difficult for systems to develop.
The sea surface temperatures now are near to slightly below normal from the Gulf of Mexico to/through the Caribbean and across the Tropical Atlantic. However, waters in the sub-tropical Atlantic are averaging somewhat warmer than normal currently.
In an average year, the Atlantic produces 12 named systems and 6.4 hurricanes. Given the expectation of a continued El Niño and slightly below normal water temperatures,
WRI expects a season near normal to slightly below normal, with 10-12 named storms and 5-6 hurricanes
.
What will be interesting to see is if there are more systems that develop outside of the "normal" areas. El Niño would have less of an effect in the sub-tropical Atlantic, where seas are slightly warmer than normal now. Already, we have seen the development of Sub Tropical Storm Andrea, between the Bahamas and Bermuda. Could there be further increased chances for development north of the Bahamas and near and east of Bermuda this year? Time will tell…
Of course, it only takes a single system to wreak havoc, no matter how many may form in a season. WRI can keep you informed of any threats and get you out of harms way if you do find yourself in the path of a storm.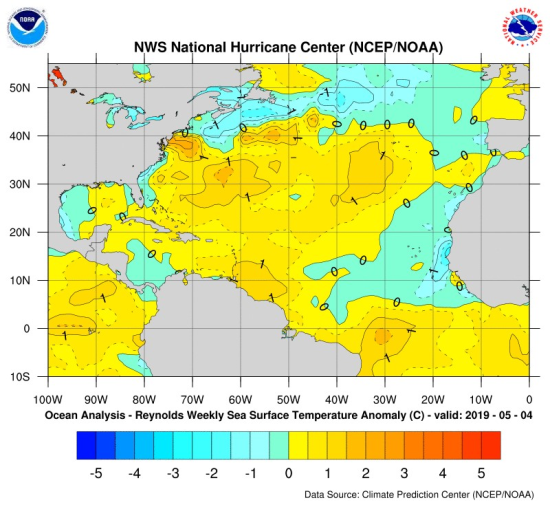 Sea surface temperature anomalies across the Atlantic. Note how the Gulf of Mexico, Caribbean and points east are near to slightly cooler than normal on average. But north of the Caribbean across much of the Central and W'rn Atlantic temperature anomalies are slightly above normal.

WRI's Yacht/Fishing Introduction Video
By: David Cannon, Director of Yacht Operations
I am pleased to announce that we have recently created an introductory video, which can be found on WRI's upgraded website at
www.wriwx.com
, and by hovering over the "About WRI" section on the top toolbar. This short video gives an overview on WRI's yacht/fishing division, including information on our customized routing and forecast services, as well as our
seaweather.net
supplemental online service, with details on features, including the site's interactive
Voyage Planner
and
Fishing Planner
pages.
I encourage everyone to check out these videos to learn more about our services, those that you might already be familiar with, and those which you would like to learn more about. And as always feel free to tell a friend! We certainly welcome those who would like to learn more about WRI to visit our site and the video and are available anytime to assist.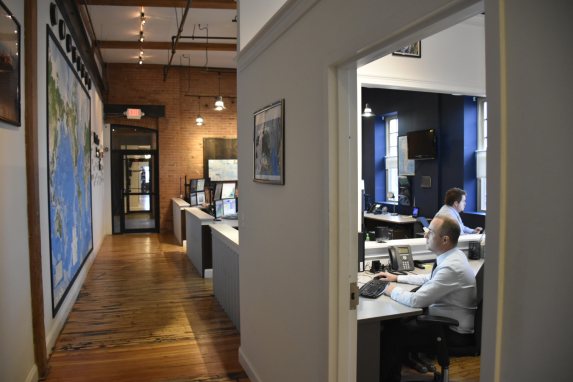 WRI's new video gives you all the "ins and outs" of its yacht/fishing division, with details on customized routing/forecast services, its SeaWeather online site, and services for racers and anglers
Upcoming Events

•

06/15/2019-06/26/2019 - Sailing on Ice Bear (Nova Scotia - Newfoundland, CAN)

•

10/09/2019-10/15/2019 - United States Sailboat Show (Annapolis, MD)

•

10/21/2019-10/14/2019 - AWEA Offshore Conference (Boston, MA)