Select an edition to view:


WRI at the Miami Boat Show
By: Brian Whitley, Assistant Operations Manager
WRI Meteorologists David Cannon and Brian Whitley will be taking their talents to South Beach!
If you will be there, please stop by to pay us a visit at the Weather Routing Booth. We will be located at
Tent C, Booth C633
. Yacht Operations Director David Cannon and Operations Manager Brian Whitley will be staffing the booth.
WRI continues to make upgrades to our customized weather routing and forecasting services. We have also made upgrades to our SeaWeather website, and we will also be showing off one of our newest products:
SeaWeather OnBoard
. This program allows you to access SeaWeather from any location with no need for a constant internet connection.
We will be happy to discuss our customized services with you, and also show you our latest upgrades to SeaWeather. We will also have several branded giveaway items at our booth.
We always enjoying meeting with current and future clients and we hope you can stop by. If you plan on visiting, please let us know by email at
wri@wriwx.com
and we can arrange complimentary tickets for you. We look forward to seeing you there!

Christmas Trades... The Gift That Nobody Asked For!
By: Chris Iraggi, Senior Meteorologist
Have you had a hard time getting from Point A to Point B this year because of strong winds and large seas? Do you remember last year as "easier" between Florida and the Caribbean? Well, you'd be right! But why the difference between this winter and last? Figures 1 and 2 below graphically show the differences, but let's dig deeper.
Throughout the winter season in 2019-20, stronger areas of high pressure have been making their way across the Central/Eastern U.S. and emerging into the W'rn Atlantic. With stronger high pressure systems comes stronger ridging, which has been extending from Southeastern Florida to the Eastern Caribbean. Not only has the ridging in place been much stronger this year compared to last, it hasn't been moving very fast at all being blocked by larger gales associated with the storm track along the Northern Atlantic. This leads to a more prolonged period of the more potent conditions in Northeast-Easterly trade wind surges well south of the high center.
With the higher conditions this year, it has been increasingly more difficult to find favorable weather windows for voyages in this area with delays of a week or more sometimes needed. That's where we come in as we know constant communication is key in these types of situations! We offer a number of services to assist with finding windows with just a couple of examples below:
Traditional forecasting based on your vessel's comfortability parameters and or time deadlines
Window planners to focus more on voyage planning
Online service at www.SeaWeather.net
Contact us today to learn more about our
special discount forecast packages
for those chartering or doing local cruising this winter. We also offer a new "Onboard" version of our
SeaWeather supplemental service
for those at sea and with limited bandwidth and those interested can reach us anytime for more information. We always look forward to assisting you!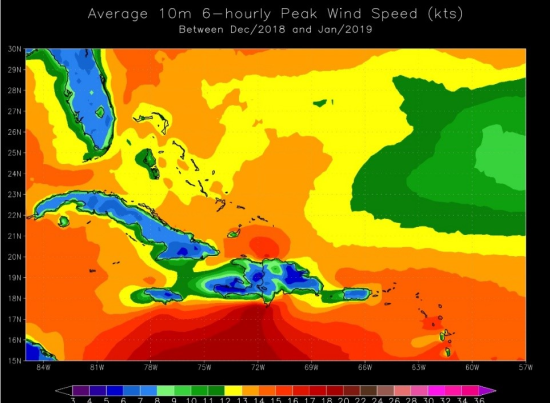 Above image illustrates average wind speeds (in knots) for December 2018 - January 2019.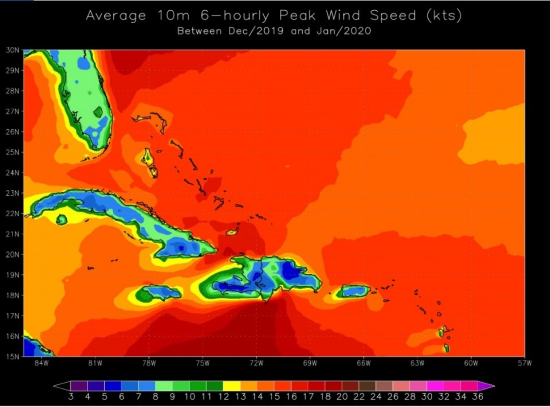 Above image Illustrates average wind speeds (in knots) for December 2019 - January in 2020.
Upcoming Events

•

02/13/2020 - 02/17/2020 - Miami International Boat Show (Miami, FL)

•

03/28/2020 - 03/29/2020 - Ocean Sailing Seminar (Annapolis, MD)

•

04/16/2020 - 04/19/2020 - Pacific Sail & Powerboat Show (Richmond, CA)
https://www.seaweather.net/adimg/m_7427.png
https://www.seaweather.net/adimg/m_5135.png