Select an edition to view:


Weather Routing Exhibits at the US Sailboat Show
By: Jeremy Davis, Operations Manager
Weather Routing was proud to exhibit again at this year's US Sailboat Show in Annapolis from October 4-8. Operations Manager Jeremy Davis and Meteorologist Alex Avalos attended, and enjoyed meeting many of our existing and potential new clients and displaying our new SeaWeather.net products. The weather worked out perfectly with a late shot of summer weather, with the first day of the show experiencing a heat index up to 93F.
Among many visitors to our booth were:
Captain Steve from the S/Y Alyosha, who WRI assisted through the Pacific and Indian Ocean this year
Captain Stewart from the S/Y Patronus who has utilized our services for transits to and from the Caribbean each year
We particularly enjoyed attending Andy Schell and Mia Karlsson's presentation on Arctic Sailing onboard their Swan 48 Isbjorn. This past summer, the Isbjorn sailed through Scandinavia, the UK, Svalbard, and Iceland, with Weather Routing provided forecasts for each leg. Experiences from their voyage included:
Sailing north of 80 degrees north
Photographing polar bears
•Experiencing snow in June
Andy and Mia also spent time at the WRI booth engaging visitors about our forecasts. You can learn more about their offshore passages at
59-north.com
.
Weather Routing will be exhibiting at the 2019 show and we hope to see you there!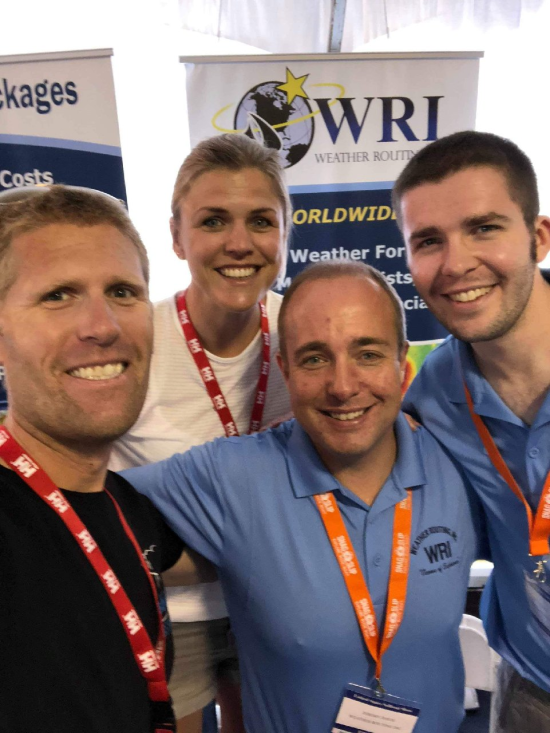 From left to right – Andy Schell, Mia Karlsson, Jeremy Davis, and Alex Avalos at the Weather Routing booth.

Hurricane Michael – A Historic Storm
By: Josh May, Meteorologist
Hurricane Michael
impacted the routes of many vessels transiting through the Gulf of Mexico as it made its way toward the Florida Panhandle in early October. Michael was unique in that it rapidly intensified during a month where the atmospheric environment across the Southern U.S. historically becomes more hostile and unfavorable for such development. We have summarized the timeline of key stages during the system's life cycle:
On October 2nd, a weak tropical disturbance began to originate across the Western Caribbean Sea. The disturbance slowly moved N'ward and developed into a tropical depression to the east of the Yucatan Peninsula late on the 06th.
Michael strengthened from depression to hurricane strength within 24 hours during October 07th-08th to the south of Yucatan Channel.
Michael rapidly intensified from an 80kt Category 1 hurricane to an 120kt Category 4 system in 24 hours over the Eastern Gulf of Mexico, from the early morning/09th through early morning/10th.
Michael made landfall at Crooked Island near Mexico Beach Florida on October 10th around 1:30PM EDT as a Category 4 hurricane with estimated winds of 135kts
Michael benefited from favorable atmospheric conditions and above normal sea surface temperatures
over the Eastern Gulf of Mexico as it tracked very close to the Gulf's Loop Current. In terms of wind speed, it was the strongest storm to strike the contiguous U.S since Andrew in 1992, the 4
th
strongest landfalling hurricane in the contiguous U.S. all-time, and the strongest to ever hit the Florida Panhandle, causing catastrophic damage. Michael entered Georgia as a Category 3 hurricane, becoming the first storm to impact the state as a major hurricane since 1898.
Meteorologists at
WRI
were working around the clock, closely monitoring the development of this system. Our team was happy to provide services for many clients interested in maintaining a safe berth from impacts associated with
Hurricane Michael
. Advisories for these tropical systems and forecast charts are available on our
Dolphin
website at
WRIDolphin.com
. As always, our team's expertise is available 24/7/365 by phone or email to ensure our client's safety.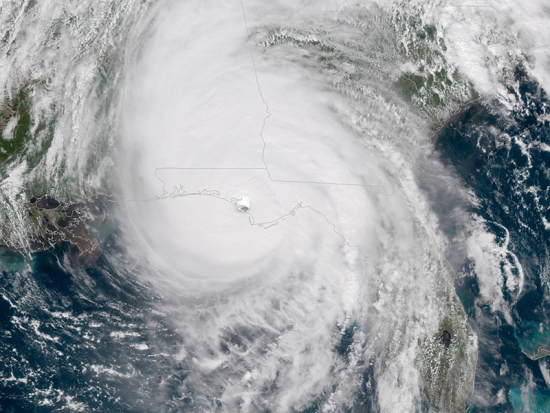 Hurricane Michael as it made landfall near Mexico Beach, FL. Image courtesy of NOAA GOES East Satellite.
Upcoming Events

•

04/03/2019-04/08/2019 - Pacific Sail & Power Boat Show (Richmond, CA)