Rowing From Spain to Mexico: One Incredible Adventure

By: Jeremy Davis, Operations Manager/Senior Meteorologist
---
On March 15, 2015, adventurer Abraham Levy became the first person to row across the Atlantic from Huelva, Spain to Cancun, Mexico, a distance of 9000km. The trip took 106 days, with brief stops in the Canary Islands, Antigua, and Jamaica. While others have rowed solo across the Atlantic before, all had stopped in the Eastern Caribbean, and none had made it as far west as Central America. This amazing accomplishment by Levy was completed on the Cascarita - a seven meter long rowboat outfitted with the latest technology, including a small cabin where he could seek shelter. Levy was able to share his experiences while underway using social media, allowing the whole world to monitor his trip on a daily basis.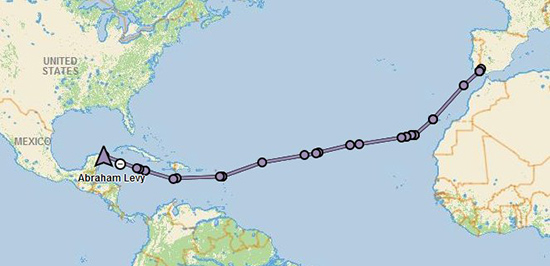 The 9000km journey of Abraham Levy began in Huelva, Spain on October 21, 2014 and ended 106 days later on March 15, 2015 in Cancun Mexico.


Previously, in 2008, Abraham Levy became the first person to kayak the entire coast of Mexico. After this experience, he sought out an even more difficult goal, of rowing from Spain to Mexico. Plans were made in 2013, with an additional goal of raising awareness of the threats posed to the Central American reef system. A test run of the Cascarita was performed in October of 2013 along the west coast of Mexico, where Weather Routing helped Levy steer clear of a tropical system. The vessel was then shipped to Spain, and after several days of delay due to adverse weather, Levy departed from Huelva on October 21, 2014.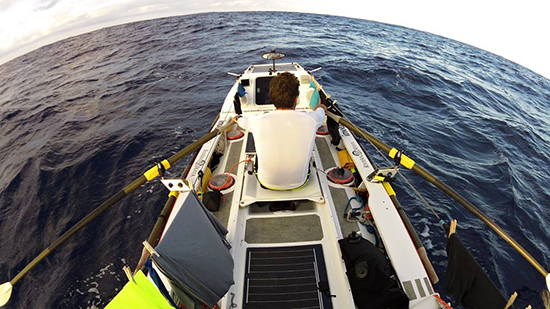 Here, Abraham Levy is shown rowing onboard the Cascarita on day 24, 1656km into his crossing of the Atlantic.


Weather Routing was proud to be the official weather provider for Abraham Levy, and provided him with frequent forecast updates and routing advice to maximize beneficial weather. While the journey was mostly hazardous weather free, an unavoidable large cut-off gale in the Eastern Atlantic in late December produced a giant swath of unfavorable conditions, and prevented Levy from making any forward progress for a week. While a power vessel would have been able to steer clear of the system, a slower moving rowboat could not. We kept Levy well informed of the heavy weather during this situation, and helped him avoid the worst of the storm. Once the gale moved away, Levy experienced following winds and swells to Antigua, and then onward to Cancun.

I recently spoke with Abraham Levy at the conclusion of his voyage to get his perspective on his achievement.

WRI: How does this accomplishment differ with your previous kayak off the coast of Mexico?

Levy: The goal of my kayak off the coast of Mexico was a dream I had my entire life to see the coast of my country. When kayaking along the coast, there are places to pull in. In the middle of the Atlantic, this is impossible.

WRI: What was the motivation to make this trip?

Levy: I used to sell telephones for a living, but this wasn't what I wanted to do. I wanted to know who I am, and to look in the mirror and be happy with what I was looking at. At least once in my life I wanted to use my passion to accomplish something amazing. The real challenge was how to make it happen. I loved being out there in the ocean, which is the only place in the planet where you can find peace. Out there, you can be yourself 100% without the need to put on pretenses. Also, while growing up, my grandfather used to tell me stories of explorers and expeditions, and this really resonated with me, and inspired me to make this journey.

WRI: What was the greatest challenge you faced while underway?

Levy: There was an unavoidable large storm in the Eastern Atlantic, where no real rescue was possible, and this was pretty scary for about 6 days. I flipped over once, and it was really scary. The other was during the first 20 days arriving in the Canary Islands where I experienced a very rough night with 30kts westerly winds and large waves from the north. I had made a mistake and arrived at the coast at night, which made the problem worse. I almost flipped over, but managed to stay upright and arrived the next day without incident.

WRI: How did you deal with heavy weather situations, and how did Weather Routing assist you?

Levy: In the big storm, I deployed the Sea Anchor which helped me to remain nearly stationary, and I stayed in my cabin with helmet on my head (in case the boat flipped), and I secured everything on the cockpit. All of the equipment and the boat handled the heavy weather ok, even with the vessel flipping over once.

Weather Routing was like having a family member onboard the boat, and knowing that you were there looking over me was a big relief. This expedition was 80% mental, and knowing that you were there to prepare me was invaluable. I could not have made this journey without you, and words can not express my appreciation for everything you did to keep me as safe as possible.

WRI: What did you learn the most about the ocean and yourself on this trip?

Levy: It is incredible what humans are able to accomplish when you put all of your soul into it…and it is amazing how strong nature is. I can only imagine what could happen if humanity put all of our efforts and knowledge to serve others instead of war, frivolous things, etc.

After I flipped over, I know that I could deal with those situations (although I wouldn't want to do it again).

I also believe that it should be obligatory for people to spend fifteen days completely alone in order to reflect on their lives and to see what they are capable of accomplishing.

WRI: Do you have any future plans for another row?

Levy: At the moment, there are no immediate plans, but after this experience, I would like to live on/near the ocean – it is an amazing place. I felt so free out in the middle of the ocean, and want to go back there as soon as possible.

Weather Routing was honored to have played a role in the success of Abraham Levy's accomplishment, and we wish him the very best for his future.
Weekend in Annapolis - WRI Visits the Ocean Sailing Seminar

By: David Cannon - Director of Yacht Operations/Meteorologist
---
Operations Manager/Senior Meteorologist Jeremy Davis and I had the sincere pleasure of visiting and speaking at the World Cruising Seminar in Annapolis, MD on the weekend of 21-22 March. This is a venture that we have taken part in yearly since 2011, as part of our ongoing working relationship with World Cruising Club. This organization coordinates sailing rallies around the world, including the Caribbean 1500 which runs from Virginia to Tortola, the Atlantic Rally for Cruisers (or ARC, which is a trans-Atlantic rally that runs from Gran Canaria and the Cape Verde Islands to Saint Lucia), and the World ARC, (which is a 26,000 trade wind circumnavigation with starts in St Lucia and in Australia).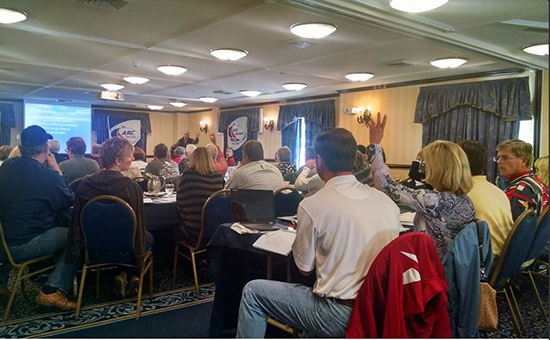 WRI's attendance at the 2015 Ocean Sailing Seminar in Annapolis, MD again proved to be an interesting and very worthwhile experience


Special emphasis for the seminar was on the Caribbean 1500 in November, though some of the delegates, about 60 in total, also expressed interest in participating in the ARC and World ARC rallies as well. Seminar topics covered all aspects, including weather and sailing tactics, dealing with emergencies, equipment, vessel preparation, and more.

Jeremy and I gave a talk on weather basics and routing, focusing both on the Caribbean 1500 and the ARC and World ARC events. This not only gave us the opportunity to share our expertise, but also meet face to face with many of those participating in these upcoming rallies, and field questions about weather and routing in general, while addressing all of the services we provide.

As in the past, this was a worthwhile and enjoyable experience, and we look forward to returning once again in 2016.
In this issue:
WRI Services:
Contact us for a Forecast!
wri@wriwx.com
+1-518-798-1110
Visit the new SeaWeather and request a trial!
Racing Forecasts for Racers
WRI Fishing Charts for Anglers!
Marina Forecasts
Heavy Weather Alerts
WRI Meteograms

Need a Forecast?
Contact our professional meteorologists
24 hours a day, 365 days a year at
(518) 798-1110
or wri@wriwx.com



---
Unsubscribe