Select an edition to view:


Update - New Immediate China ECA Measures
By: Mike Stockwell, Assistant Operations Manager
As of 1 January 2019, there are major changes to the requirements for vessels transiting in/near China. Vessels operating in
all

Chinese territorial waters
can no longer use bunkers with a sulfur content exceeding 0.5%, unless an approved exhaust gas cleaning system is installed. This includes the island of Hainan and parts of the Yangtze and Xi Jiang Rivers.
This is an expansion to the ECA zones outlined in our last article issued in November, when the 0.5% sulfur cap was in effect for the Yangtze River Delta (i.e. CJK Pilot region). Two additional regions were set to go into effect on 1 January (Pearl River Delta and Bohai Sea). However, the new announcement from Chinese authorities has expanded the ECA boundaries as per below.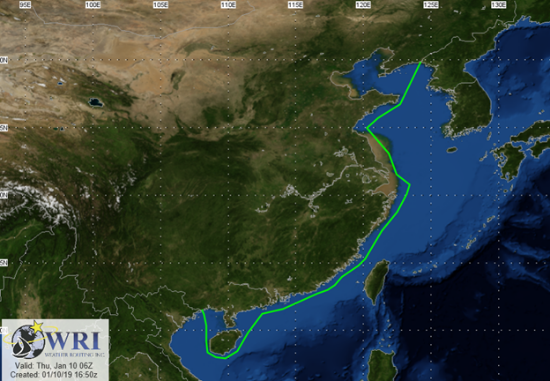 As of January 01st, 2019, vessels transiting within the boundary given by the green line are now required to burn fuel with sulfur content not exceeding 0.5%.
Here is a review of the timeline to date and future implementations for the regulations:
Since January 01st, 2018, vessels have been required to burn fuel with a sulfur content not exceeding 0.5% while berthed at all ports within the three China ECAs - Yangtze River Delta, Pearl River Delta, and Bohai Sea. Vessels were required to switch to compliant fuel within one hour of arriving at their berth and burn compliant fuel until not more than one hour prior to departure.
As of October 01st, 2018, it was mandatory for vessels to burn fuel with a sulfur content not exceeding 0.5% at all times while operating inside the Yangtze River Delta ECA. Any fuel change-over must be completed prior to the entry into or commenced after exit from the Yangtze River Delta ECA.
As of January 01st, 2019, vessel now must consume compliant fuel at all times inside all China territorial coastal areas and berths. This includes a specially designated area in the Hainan Island area and two inland river ECAs that include parts of the Yangtze and Xi Jiang Rivers.
From January 01st, 2020, vessels entering the two inland river ECAs must use low sulfur content not exceeding 0.1%.
From January 01st, 2022, vessels entering the Hainan ECA Zone will be required to use low sulfur content not exceeding 0.1%.
Chinese authorities will evaluate if the switch to 0.1% sulfur content will be implemented from January 01st, 2025.
The regulations for the China ECA Zone are different than the other world ECA Zones that are regulated by the IMO, where the required sulfur threshold in these areas is 0.1%. These 0.1% zones include the Baltic Sea, North Sea, U.S./Canada, and Puerto Rico areas. China will be implementing the 0.1% sulfur limit in increments beginning in 2020 as outlined above.
All these measures are coming into effect in advance of the global switchover to 0.5% sulfur fuel in 2020, as per IMO regulations. The bunker industry is working to develop fuels that comply with these new regulations, and fuel costs will certainly rise. Many vessels will be turning to "scrubbers" or LNG to comply with the upcoming regulations.
WRI assists our clients to minimize time spent in these ECA Zones to alleviate this additional cost burden. These ECA Zones are outlined on the forecast maps on the Dolphin website and can be toggled via the Map Options dropdown menu on the top task bar. We can also provide cost analysis comparisons for various routing options in/near ECA Zones upon request.

2018: A "Powerful" Tropical Season for the East Pacific
Joseph Desilva, Meteorologist
The East Pacific tropical season officially ended on November 30
th
, and can be summarized not just as a very active season, but also the most "powerful" East Pacific tropical season on record. There were 23 named storms within a span of 5 months, with the first system, Hurricane Aletta, forming on June 06
th
th and the final system, Tropical Storm Xavier, dissipating on November 05
th
. Of the 23 named storms, 13 (50%) became Hurricanes, but perhaps the most impressive fact is that 10 of these were Major Hurricanes all of which were Category 4 or higher. This was the 4
th
most active East Pacific tropical season in terms of number of named systems, but was the most powerful on record based on the Total Accumulated Cyclone Energy (ACE).
What is Total Accumulated Cyclone Energy?
Accumulated Cyclone Energy (or "ACE" index) is a measure of the strength and duration of each tropical system that develops in a specific basin each year. It utilizes the 6 hourly 1-minute maximum sustained wind speed to approximate energy used by a tropical system over its lifetime. The total ACE of a season is then determined using a statistical relationship between the sum of the ACE's for all tropical systems that reach minimum storm strength. This index is often utilized by government resources for safety awareness and in research to advance long range forecasting techniques. Since the ACE index reflects a combination of storm intensity and duration, it is considered a better barometer of overall activity and likely damage than utilizing solely the raw number of tropical systems.
A season's total ACE is classified into one of three groups: Above-Normal, Near-Normal, and Below-Normal
. The average ACE of a season is 115, Above Normal is 135 or greater, and Below Normal is 86 or less.
The total ACE for 2018 in the East Pacific was calculated to be 316.3, which is over 2.5 times above average and classified to be the most powerful tropical season on record!
(see Figure 1).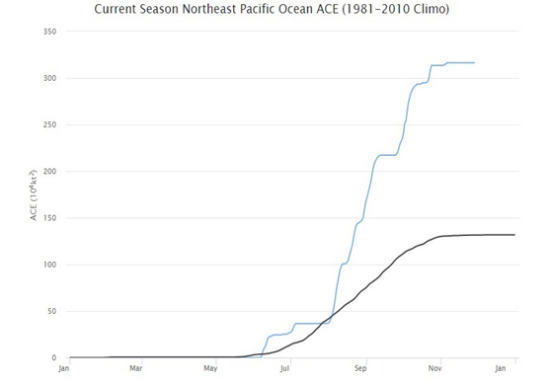 Image from Dolphin website showing how to access the new long range port forecast.
The contributing factors to this record 2018 season were the prevalence of warmer than normal sea surface temperatures from Mexico to the International Dateline, and favorable atmospheric dynamics. The warmer sea surface temperatures can be partially owed to a multi-decade cycle that has persisted since 2014. As depicted in Figure 2, the main core of warm sea surface temperature anomalies over the East Pacific in late August was the area from offshore of Panama westward to south of the Mexican Riviera and Baja Peninsula. This is also the main formation zone for tropical waves. In the 4 weeks following this warm up, 5 of the season's major hurricanes formed.
Additionally, the favorable atmospheric dynamics came in the form of large-scale upward motion. This large-scale upward motion results in lower (favorable) wind shear, which is a key ingredient to consistent and long-term tropical development. Although the ocean metrics didn't exhibit an El Niño condition (which favors warmer waters over the East Pacific) and the government didn't officially declare one, the atmosphere was behaving as if there was one. The official indices from this past summer indicated a neutral condition trending in the direction of a developing El Niño.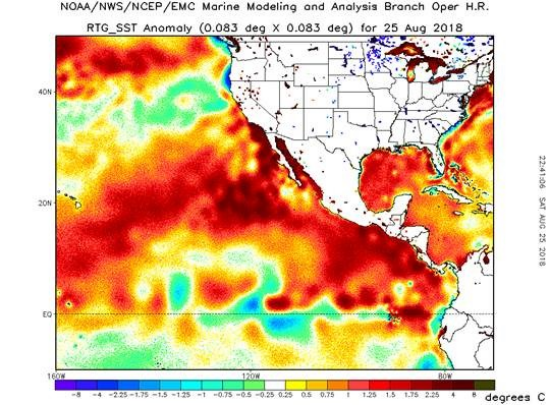 Figure 2 depicts warm than normal sea surface temperatures in the East/Central Pacific in Late August 2018. (NOAA/NCEP)
Advisories and forecast charts for all active tropical systems are available on our Dolphin website at WRIDolphin.com. Although the East Pacific tropical season has ended, tropics are currently active across the Southwest Pacific and West Pacific. WRI will of course issue advisories for the East Pacific if a system were to develop out of season. As always, our team's expertise is available 24/7/365 by phone or email, to ensure the utmost safety for our clients.
Upcoming Events

•

04/02/2019 - 04/04/2019 - CMA Shipping 2019 (Stamford, CT)