Select an edition to view:

Bay of Bengal/Arabian Sea - Transitional Season
By: Mike Stockwell, Assistant Operations Manager
The
Southwest Monsoon
in the Bay of Bengal/Arabian Sea can significantly impact the heavy-traffic waters from the Arabian Peninsula to Indian and Bangladesh every year from June through September. The unique geographical features of the Indian Subcontinent, combined with atmospheric and oceanic interaction, allow for this phenomenon to occur. As the land mass across northern India and central China quickly warms during this period, a thermal trough with rising air develops. This causes SW'ly winds to develop across regions to the south and west, which carry moisture from the northern Indian Ocean NE'ward across India, Thailand, and southeastern Asia. At the surface, this results in persistent SW-W'ly winds of 25-35kts+ and likewise SW-W'ly swells exceeding 4 meters over the Arabian Sea and Bay of Bengal during the summer months.
The Monsoon trough shifts farther south and weakens during September/October, while high pressure begins to develop over Mongolia. This typically results in a steady weakening of the SW'ly flow across the region through September/October. The Northeast Monsoon (dry season) typically does not develop until late November/December. The interim period from late September through October and November usually means that vessels transiting across the region will enjoy lighter weather conditions. However, one cannot let their guard down during the transition months, as a greater threat for
Tropical Cyclone
development exists during this period due to the weaker wind patterns in place (less vertical wind shear).
In fact, more Tropical Cyclones occur during October and November in the Bay of Bengal/Arabian Sea than at any other time of year
.
| | | | | | | | | | | | | |
| --- | --- | --- | --- | --- | --- | --- | --- | --- | --- | --- | --- | --- |
| Month | Jan | Feb | Mar | Apr | May | Jun | Jul | Aug | Sep | Oct | Nov | Dec |
| Tropical Cyclones | 7 | 2 | 1 | 7 | 29 | 24 | 4 | 1 | 13 | 45 | 57 | 21 |
Number of Tropical Cyclones per month in Bay of Bengal/Arabian Sea 1975-2016
Systems developing over the Bay of Bengal will tend to move in a northwest, north, or northeasterly direction. In the Arabian Sea, Tropical Cyclones generally develop offshore western India and either track northwestward toward northwestern India, Pakistan, or Oman; or turn more west-northwestward over the northern Arabian Sea toward the southern Arabian Peninsula.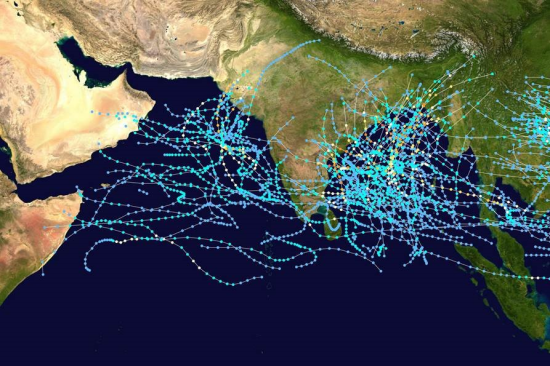 All Tropical Cyclone tracks across the Bay of Bengal and Arabian Sea between 1980 and 2005
Ocean current patterns also undergo significant changes during the transitional months. Due to the long duration of the Southwest monsoon, ocean currents from Great Channel through the Central Arabian Sea will be predominantly SE-E-NE'ly setting, with speeds averaging 0.5-1.5 kts or greater in places. This can be problematic for westbound transits from Singapore Strait, as the combination of adverse currents and enhanced winds/swells can often yield significant speed loss and delays of 1-2 days. These currents will weaken during September/October as the monsoon dissipates, and then will eventually become "reverse" SW-W-NW'ly setting once the Northeast Monsoon becomes established.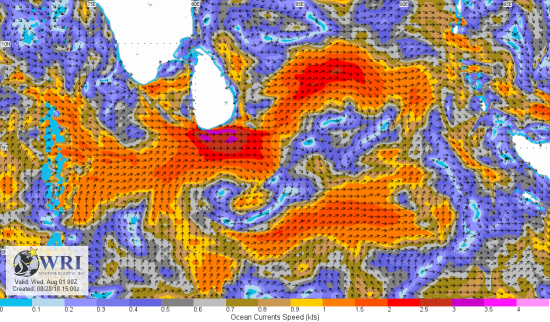 Typical strong E'ly setting currents during the peak of the Southwest Monsoon
WRI
can assist with advanced guidance for these events and help with routing to reach destinations as safely and efficiently as possible.
Dolphin
, WRI's online fleet management service, also has forecast wind, sea and currents charts to assist with these matters and we encourage owners/charterers, captains and their crew to utilize these charts when transiting these waters.

WRI's mobile-friendly Dolphin site
By: Keith Wagner, Director of Operations
WRI is excited to announce the release of a mobile-friendly version of our enhanced Dolphin website. This upgrade allows you to view Dolphin maps and products easily from your mobile device, tablet, or iPad. To access, visit
www.wriDolphin.com
, and the site will automatically detect your device and implement the mobile version.
When you first log in, you will see a screen asking to identify your login. If you are onboard a vessel, select your ship name from the drop-down. If you are land-based operations, select "Land Operations" from the drop-down menu, then Login.
The functionality of the mobile site is very similar to the desktop version of the enhanced Dolphin site.
Weather and ocean forecast charts are accessed from the right-side menu bar. Click on the "cloud" icon, and a menu will open with the various available products.
Select color shading, line contours, or vectors (direction)
Turn on/off animated vectors by clicking the "animated" check box
Switch between WRI's in-house high-resolution data and global model data
Three "preset" combinations of products available at the bottom of the menu
Use the < > buttons, "play" button, or click directly on the time bar to move forward in time
If you click on the "locator" icon on the bottom right of the screen, a box will appear in the top right corner which displays the latitude/longitude, direction, and magnitude of the product you selected. A position icon marker will also be placed on the map. You can drag this icon to any location, and the data in the box will update according to your location. To turn off the locator, click on the icon again.
The Tropical Tracker menu allows you to view the latest tropical summaries and analysis of all active or potential systems. This can be accessed by clicking on the "tropical storm" icon along the top menu bar:
View WRI tropical summary/outlook for all seasonally active regions
Select specific active systems or WRI-classified tropical lows
View latest WRI advisory (initial conditions, discussion, movement, intensity)
View latest computer model track guidance from various sources
View/hide gale radius, threat cone, track positions, local warnings/advisories
Overlay weather forecast maps
View wind speed probability charts, storm surge potential, and more via the 'Tropical Map Products" drop down
The Port Reports icon (note pad) along the top menu bar allows you to access forecast information for over 8000 locations worldwide:
In the "Select Port" field, begin to type in a port name. A list of options will appear. Click on your desired location.
Select from "Forecast", "Visibility", or "Tender", then click the Generate button
Forecast - Detailed 4-day forecast, for both the port and pilot location
Visibility - 1-hourly wind/visibility forecast at the port and pilot station, with 6-hourly maps
Tender - 1-hourly wind/seas forecast at the pilot station, with 6-hourly wind/sea maps
You can also change your map settings or display other parameters by clicking on the "cog" icon along the top menu bar, including:
Switch between a gradient or solid color scale
Toggle between tan or dark land color
Convert product units to a different scale
Show/hide your ship icons and 48-hour track line
Display piracy reports and earthquake activity (click for full details)
Display latest iceberg and sea ice limits
Show ECA zone boundaries
Show AIS positions
Show real-time observations (land, ship, buoy)
Display Capes, Straits, and Port names
The main menu icon on the top left allows you to access many other features, including:
Fleet Dashboard - Summary of weather and performance data for your fleet
WRI Newsletters
Appoint WRI for services
Help Menu
Log Out or change user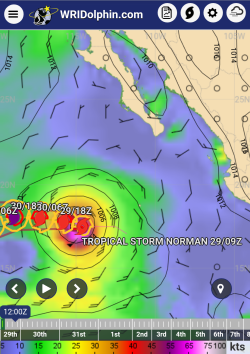 Tropical Storm Norman on WRI's mobile Dolphin site
We trust that the new mobile site will assist you with easy access to critical weather and performance information from any location. As always, we welcome your comments and feedback.
Upcoming Events

•

10/16/2018 - 10/18/2018 - Shipping Insight 2018 (Stamford, CT)

•

04/02/2019 - 04/04/2019 - CMA Shipping 2019 (Stamford, CT)