Select an edition to view:


Waves Going Rogue
By: Mike Stockwell, Assistant Operations Manager
Rogue Waves are a phenomenon when unusually large ocean waves develop suddenly. Waves are classified as rogue where they are over twice the height of the significant wave height (i.e. the average height of highest one-third of all waves). These can be extremely dangerous for any vessel.
WRI's Rogue Wave Potential Index (RWPI) highlights areas where there is an elevated or high probability that individual or small groups of waves will exceed the significant wave height. Indices of 0 to 2 indicate a low probability, 2 to 3.5 a medium probability, and 3.5 to 5 a high probability of occurring.
Factors that can lead to rogue wave development include:
Interaction between ocean current and multiple wave sets
Interaction between the multiple wave sets themselves (phasing/constructive interference)
"Steepness" of multiple wave sets
Wind speed trends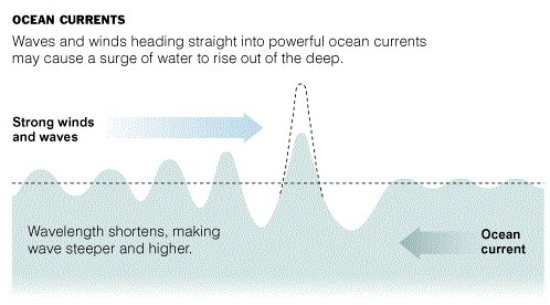 Courtesy Smithsonian; Dr. Wolfgang Rosenthal, Helmholtz Research Center Geesthacht
Below is a recent example of the RWPI product indicating a very high probability of rogue waves to occur offshore of Cape Mendocino, California on November 26th where a 75ft (23m) rogue wave was recorded by a buoy: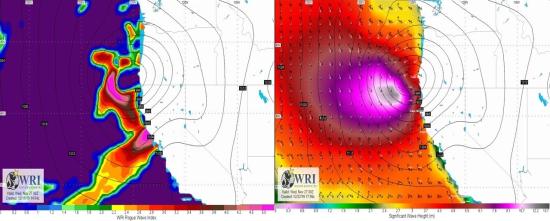 A RWPI of 5.0 indicated a very high probability of rogue waves to occur on the November 26th, when a 75ft wave was recorded offshore of Cape Mendocino.
Another recent occurrence occurred on May 8, 2018 when a 78ft (24M) was recorded by a buoy to the northwest of Campbell Island, located south of New Zealand. This was the largest ocean wave recorded in the Southern Ocean. The RWPI indicated a high probability of a rogue wave occurring.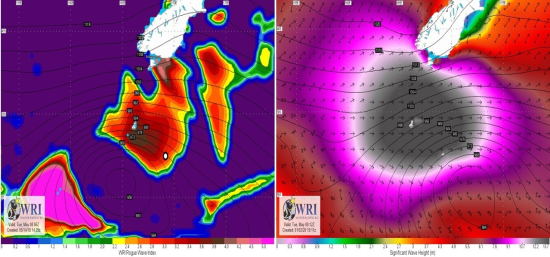 A RWPI of 3.5 - 4.0 indicated a high probability of rogue wave to occur on May 08th, 2018 when the largest wave was recorded for the Southern Ocean.
The Rogue Wave product is available on WRI Dolphin and are updated four times daily. WRI route analysts also take into account vessel's stability parameters including their metacentric height (GM) and natural roll period when recommending a safe and optimal route. Our optimum routing services can assist with minimizing the potential of encountering any rogue waves, helping to maintain the best ETA and most economical bunker consumption.

2019 Atlantic Hurricane Season in Review
By: Brian Whitley, Assistant Operations Manager
This past season was yet another season that was more active than normal, with 18 named systems, 6 hurricanes and 3 major hurricanes (a "normal" season has 12, 6 and 3 respectively). It is interesting to note that while the number of "named" storms was 50% greater than normal, the number of hurricanes and major hurricanes was normal.
Five Tropical cyclones developed in the Gulf of Mexico this year. This is tied for the most ever in the Gulf of Mexico with 2003 and 1957. Of those 5, Barry, Imelda and Nestor all made landfall in the US.
Of course, the system that will be most remembered for this season will be
Major Hurricane Dorian
.
The deadliest/costliest system to impact the Atlantic basin this year.
Tied for second strongest system in terms of maximum sustained wind speed (185mph) to occur in the Atlantic. (1935 Labor Day Hurricane, 1988 Hurricane Gilbert, & 2005 Hurricane Wilma)
The strongest storm to ever make landfall in the Bahamas.
Simply looking at the numbers of these different systems doesn't tell the full story of the intensity of a particular season's activity. Another way to look at a season is to look at the
ACE
value, or Accumulated Cyclone Energy. This is a formula that considers the strength of each individual system and is calculated every 6 hours and totaled for the lifetime of each individual system. The numbers for each system are added together to give an ACE total for a season. The ACE for 2019 was 130.425. Anything above 111 is considered to be above normal, which is an ACE value of 93.2. Hurricane Dorian alone was responsible for 47.8 of that total, which is the 14
th
greatest ACE for an individual system in the North Atlantic.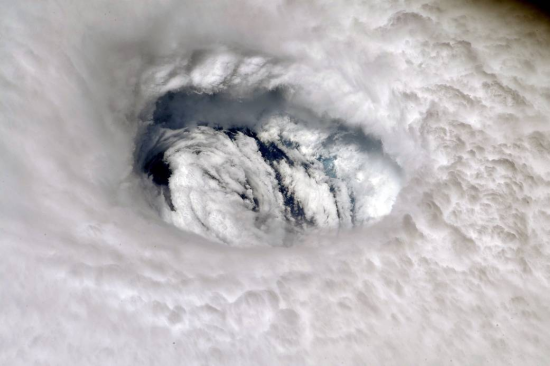 The Eye of Hurricane Dorian over Grand Bahama Island August 02nd 2019. Image taken by Astronaut Nick Hague from aboard the International Space Station.
WRI will issue our Atlantic Tropical Outlook in the spring of 2020. We also continue to monitor all tropical regions of the globe year-round for any potential tropical systems, keeping your vessels safe and operations running smoothly.
Upcoming Events

•

Mar 31 - Apr 2 2020 - CMA Shipping 2020, Stamford CT