Select an edition to view:


El Niño: A Recap and a Look Ahead
By: Joshua May, Meteorologist
Over the last several months, sea surface temperatures (SSTs) have warmed along the Baja of California as well as across the Equatorial Pacific. These SSTs have risen above average and will continue to influence weather patterns as we head into the spring and summer season across the Northern Hemisphere. This most recent warming of SSTs suggests a possible El Niño phase beginning and therefore currently places the East Pacific region into an "El Niño Watch". If this warming sustains itself for an extended period, then this El Niño will likely play a major role in the weather pattern that affects the United States and surrounding waters.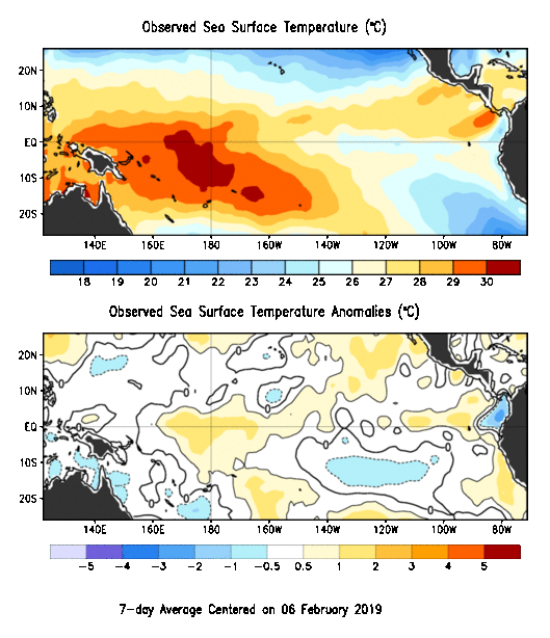 Observed sea surface temperatures (top image) and their anomalies (bottom image) from the period from 02 through 09 February 2019 for the Equatorial Pacific.
We have already noted some effects of the developing El Niño season:
Increased rainfall occurs for Northwestern South America from January to May, and waters north of Fiji/Samoa.
A decrease in Easterly trade winds has reduced upwelling, maintaining above normal sea surface temperatures across a majority of the Equatorial Pacific between 160W-160E and north of the Equator across the Eastern Pacific.
A southward dip in the Jet Stream across the Pacific Ocean, allowing for a more active storm track across California, with the absence of a blocking area of high pressure across the North Pacific Ocean.
Cold fronts will more frequently move southward across the Central United States and into the Gulf of Mexico.
Increasing occurrences of cold surges, which are known for producing brief periods of enhanced winds/seas across the Western Gulf of Mexico and Gulf of Tehuantepec (high intensity).
Generally favorable conditions for local transiting across the Western Baja of California through the winter season due to weaker than normal high pressure ridging over the Northeast Pacific.
Increased tropical development across the Coral Sea east to Fiji, including recently formed Tropical Cyclone Oma (pictured below).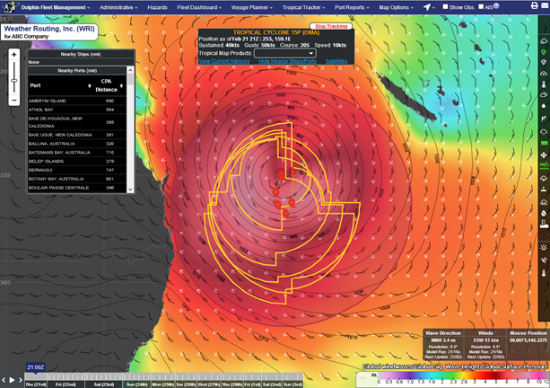 Over the last year, we have been gradually shifting from a weak cold phase (La Niña) to a currently neutral regime. However, all signs continue to imply that SSTs across the Equatorial Pacific Ocean will remain above average through the remainder of the winter season and into this Northern Hemisphere summer, and the development of an El Niño pattern remains likely.
This is expected to contribute to an increase in early season tropical development across the East Pacific, which may lead to an above normal year for classified systems
.
We will continue to monitor the evolution of SSTs into the spring season, and ultimately use this information to keep both operations and captains/crew well advised. Our evaluation of the development of an El Niño phase in advance of the upcoming tropical season will help aid our team of meteorologists in providing detailed routing/weather advice and ultimately ensure your fleet the safest berth from any unfavorable weather conditions. We are available 24/7 365 for assistance. You may also visit our Dolphin website for the latest advisories on individual systems (updated 4x daily) and general discussion for each ocean basin.

Recent Dolphin Upgrades
By: Mike Stockwell, Assistant Operations Manager
We are pleased to announce some recent upgrades to our
Dolphin website
that are geared toward enhancing the efficiency of the site for Operations teams:
New Feature

- In the forecast parameter menu, there is a new option to display both wind barbs and wave direction arrows at the same time.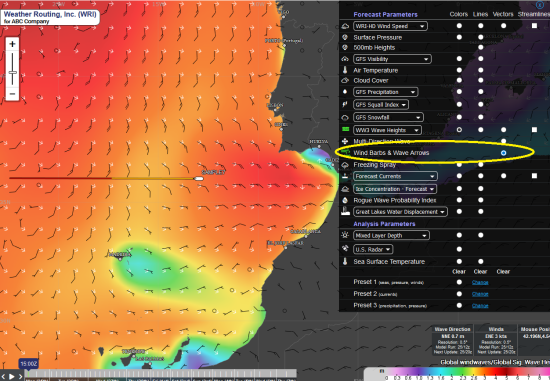 Image from Dolphin website showing how to access the new long range port forecast.
New Feature

- In the forecast parameter menu, there is a new option to display both wind barbs and wave direction arrows at the same time.

New Feature

- Faster loading times for the

Weather and Safety

and Report

New Feature

- After logging in, the weather maps will automatically center where the majority of your vessels are operating.

New Feature

- In the Map Menu option, there is now an option to set your time zone. This will display all times in your current local time.
As a reminder, you can "view" or "hide" specific vessels on the maps by mousing over the "Map Options" menu on the top banner, and clicking on the "Select Ships" link. From here, you can hide/view entire fleets or specific vessels. The Map Options menu also allows you to adjust other map setting displays.
Dolphin maps and products can be accessed from your desktop or mobile device, tablet, or iPad. We hope you find these upgrades useful for planning operations, and we welcome any feedback as you utilize these new features. We are available 24/7/365 to assist with any routing, forecasting, or performance needs.
Upcoming Events

•

04/02/2019 - 04/04/2019 - CMA Shipping 2019 (Stamford, CT)