Select an edition to view:


Timeline for the New China ECA Zones
Mike Stockwell, Assistant Operations Manager
As of October 01
st
, 2018, vessels operating in China's
Yangtze River Delta domestic Emission Control Areas (ECA)
can no longer use bunkers with a sulfur content exceeding 0.5%
, unless an approved exhaust gas cleaning system is installed. This is an earlier than expected start for the 0.5% sulfur cap in the
Yangtze River Delta
(i.e. CJK Pilot region), as the new regulation was originally not expected to go into effect until January 2019. Here is a review of the timeline to date and future implementations for the regulations:
Since January 01st, 2018, vessels have been required to burn fuel with a sulfur content not exceeding 0.5% while berthed at all ports within the three China ECAs. Vessels must switch to compliant fuel within one hour of arriving at their berth and burn compliant fuel until not more than one hour prior to departure.
As of October 01st, 2018, it is now compulsory for vessels to burn fuel with a sulfur content not exceeding 0.5% at all times while operating inside the

Yangtze River Delta ECA

. Any fuel change-over must be completed prior to the entry into or commenced after exit from the

Yangtze River Delta ECA

.
At this time, the timeline for

Pearl River Delta

(i.e. Hong Kong) and

Bohai Sea ECAs

remain unchanged. The requirement to burn compliant fuel at all times inside these ECAs will take effect as per the original timeline January 01st, 2019. However, vessels must still comply now with the 0.5% threshold at port berths in these areas.
The regulations for the China ECA Zones are different than the other world ECA Zones that are regulated by the IMO, where the required sulfur threshold in these areas is 0.1%. These 0.1% zones include the Baltic Sea, North Sea, U.S./Canada, and Puerto Rico areas.
All of these measures are coming into effect in advance of the global switchover to 0.5% sulfur fuel in 2020, as per IMO regulations. The bunker industry is working to develop fuels that comply with these new regulations, and fuel costs will certainly rise. Many vessels will be turning to "scrubbers" or LNG to comply with the upcoming regulations.
WRI
assists our clients to minimize time spent in these ECA Zones to alleviate this additional cost burden. These ECA Zones are outlined on the forecast maps on the
Dolphin
website and can be toggled via the Map Options dropdown menu on the top task bar. We can also provide cost analysis comparisons for various routing options in/near ECA Zones upon request.

Hurricane Michael – A Historic Storm
By: Josh May, Meteorologist
Hurricane Michael
impacted the routes of many vessels transiting through the Gulf of Mexico as it made its way toward the Florida Panhandle in early October. Michael was unique in that it rapidly intensified during a month where the atmospheric environment across the Southern U.S. historically becomes more hostile and unfavorable for such development. We have summarized the timeline of key stages during the system's life cycle:
On October 2nd, a weak tropical disturbance began to originate across the Western Caribbean Sea. The disturbance slowly moved N'ward and developed into a tropical depression to the east of the Yucatan Peninsula late on the 06th.
Michael strengthened from depression to hurricane strength within 24 hours during October 07th-08th to the south of Yucatan Channel.
Michael rapidly intensified from an 80kt Category 1 hurricane to an 120kt Category 4 system in 24 hours over the Eastern Gulf of Mexico, from the early morning/09th through early morning/10th.
Michael made landfall at Crooked Island near Mexico Beach Florida on October 10th around 1:30PM EDT as a Category 4 hurricane with estimated winds of 135kts
Michael benefited from favorable atmospheric conditions and above normal sea surface temperatures
over the Eastern Gulf of Mexico as it tracked very close to the Gulf's Loop Current. In terms of wind speed, it was the strongest storm to strike the contiguous U.S since Andrew in 1992, the 4
th
strongest landfalling hurricane in the contiguous U.S. all-time, and the strongest to ever hit the Florida Panhandle, causing catastrophic damage. Michael entered Georgia as a Category 3 hurricane, becoming the first storm to impact the state as a major hurricane since 1898.
Meteorologists at
WRI
were working around the clock, closely monitoring the development of this system. Our team was happy to provide services for many clients interested in maintaining a safe berth from impacts associated with
Hurricane Michael
. Advisories for these tropical systems and forecast charts are available on our
Dolphin
website at
WRIDolphin.com
. As always, our team's expertise is available 24/7/365 by phone or email to ensure our client's safety.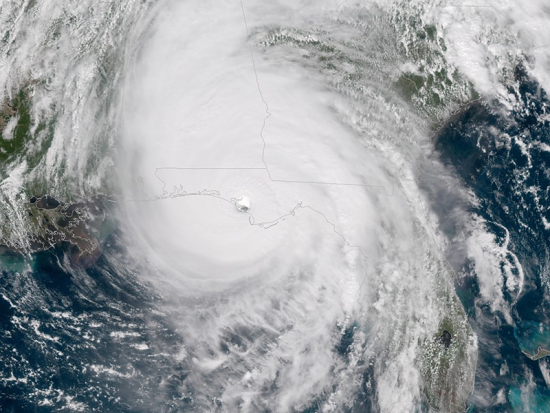 Hurricane Michael as it made landfall near Mexico Beach, FL. Image courtesy of NOAA GOES East Satellite.
Upcoming Events

•

04/02/2019 - 04/04/2019 - CMA Shipping 2019 (Stamford, CT)