Select an edition to view:


AIS tracking
By: Zachary Jacomowitz, Meteorologist
Automatic Identification System (AIS)
tracking uses a vessel's GPS signal to relay important information about a vessel's location, course heading, and speed. Any client who is actively receiving "real-time" weather routing, weather monitoring, or performance monitoring services with Weather Routing, Inc. (WRI) receives complimentary access to the complete scope and benefits of AIS vessel tracking products. These products are easily accessible 24/7 via our
Dolphin
website.
AIS monitoring allows our clients to:
Easily monitor any vessel's location, speed, and course heading with complete

global

satellite coverage
Track a vessel's progress in relation to their schedule and any ETA requirements
Monitor for any stoppages or deviations from planned route
View past 24-hour AIS route track
Download csv file of past 24-hour AIS data
Users can also customize the
AIS
display to distinguish between "old" and "recent"
AIS
positions.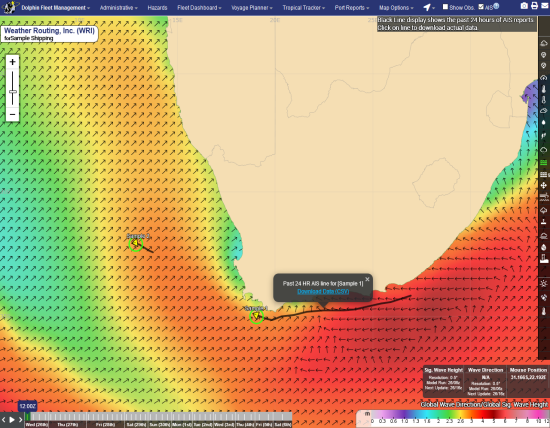 AIS Tracking on Dolphin indicating an updated position (green circle) and past track (black line).
In addition to vessel-specific information, with
Dolphin
OnLine
,
AIS
data can be overlaid with any weather/ocean parameters to gain a better understanding of the current conditions surrounding the vessel. This can also be useful for tracking vessels to minimize heavy weather concerns, especially during the active tropical seasons. Our Tropical Tracker feature on
Dolphin
, when combined with
AIS
tracking, allows operations teams to constantly monitor the location of their assets in relation to any tropical threats.
AIS
tracking services are included for any client that receives WRI services. If, however, active "weather routing" services are not required, we can still provide real-time and historical
AIS
tracking services for your fleet.
Please contact us today to discuss your requirements or to receive a quote for AIS services!

New Dolphin Updates
By: Keith Wagner, Director of Operations
We are pleased to announce several recent upgrades to the enhanced version of our
Dolphin
website (
www.wriDolphin.com
).
Wave period and wave direction can now be plotted on the same map

. From the vertical menu bar on the right, select the option for "Wave Direction and Period". This will display the wave direction (arrow) and the swell period (number, in seconds). This feature can be used in combination with the wave height product (colors).

Wind barbs and wave arrows can be displayed on the same map

. From the vertical menu bar on the right, select the option for "Wind Barbs & Wave Arrows". The wave directions will display as a white arrow next to the wind barb.



A distance measuring tool has been added to "Map Options"

. Click on "Enable Ruler", then click at any point of interest on your map and place a "marker". Then, simply click another point on the map. A line will connect the two points, showing the distance between those points. You can "drag" your second point to any location and the distance will update. You can also click to add additional points, and the distance will display for each line segment. Along the top right of the screen, you will see a white box showing the start/end points, and the total distance for your lines. You can remove the lines by clicking 'Clear Points" in the Map Options menu.

A "screenshot" of your Dolphin display can be saved by clicking on the camera icon

on the top right menu bar.
We hope that these new features assist with your daily operations, and allow you to easily evaluate any potential threats to your vessels. Please contact us with any questions or if we can be of any assistance with forecast/routing information for your fleet.
Upcoming Events

•

Oct 15-17 2019 - Shipping Insight 2019, Stamford CT