Select an edition to view:


Dolphin OnLine Updates
By: Keith Wagner, Director of Operations
We are pleased to announce a few recent upgrades to the Dolphin website to assist with quick/easy access to various parameters directly from the forecast maps. To view these new features, please be sure to have "Show Ships" and "Show Ship Tracks" selected within the "Map Options" drop-down menu along the top of the screen.
Show Ship Tracks

- When this is activated, a route line will display from the ship icon on the voyage map, indicating the vessel route over the next 48 hours from the date/time selected. This line will be colored green, orange, or red. The colors indicate the forecast for winds/seas over the next 48 hours (in 6 hour intervals) based on the weather thresholds we have on file for that vessel.



Green

= Below weather threshold


Orange

= Approaching weather threshold


Red

= Above weather threshold

If you click on the route line, a table will display which shows computer model wind/sea data over the next 48 hours for that vessel.



Sample 6-hourly forecast table displayed by clicking on the ship route line.




Show Ships

- When this is activated, icons will display the position of each of your vessels on the forecast maps. By clicking on the icon on the map, a new window will appear which shows the following information:



Expected ship position, winds, seas, currents, visibility, and air temperature at the selected forecast time
Latest AIS position, date/time, speed, and course heading
Quick links to the following products:



Latest Forecast Advisory

- Most recent WRI forecast/route recommendation

6-hourly Forecast Summary

- 6-hourly computer-generated analysis of winds/seas (out to 48 hours)

5-day Forecast Summary

- 5-day outlook of maximum winds/seas and minimum visibility

Performance Status Report

- Summary of to-date and projected speed/bunker gain/loss compared to C/P values

Communication Log

- History of inbound messages received from the vessel on the current voyage

View Full Route Map

- A full voyage track chart




Sample showing the available "quick products" when clicking on ship icon
We hope that the above products will assist in quick/easy evaluation of the weather conditions impacting your fleet and associated performance. As always, for any sensitive weather scenarios, we recommend contacting us directly to speak with one of our experienced meteorologists.
2019 Western Pacific Typhoon Season
By: Kyle Stockwell, Meteorologist
Typhoon season in the Western Pacific has been slightly below average so far in 2019. The climatological average is 25 tropical cyclones from 1 January to 31 December. As of late August, the Joint Typhoon Warning Center (JTWC) has issued advisories for 12 named systems, with the most recent system being Tropical Depression 12W. It should be noted that the Western Pacific tropical season reaches its peak from July-September with 6-9 tropical cyclones expected annually during this period. October through December generally sees a decrease in activity, with 3-5 tropical cyclones annually.
Typhoon Lekima (10W) and Tropical Storm Krosa (11W) in tandem from mid-August 2019.
Looking at the recent systems we have seen in the Western Pacific, the above visible satellite imagery depicts a scenario in which
Typhoon Lekima (10W)
and
Tropical Storm (soon to be a Typhoon) Krosa (11W)
were tracking generally NW'ward in tandem. This is not out of the ordinary for tropical cyclones in the Western Pacific due to strong ridging which steers the systems generally in a west to northwest direction.
Typhoon Lekima (10W)

had a lifespan of 12 days from 2-14 August, with a peak wind speed of 105 kts. The system tracked WNW'ward through much of its lifespan into the East China Sea north of Taiwan, eventually turning more NW-N'ward and impacting the Shanghai and CJK Pilot areas of eastern China.

Typhoon Krosa (11W)

had a lifespan of 11 days from 5-16 August, with a peak wind speed of 90kts. This system initially took a similar track to Typhoon Lekima (WNW'ward). However, as ridging weakened into the 14th, a developing low tracking E'ward from China steered the system NW-N-NE'ward across Japan and into the Sea of Japan as it weakened.
Both systems encountered favorable environmental conditions which yielded Typhoon-strength development with light winds aloft, weakening shear, and increasing Sea Surface Temperatures. The tracks which were observed from these two systems are common from mid-summer into autumn (continuing WNW'ward into China, or recurving NW-N-NE'ward across Japan).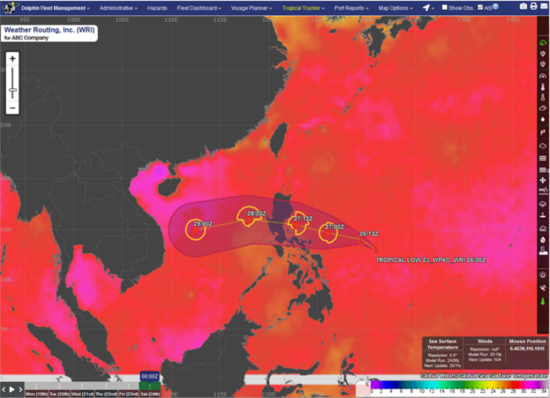 The above image from 26 August 0000UTC is of Tropical Low 23_WPAC_WRI on WRI's Dolphin website depicting the future track of the system across the Philippines with favorable Sea Surface Temperatures plotted.
With an active tropical basin such as the Western Pacific, the main threat is the effect these systems have on main shipping lanes through Taiwan Strait and the East China Sea. We also see tropical systems affecting South China Sea shipping lanes as well as large ports such as Hong Kong and CJK Pilot areas. As the Western Pacific tropical season reaches peak activity in the next several weeks
WRI
will continue to monitor any development. Please visit
WRI's
Dolphin
website (
www.wridolphin.com
) to the view the latest tropical forecast maps and analysis, and contact us for any specific routing requests.
Upcoming Events

•

Oct 15-17 2019 - Shipping Insight 2019, Stamford CT