Select an edition to view:

Volume 12 Issue 4 Aug 2023
2023 Atlantic Tropical Mid-Season Outlook
Nick Pisapio, Meteorologist
As of August 22nd, the 2023 North Atlantic Tropical Season has been slightly above average in activity, with 7 Total Named Storms, including 2 Hurricanes. This puts the 2023 Atlantic season now on pace to be above the seasonal average. Please find the following link to our webinar discusssing the latest outlook: 2023 Atlantic Tropical Mid-Season Outlook
Record breaking warm sea surface temperatures across the North Atlantic, coupled with the West African monsoon being more active than normal, will help to counter the negative effects from El Niño for the remainder of the season.
Fig.1 Current Sea Surface Temperature Anomalies (departure normal) over the North Atlantic (Courtesy of PODAAC)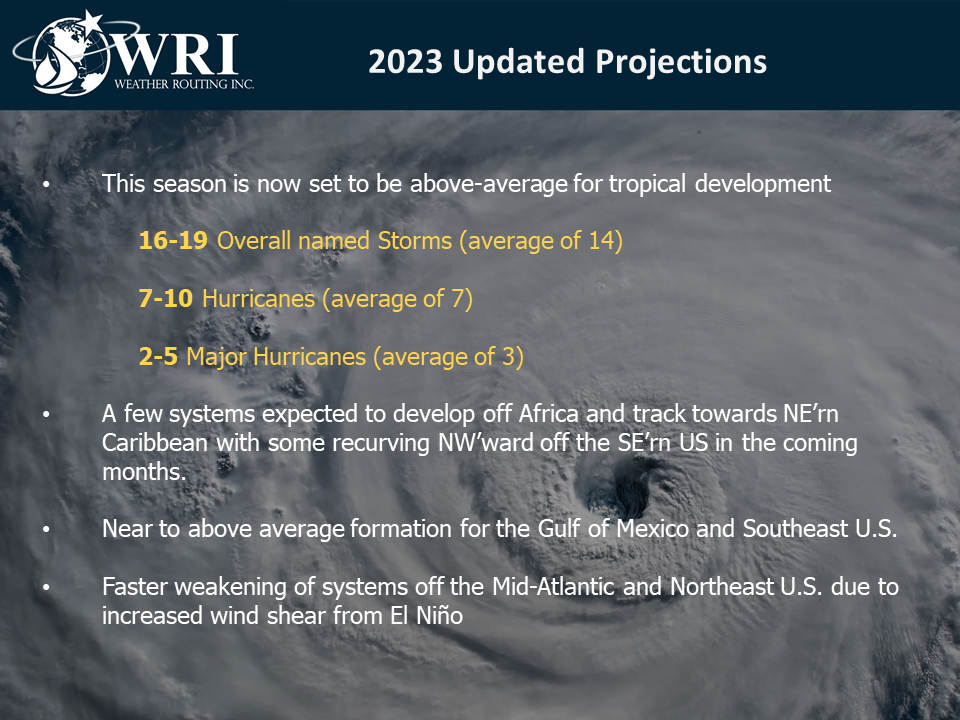 Fig.2 2023 Atlantic Tropical Midseason Projected Totals
As the season enters its most active month, September, we are anticipating tropical activity to ramp up. The primary factor for the more active season will be the warmer sea surface temperatures across the North Atlantic. As displayed in Figure 2, sea surface temperature anomalies across the Atlantic show record breaking figures. Even in comparison to the warmest recent years, 2023 stays significantly ahead of them, being the only year to surpass 1°C difference off the 1982-2023 mean (even remaining above 1.25°C for nearly all of June and peaking at just above 1.5°C). Currently, this warming trend is forecast to persist across the Atlantic Basin through the autumn.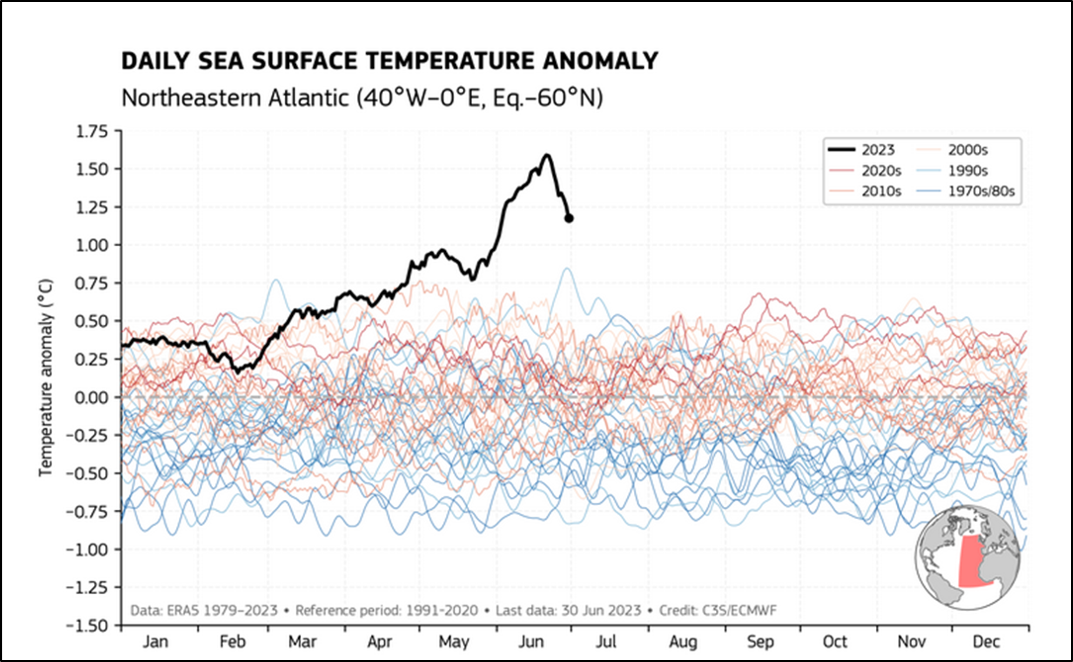 Fig.3 Daily sea surface temperature anomalies from 1979-2023 between 0-60°N/40°W-0°E, courtesy of the C35/ECWMF.
El Niño
For the remainder of the season, weak to moderate El Niño conditions are forecast to persist across the globe. This will be the main inhibiting factor to development and rapid strengthening across the North Atlantic. However, weaker E'ly trades across the Tropical Atlantic, along with the warmer SST's and active monsoon will continue to counter these effects.
Where To Expect These systems?
For the remainder of the season, we are anticipating two main areas to be the focus for development as shown below. Most systems are expected to develop off W'rn Africa and track west-northwestwards towards the Greater Antilles region of the Caribbean. However, we are predicting 1-2 weaker systems to track more directly northward and linger just south of the Azores due to notably warmer SST anomalies.
Additionally, the environmental conditions will favor system tracking more west of the Greater Antilles and into the Gulf of Mexico opposed to northwest along the East US coast. Although El Niño's inhibiting factors are not as prominent as expected, stronger wind shear along the Mid-Atlantic and Northeast US coast will nonetheless restrict systems from traveling northwestward along the coast. In contrast, lower surface pressure anomalies within the Gulf suggests near to above average formation within the region and greater potential for landfall along the Southeast US.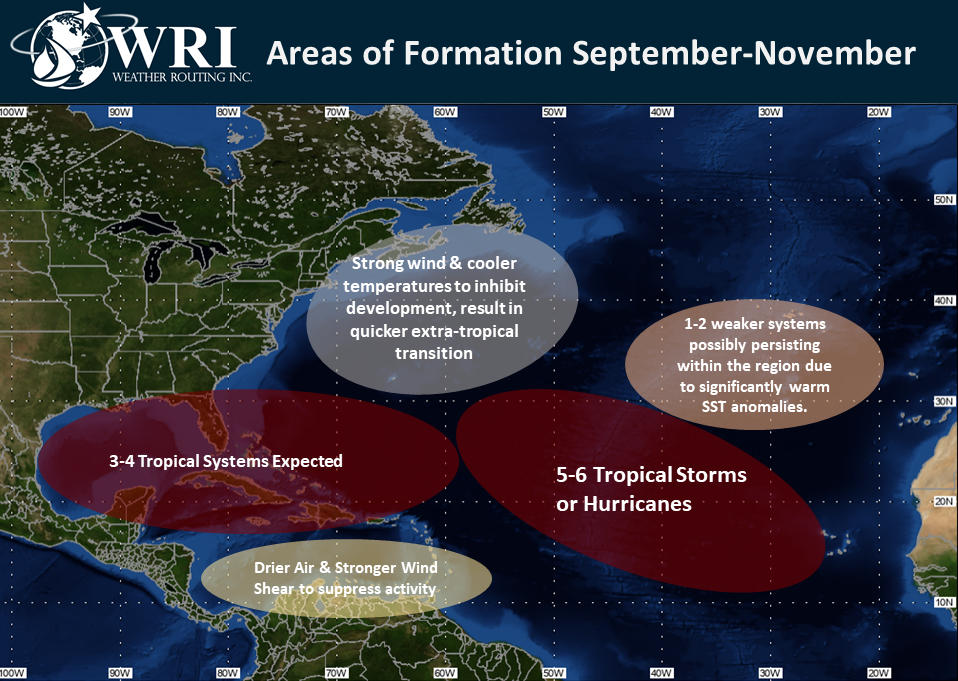 Fig.4: Main areas of formation and trends for the remainder of the 2023 Atlantic Tropical Season.
During this expected active North Atlantic Hurricane season, WRI meteorologists are working hard to keep you informed of any potential tropical threats through a variety of products. These products include our Dolphin website Tropical Tracker and basin wide tropical summaries. These products are issued to your operations team and vessels approximately 3+ days ahead of the system being named, allowing for advanced notice of any potential tropical concerns.
Contact us today, to receive the most up-to-date information by consulting one of our Meteorologists who are available 24/7 to assist you.
Foresight for your Work Site: Pinpoint Location Forecasting
Donald Bullen, Project Manager, Senior Meteorologist
WRI takes pride in offering quality, timely forecasts in order to take the role of a meteorologist and apply it to all our operations: protect life and property. Our customized site forecasts are tailored to cover sensitive operations such as salvaging, offshore platforms, cable laying, and surveying ops and offshore windfarm construction.
WRI Operational Site Forecasts are custom-made in order to meet the requirements of our clients amd they consist of the following elements:
· Synopsis: A brief discussion of the surrounding meteorological environment.
· Heavy Weather/Tropical Concerns: The overall trend of conditions is discussed (such as weakening or strengthening of winds/seas etc.), any threats to the area from tropical systems, and if included, the probability of lightning (with recent observations of lightning included).
· Winds: Levels and units can be customized on demand.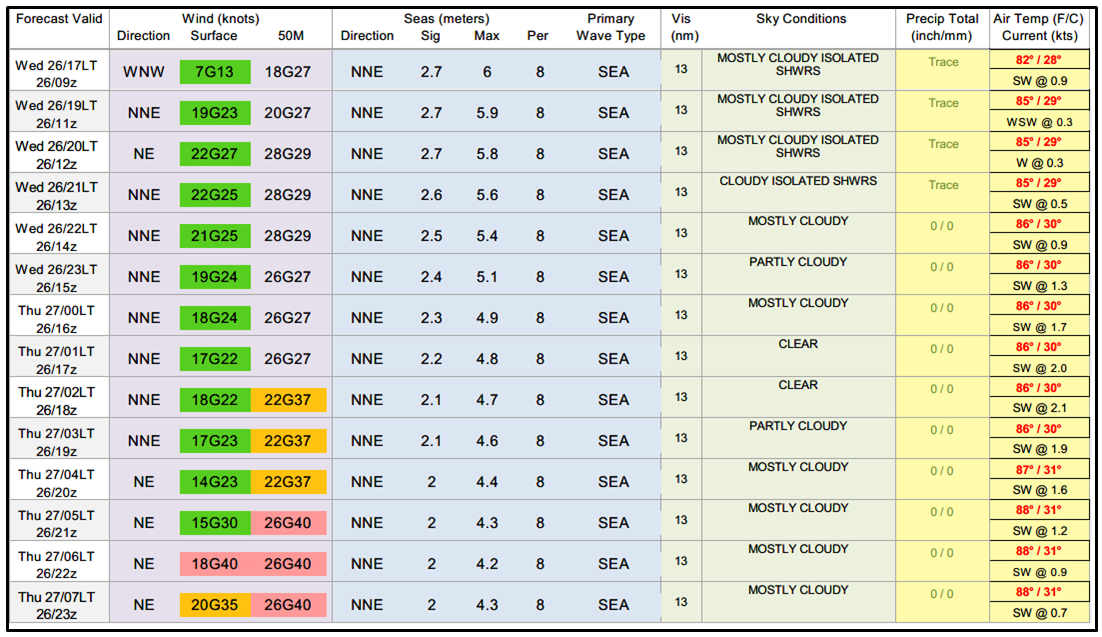 Figure 1: The above hourly forecast indicates a steady increase in wind speeds.
· Significant Wave Height: The average wave height of the highest 1/3 of a wave set.
· Sky Conditions and Visibility: An overview of the sky conditions, precipitation/type, and visibility.
· Detailed Spectral Wave Analysis: Primary wave direction, significant wave height, maximum wave height, zero crossing wave period, and peak wave period.
Figure 2: The above forecast utilizes our spectral wave data, which is available upon request.
· Meteogram: Graphic displaying the forecast parameters provided in the forecast table
· Synoptic-Scale Forecast Maps: 12 hourly Synoptic-Scale weather maps are included. These display winds, pressure, significant wave height, visibility, and precipitation.
· Additional Information Provided: Sea Surface Temperature, Total Precipitation, Air Temperature, Currents.
Dolphin Online
All our Site Forecasts include a complementary subscription to Dolphin. This is our online weather platform that is your one-stop-shop for all weather information for your fleet. Information included on the platform includes, but is not limited to:
· Site location on all forecast charts
· Winds, Seas, Precipitation, Currents, Temperatures, Visibility, Ice, and more
· Port Forecasts and specialized reports for any location
· Fleet Monitoring Dashboard for all weather data
· Tropical Tracker: Analysis of current and potential systems for all ocean basins
· Voyage Planner compares various routing options for safe/efficient transits
· Real-time observations (ship, land, buoy), satellites, and radars
· AIS satellite tracking
The ability for WRI to provide these specialized forecasts to our clients is a key element in ensuring safe and efficient operations. Further, we are available 24/7 for direct consultation. Maintaining a high level of communication with an expert marine forecaster equipped with the best tools available is crucial for any sensitive maritime operation.

Divinegate Intervention: Judgment on Positive Currents
Mike Stockwell, Operations Manager, Senior Meteorologist
The handling of ocean currents with respect to vessel performance evaluations has continued to be a large source of ongoing disputes over the last 15 years. There have been differing opinions regarding how both favorable currents and adverse currents are to be applied in performance analyses.
The Divinegate High Court Ruling added clarity to disputed cases involving the application of a positive current factor to the vessel's good weather performance speed (2022 1117 LMLN 1). The trend in London Arbitrations since 2019 has been that a positive current factor cannot be applied to the performance speed of the vessel unless specifically stipulated in the charter party. The ruling from Ms. Clare Ambrose concluded the following:
"In the present case Ms Ambrose held, in agreement with the claimant, that it was not appropriate as a matter of law and practice for positive currents to be taken into account in favour of the defendant in assessing performance. She noted that the majority of arbitral tribunal decisions excluded positive currents if the charterparty did not provide for them, and that wording such as "no adverse currents" showed that the parties agreed that adverse currents could provide a defence to the owner against delay whereas positive currents did not permit the charterer to argue that performance should have been better."
Therefore, unless the charter party has wording to the effect of "vessel's performance speed to be adjusted to account for the effect of currents" or "vessel to be debited for positive currents," then the required method is not to apply a positive current factor to the vessel's performance speed.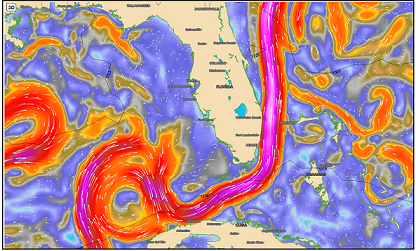 Figure 1. A vessel's speed through a major ocean current such as the Gulf Stream can have significant implications on a vessel's final performance evaluation.
The interpretation of the C/P stipulation "no adverse currents" is still a debated term in good weather descriptions. However, trends over the last 5 years have favored a literal interpretation of what is stated in the charter party (i.e. when the phrase "no adverse currents" is present, qualified good weather days must NOT have prevailing adverse currents).
WRI's performance analysts suggest clear, specific wording regarding both positive and negative currents in all clauses. This is to help prevent the disputes commonly seen between owner and charterer when conducting a post-voyage review of a vessel's performance.
WRI is available to provide performance analysis services with rebutting commentary and supporting data to assist your needs.
Upcoming Events

•

10 Oct 2023 - Shipping Insight Conference, Stamford, CT

•

1 Nov 2023 - SNVO Conference 2023, Athens

•

12 Mar 2024 - CMA Shipping Conference. Stamford, CT