Select an edition to view:

Northwest Pacific Tropical Outlook
By: Ernesto Findlay, Meteorologist
The Northwestern Pacific (NWP) Tropical Cyclone basin is the most active tropical basin in the world with an average of 26 tropical cyclones that reach tropical storm strength or greater, and of those an average of 16 becoming Typhoons per year.
Tropical cyclone activity in this basin can occur at any time of the year, however, most tropical cyclones form during the Summer and Autumn seasons from June through November.
To be able to understand how active a given tropical cyclone season will be, we need to understand the conditions needed to form a tropical cyclone, which are listed as follows:
Warm sea surface temperatures (SST's) of 26°C or greater


Light winds aloft


Moisture rich atmosphere
Currently, SST'S are running below average over the Philippines and with slightly above average temperatures in the South China (Fig.1). Most of the rest of the basin is near average except for the Subtropical regions. We can conclude with this SST pattern that recurving Tropical cyclone will be able to sustain their intensity in the mid-Latitudes.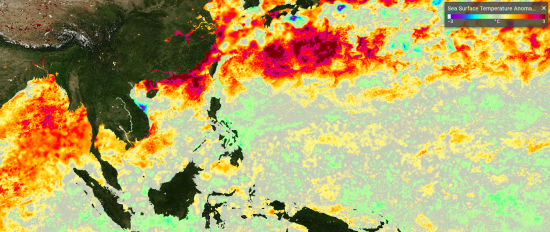 Fig 1. Sea surface temperature anomalies across the W'rn Pacific Ocean on May 19th,2021. Courtesy of Podacc.
One of the main predictors of the NWP Tropical Cyclone activity is the ENSO cycle. This cycle is expected to transition from La Nina to a Neutral ENSO. Figure 2 depicts the typical weather pattern expected during NWP Tropical Cyclone season when La Niña transitions into a Neutral ENSO (1996,2001,2009,2012). The Pacific ridge tends to be further North than normal during these years, which leads to weaker than normal trade winds over the main development region in the NWP basin, and subsequently more favorable environmental conditions for tropical development.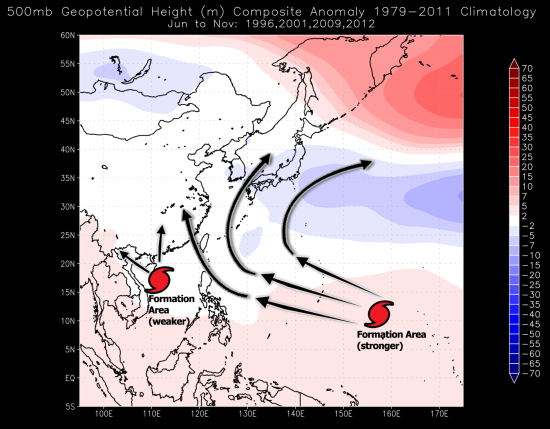 Fig 2. 500 hPa geopotential height anomalies composite over the W'rn Pacific Ocean from June through November for the years of 1996, 2001, 2009, 2012. Areas with expected highest frequency of formation and tracks are overlaid.
In addition, a more N'ward position of the Pacific ridge combined with warmer SST's east of 140E when compared to last year should allow for storms to develop further East than normal. This formation farther east will allow for storms to gain more strength as they spend more time over warm waters, and this ultimately leads to greater likelihood of recurving storms towards the higher latitudes. This could mean significant tropical threat for the East of China, Japan, Korea, and over the Shipping lanes east of Japan to 180W. On the contrary, this should result in fewer than normal tropical Cyclones threating the Philippines and South China Sea - which are the areas that saw above average tropical activity last season.
Given the above factors, WRI expects near average to slightly above average tropical activity for the 2021 Northwestern Pacific tropical season, with an anticipated 25-29 named tropical cyclones.
Thus far, it has been a quiet start to the Tropical season, but we are expecting more activity over the coming weeks. One of the contributors to a more active pattern over the next couple weeks is the Madden-Julian-Oscillation (MJO). The MJO is an eastward moving disturbance of clouds (moisture), rainfall, winds, and lower pressure that traverses the entire planet in the tropical regions approximately every 1-2 months (see Fig. 3 below). As the MJO moves over a given tropical basin, it can allow for atmospheric conditions to be more conducive for tropical development. This is expected to occur over the next 1-2 weeks as the MJO is expected to move over Western Pacific basin. This should allow for more favorable atmospheric conditions and active period over the Western Pacific in the shorter term.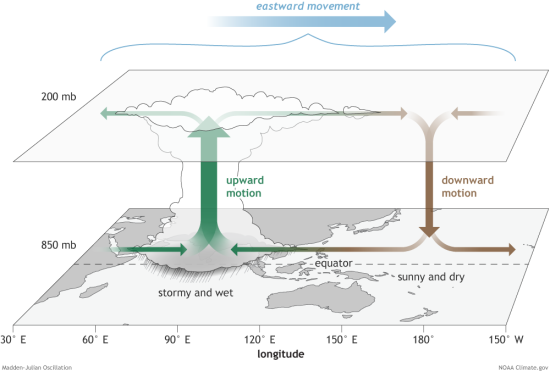 Fig 3. Simplified diagram showing the general concept of the eastward moving MJO. (courtesy NOAA)
During the upcoming active Northwest Pacific cyclone season, WRI meteorologists are working hard to keep you informed of any potential tropical threats through a variety of products. These products include our
Dolphin
website Tropical Tracker, basin wide tropical summaries and storm-specific alerts. These products are issued to your operations team and vessels, allowing for advanced notice of any potential tropical concerns.
Contacts us today, to receive the most up to date information by consulting one of our Meteorologists who are available 24/7 to assist you.

Speed/Consumption Analysis: "Green" Considerations
By: Keith Wagner, Director of Operations
Vessel operators face a "balancing act" weighing the primary factors of Emissions, cost of fuel, cost of charter and time at sea (potential required ETA). Emissions is a key component in evaluating a transit and seeking to minimize environmental impact with lower CO2 and other pollutants.
Vessel operators will often find themselves wondering what is the optimum speed/consumption combination to achieve the necessary goals for a particular voyage.
Weather Routing, Inc. (WRI) meteorologists evaluate expected weather/current patterns to provide your vessels with the optimum recommended route. However, we can also assist with an evaluation of expected total steaming time, bunker consumption, and estimated costs for various speed/consumption combinations to assist your organization's decision making process.
The Speed/Consumption Analysis report (Figure 1) provides your operations team with a preliminary analysis based on different speed/consumption settings. WRI's meteorologist first prepare the most likely recommended route. In order to provide comparison calculations along that route, we require the following information:
Speed/consumption settings you are considering for evaluation


Bunker costs (per MT)


Daily hire rates (USD)
We can then provide you with estimated calculations for your evaluation. The calculations in this report can help you with the following:
Are there any concerns with missing a required ETA at a certain speed/consumption setting?


Which speed/consumption combination results in the least amount of consumption (least greenhouse gas emissions)?


Which speed/consumption combination is the most cost-effective option comparing Hire Rate and Bunker costs?
WRI's Speed/Consumption Analysis is another tool that can assist your team with safe and efficient operations. Our team of meteorologists are also available 24/7 to assist with any weather or route questions.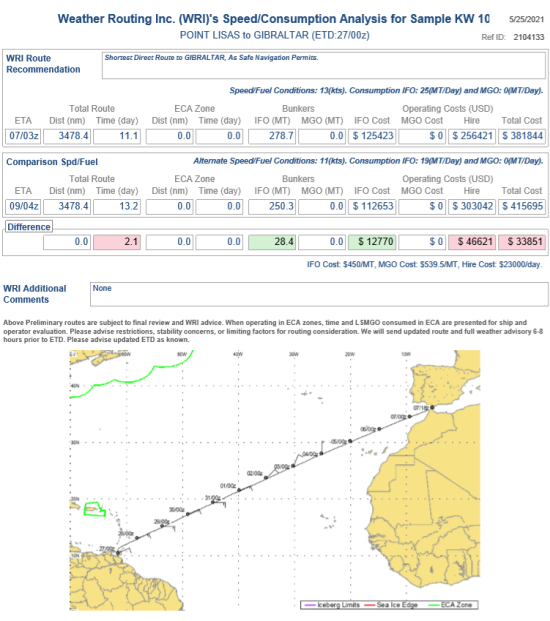 Figure 1: WRI's Speed/Consumption Analysis report
Upcoming Events

•

03 June 2021 - Webinar/West Pacific Tropical Outlook

•

13-15 October 2021 - CMA Shipping, Stamford CT