Select an edition to view:


La Niña
By: Josh May, Meteorologist
WRI's meteorologists have been closely monitoring trends in the Sea Surface Temperatures across the Equatorial Pacific. In the mid to late summer, the trends in this area are a key indicator for larger scale weather patterns in the N'rn Hemisphere.
Over the course of the summer, there has been an overall cooling trend across this area which has somewhat accelerated during the month of August. The below map shows that the coolest waters have been off the coast of South America, with not as much cooling in waters farther west.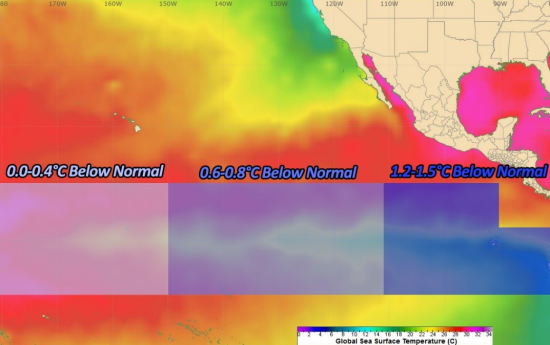 Figure 1: Global Sea Surface Temperatures with anomalies highlighted
If the waters continue to cool at this rate a "La Niña" is likely to be declared by the end of the year. Based on current trends there is about a 60% chance of this occurring. This would mean the following for the large-scale weather patterns across the Northern Hemisphere:
Reduced squall activity and tropical development across the Equatorial E'rn Pacific Ocean into early fall months


High pressure will tend to develop Southeast of the Aleutians weakening the gale track across the NE'rn Pacific, especially across the Gulf of Alaska during late fall/early winter


Cooler than average air temperatures across the Pacific Northwest in the United States


Weakened trades in the Caribbean which results in more favorable conditions for tropical development through the fall


Increased convection across Indonesia and the W'rn Pacific, with tropical development occurring farther north and west than normal
In the event of "La Niña", the weakened gale track across the North Pacific will allow for more opportunities of "aggressive" routes for Trans-Pacific voyages. This can save both time and money as this will make the need for routes near/south of Hawaii due to weather less frequent which are typically a few hundred miles longer than the "direct" route.
As always, WRI will be continuously monitoring these trends over the coming months. This additional knowledge comes in handy when our meteorologists assist vessels in routing along the safest, most optimal routes to their intended destinations. Please feel free to contact us anytime, as our meteorologists are available 24 hours a day, 7 days a week to assist.
WRI Webinars
Ryan Kiely, Assistant Operations Manager
WRI strives to ensure that we keep our clients as well-informed as possible, not only regarding weather and performance topics, but also with respect to the various products and features that we offer. With the COVID-19 pandemic impacting all areas, we have been unable to meet with our clients in person to give hands-on demonstrations of all we have to offer.
In view of these challenging times, we have begun using "Crowdcast" to give interactive webinars to demonstrate our products along with discussing important weather topics. This has allowed us to remain engaged with all of our clients from the safety of our own office.
So far, we have held webinars on the following topics: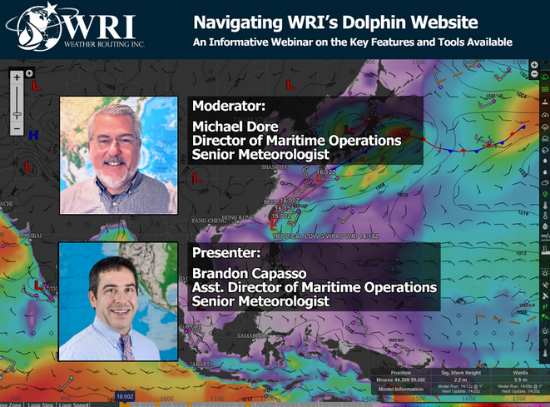 In the coming months, we will also be holding webinars on the following topics:
C/P Clause Wording and How it Affects Performance Analysis

(Mid-October)



Great Lakes Winter Ice Outlook

(Late November)



Dolphin Voyage Planner Tutorial

(Early January)



Dolphin Fleet Dashboard Tutorial

(Late January)
To stay up to date on all of the webinars we will be offering, follow us on
Crowdcast
. The webinars offered are always available to be viewed and referenced at a later date, but we invite you to join us in real-time so we can answer any questions you might have.
If you are interested in a more one-on-one discussion about our products and services, please reach out to us and we would be happy to schedule something with you. In the mean-time, please watch for emails for official dates/times and invitations for the upcoming webinars.
Upcoming Events

•

10/12/2020 - 10/14/2020 - Shipping Insight

•

10/14/2020 - 10/16/2020 - CMA Shipping

•

10/14/2020 - Webinar - C/P Clauses