Select an edition to view:

Thank You from WRI
Keith Wagner, Director of Operations
The past year has certainly been one marked by uncertainty as we navigate our way through a global pandemic. The shipping industry, like most others, has not been spared from these difficulties. As we have seen time and again, our industry has been able to skillfully adapt to these changes thanks to the hard work and dedication of all those involved.
We would like to take this opportunity to thank all of our clients for continuing to rely on WRI to assist you with all of your routing, forecasting, and performance analysis needs. Our team takes great pride in providing this valuable service, keeping your vessels safe, and your operations running smoothly while protecting your interests.
As we hopefully begin to see the "light at the end of the tunnel" in early 2021, rest assured that WRI will continue to be available 24/7 to provide optimum routing, forecasting, and performance analysis services for our valued customers. Our Dolphin website (wriDolphin.com) is also available for evaluation of latest weather and performance data, with many new upgrades expected in the year ahead. We look forward to continuing to serve you.
Best Wishes for Health, Happiness and Prosperity for the upcoming year 2021, stay well and safe.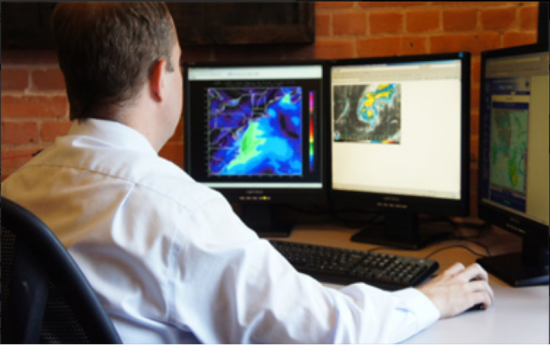 One for the Record Books: 2020 Atlantic Hurricane Season
By: Zachary Jacomowitz, Meteorologist
The 2020 Atlantic Hurricane Season was the most active Atlantic hurricane season on record in terms of total classified systems. Let's look at the numbers:
31 total tropical systems (includes unnamed tropical depressions). This is tied with 2005.


30 of these became classified named systems. This is a new record.


13 of the 30 systems strengthened into hurricanes.


6 of the 13 systems became major hurricanes (Category 3 or higher on the Saffir Simpson Hurricane Wind Scale).


The Atlantic season runs from 1 June to 30 November, however, for the sixth straight year, a named storm developed prior to 1 June (Tropical Storm Arthur formed on 16 May).


2020 marked only the second time on record that the pre-assigned naming list was completely exhausted; forcing the Greek alphabet to be used.


Interestingly, the strongest storm was one with a Greek name: Hurricane Iota (13-18 November). This system peaked at 139-knot maximum sustained winds (Category 5).
Dolphin map showing five active tropical systems in the Atlantic basin at once during the 2020 season.
A major contributing factor to the active season was that the ENSO cycle was in a La Niña phase, which yields more favorable meteorological conditions for tropical development over the Atlantic. Many of the areas that were repeatedly impacted were high trafficked waters of the Central/NW'rn Caribbean and the Gulf of Mexico. Tropical Storm Gamma (2-7 October) developed over the far W'rn Caribbean and eventually crossed the Yucatan Peninsula. Just days later, Hurricane Delta (5-12 October) also impacted the Yucatan Peninsula, which was followed by Hurricane Zeta (24 Oct - 2 Nov) over the same region. Numerous systems impacted the Gulf Coast of the U.S., with Hurricanes Laura, Sally, Delta, and Zeta being a few of the more prominent ones.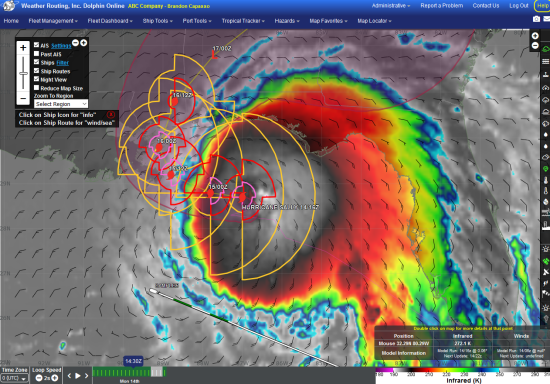 Infrared satellite image and storm track available on WRI's Dolphin Online
wriDolphin.com
WRI's Dolphin Online
wriDolphin.com
has a wealth of tools and products that assist with managing fleet operations for any ocean basin. Dolphin users have access to WRI's daily tropical summaries and advisories and can view the latest tropical tracks and weather data on demand.
Contact us today for a closer look at what Dolphin Online has to offer, or to see which of our other customized services best suits your needs. Our meteorologists are available 24/7 to assist you.
Upcoming Events

•

27 January 2021 - Webinar/Dolphin Voyage Planner

•

13-15 October 2021 - CMA Shipping, Stamford CT