Select an edition to view:

Volume 11 Issue 8 Sep 2022

Dolphin Online Weather Tools
Mike Stockwell, Operations Manager, Senior Meteorologist
With the winter season across the northern hemisphere fast approaching, and with active tropics continuing, we wanted to highlight some of the key features on Dolphin Online that make it easier to track your vessel's weather and routing:
*New Feature* 14 day Port Forecast: Now available on the Port Menu dropdown. This will help plan for any delays for loading and discharging operations.
WRI's Rogue Wave Index: This highlights waters where conditions are favorable for rogue waves. Factors such as interference between waves from multiple directions, and ocean currents all play a role in rogue wave development. This parameter can be selected from the Forecast Parameters Menu under "Special Wave Products."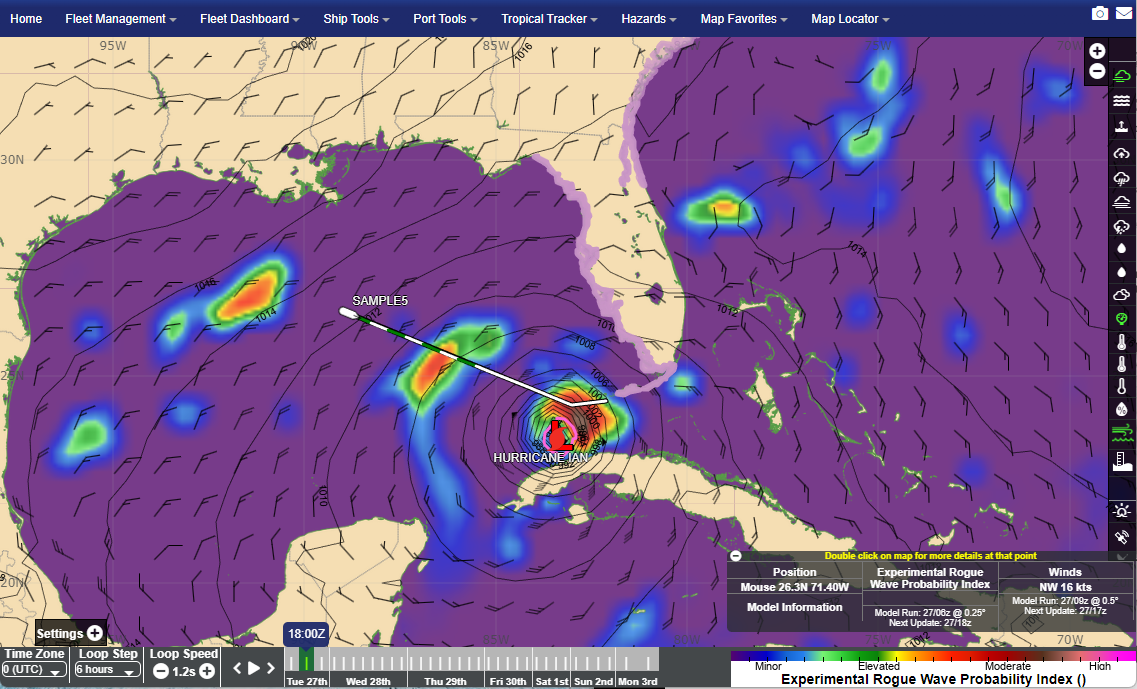 Potential for rogue waves over the Central Gulf of Mexico is shown due to NE'ly winds along the western periphery of Hurricane Ian interacting with the Gulf Loop Current.
Tropical Tracker : Provides access to the latest advisories on tropical system details and special weather products specific to that system (i.e. wind speed probabilities, storm surge potential).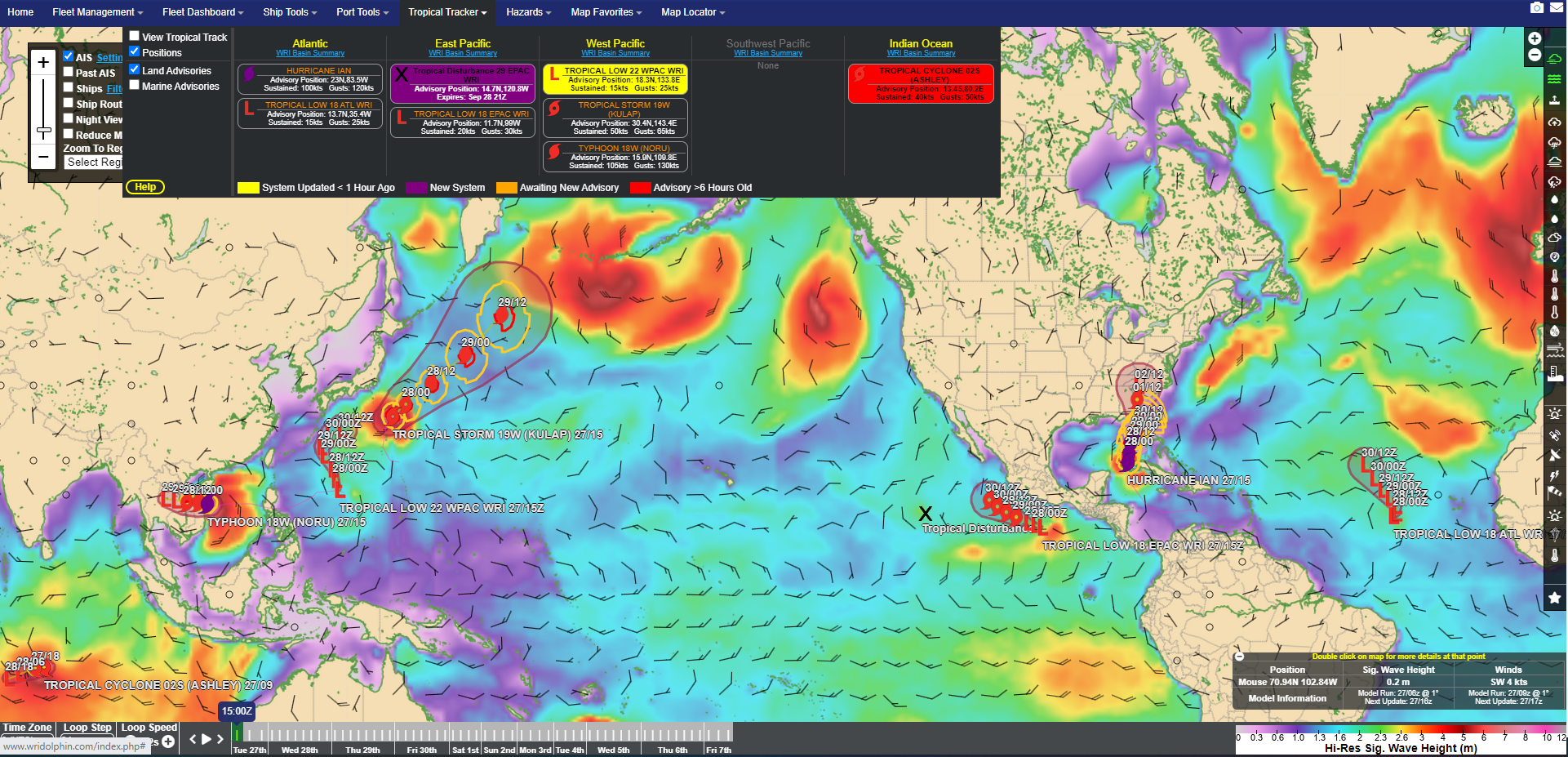 The Tropical Tracker is helpful in providing a quick snapshot of any active tropical systems or disturbances in the world.
Live AIS tracking and past 24 hrs AIS track line/CSV file
Weather and Oceanic Forecast Parameters available on the right hand menu on the homepage, which includes access to both the GFS and European global models, as well as WRI in-house high resolution models: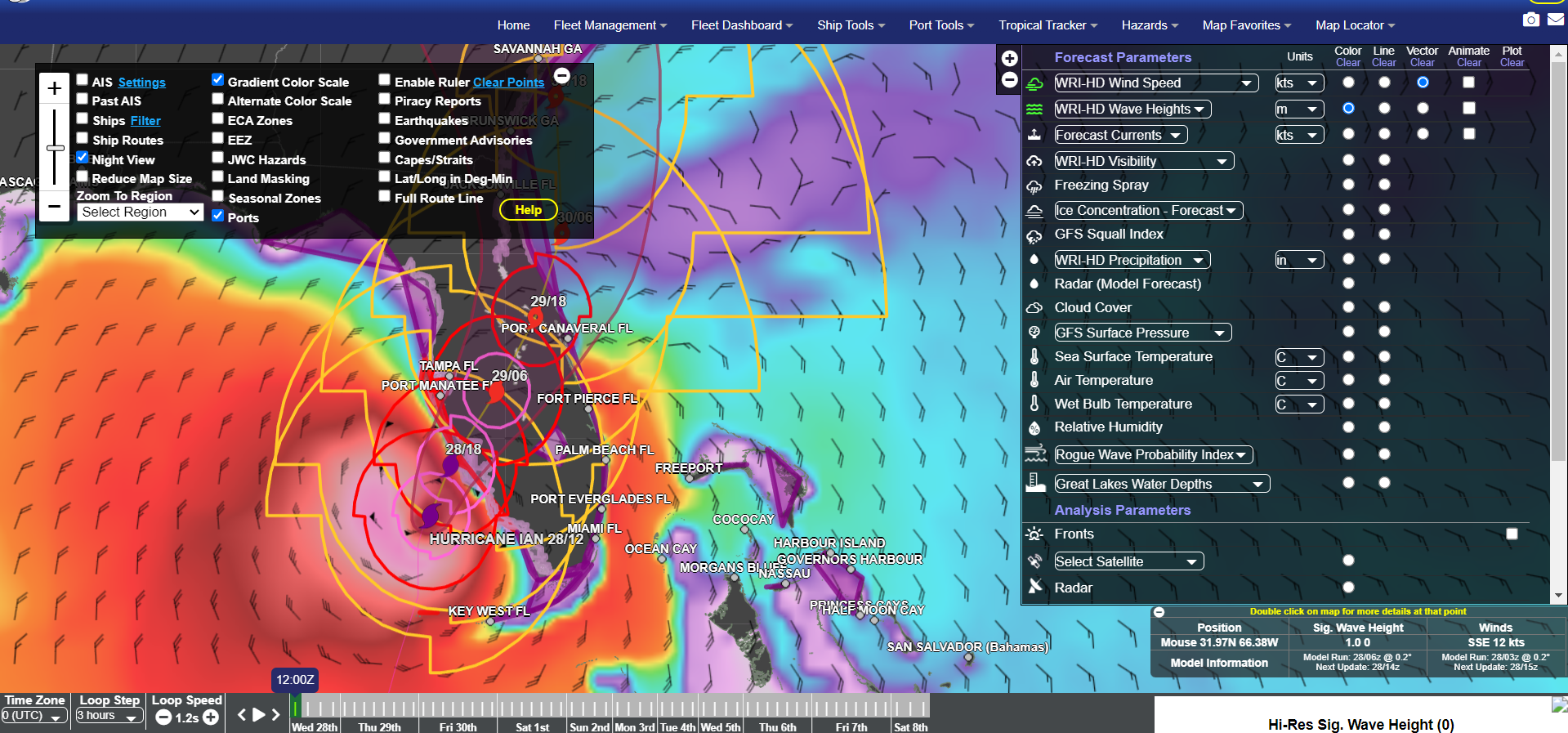 Weather parameters can be enabled from the right hand side menu, and display settings can be changed from the settings menu in the upper left of the page.
These are just a few examples of the suite of tools that are available on Dolphin. Operators can monitor both the weather and performance of their fleet via the Fleet Dashboard, with access to a plethora of past voyage data. Masters will also find our Voyage Planner tool useful for evaluation of different routing options for planning prior to departure or adjustments in transit.
Dolphin Online is a supplement to our traditional weather routing and performance monitoring services. We are sure you will find these features useful for planning operations, and as always, we welcome any feedback. We are available 24/7/365 to assist with any route forecasting or performance needs.

Positive Current Factor - New High Court Ruling
Keith Wagner, Director of Operations
A recent High Court ruling (the Divinegate) has added "legal weight" to a recent trend in arbitrations, where the application of positive/favorable current factor (to debit good weather speed) is only allowed if the charter party wording specifically allows for it.
The ruling indicated the following:
In the absence of wording excluding the benefit of positive currents (or weather that is better than "good weather") such benefit is not to be deducted in measuring the Vessel's speed for the purpose of the performance warranty. This approach reflects the majority of tribunal decisions and the reasons given in London Arbitration 15/07.
This ruling means that it is more important than ever to insert clear wording into any charter party agreement allowing the application of current factors, if that is the intention of the parties.
We would suggest the best wording would be:
A current factor can be applied to all "good weather" days to debit the vessel speed when in assisting currents and credit the vessel speed when in adverse currents.
WRI's performance analysis team can help to assist with suggested "good weather" clause wording to ensure that you are protected in the event of any underperformance.
Upcoming Events

•

11 Oct 2022 - Shipping Insight Conference

•

21 Mar 2023 - CMA Shipping Conference