Select an edition to view:

Volume 11 Issue 4 May 2022

2022 Atlantic Tropical Outlook
Ernesto Findlay, Meteorologist
After last year's record breaking North Atlantic Hurricane Season, let's look at what we can expect for the 2022 Hurricane season. The North Atlantic hurricane season begins on June 1st and runs through November 30th, with the historical peak in activity around September 11th. Over the last 30 years, the North Atlantic hurricane basin has averaged a total of 14 named storms, 7 Hurricanes, and 3 Major Hurricanes.
To be able to understand how active a given tropical season will be, we need to understand the conditions needed to form a tropical cyclone, which are as follows:

A) Warm sea surface temperatures (SST's) of 26°C or greater
B) Light winds in the upper atmosphere
C) Moisture rich atmosphere
One of the main sources of year-to-year variability of hurricane activity in the North Atlantic basin is the El Nino Southern Oscillation (ENSO), which has strong effects on the upper-level wind patterns over the Atlantic Ocean.

The effects of the ENSO on the North Atlantic hurricane basin are summarized on the table below:
| | | |
| --- | --- | --- |
| | El Nino | La Nina |
| Trade winds | Stronger than normal | Weaker than normal |
| Sea Surface Temperatures | Cooler than average | Warmer than average |
| Tropical Cyclone Activity | Below normal | Above normal |
Similar to last season, we are currently under a moderate La Nina event which is expected to persist into the summer and the beginning of the hurricane season. La Nina is then expected to transition into its neutral phase by late summer into autumn. As a result, we expect lower than normal vertical wind shear over the Atlantic basin resulting in a more favorable environment for tropical development.
The sea surface temperatures across the Subtropical Atlantic and Gulf of Mexico are currently running 1-2 degrees Celsius above average with some below average temperatures in the Tropical Atlantic and NE'rn Caribbean. As a result of these warmer than average temperatures, there is an increased chance for an early season development of a Subtropical Cyclone. Even though waters over the Tropical Atlantic are near to below average temperature, these temperatures are near 26°C, which are enough to support tropical cyclone development.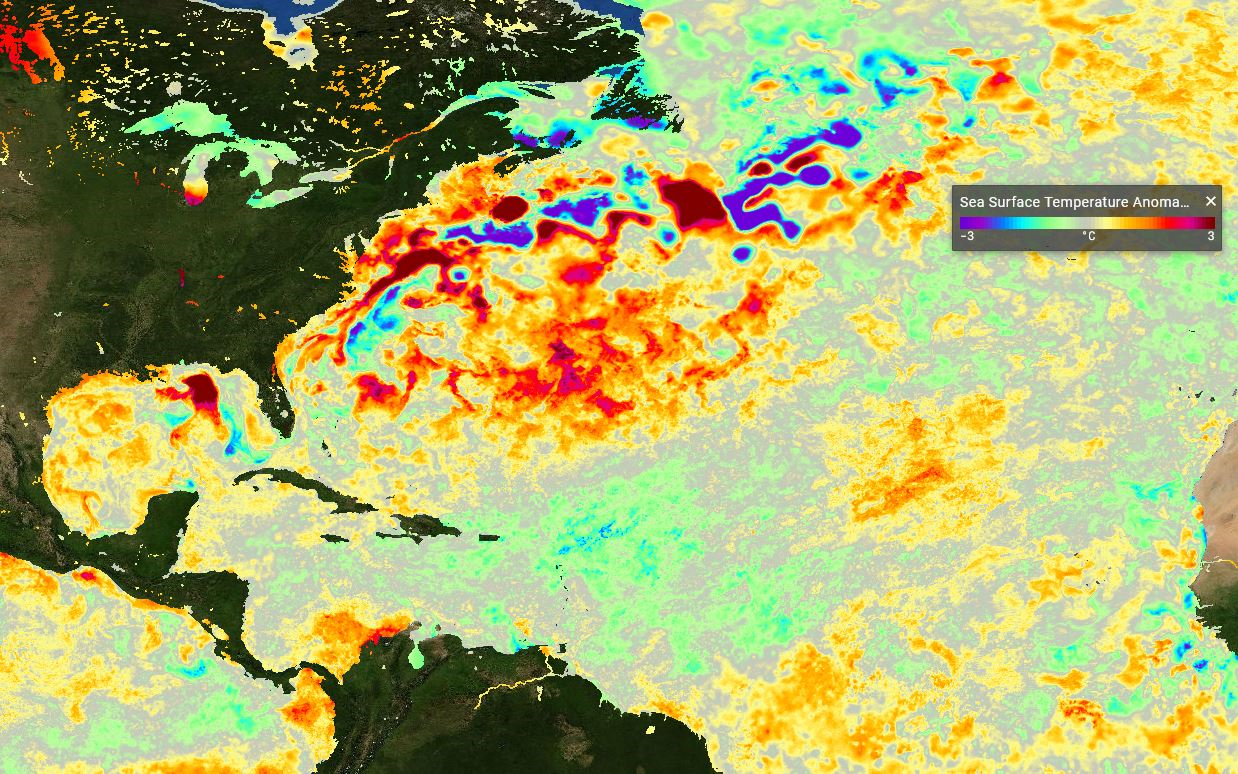 Sea surface temperature anomalies across the North Atlantic Basin as of April 24th. (Courtesy of PODAAC)
Given the above factors, WRI expects yet another above average hurricane for the 2022 North Atlantic tropical season, with an anticipated 17-20 named tropical storms, 7-10 hurricanes and 3-5 major hurricanes (Cat 3+).

Who is at risk?
One of the main players that can determine how close a storm get to the U.S. is the Bermuda High. Looking at the last 5 seasons that have transitioned from La Nina to a neutral phase, the Bermuda high has been weaker than normal and shifted farther East (see below image). As a result of this, tropical cyclones are more likely to recurve away from the U.S., resulting in less U.S. landfalls.

During May, we are anticipating at least one subtropical system to develop north of the Bahamas and/or south of Hispaniola and lifting northward. In June, it is common for a system to develop over eastern Central America and lift northward. Moderate water temperatures in the eastern/central Gulf of Mexico would likely prevent the system from excessive strengthening, however warmer waters in the southwestern Gulf should be conducive for brief/limited development near the coast.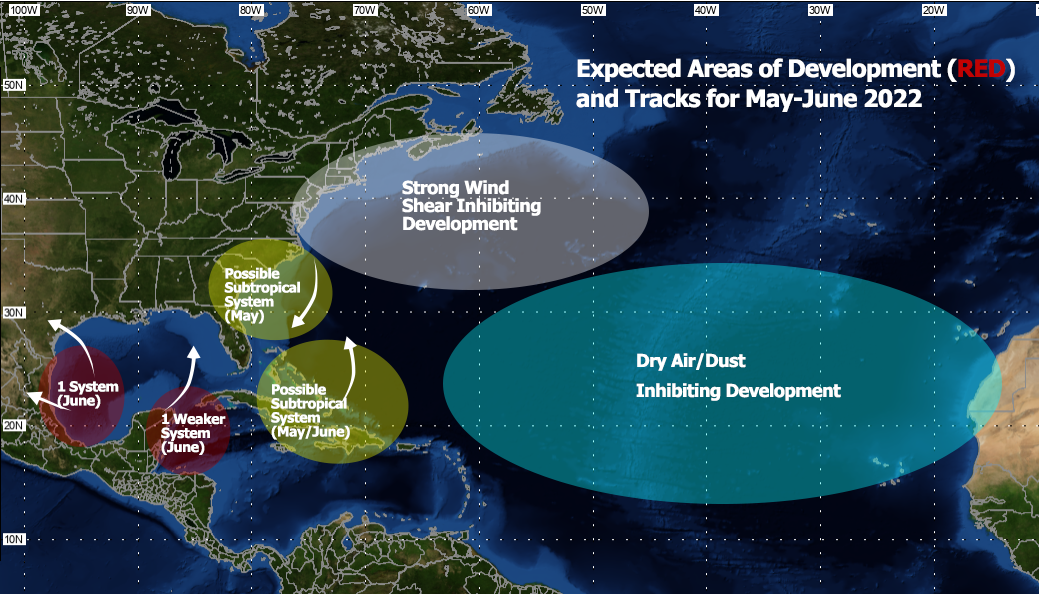 Expected areas of tropical development over the North Atlantic Basin for May/June 2022.
Activity steadily increases between July and September, with formation possible virtually anywhere by August/September. With a lack of wind shear and reduced trade winds resulting from the Bermuda High being positioned farther east, we do anticipate environmental conditions across the northern Caribbean to be favorable for both development and/or strengthening of systems moving in from the east. As such, we are expecting a significant landfall in Hispaniola this season.
Furthermore, the last few years have featured above normal sea surface temperatures across the northeastern Atlantic resulting in late season development of tropical or sub-tropical cyclones in this area, and this trend is expected to continue this season. These systems can be slow to move and often cause disruptions and delays for Trans-Atlantic routes.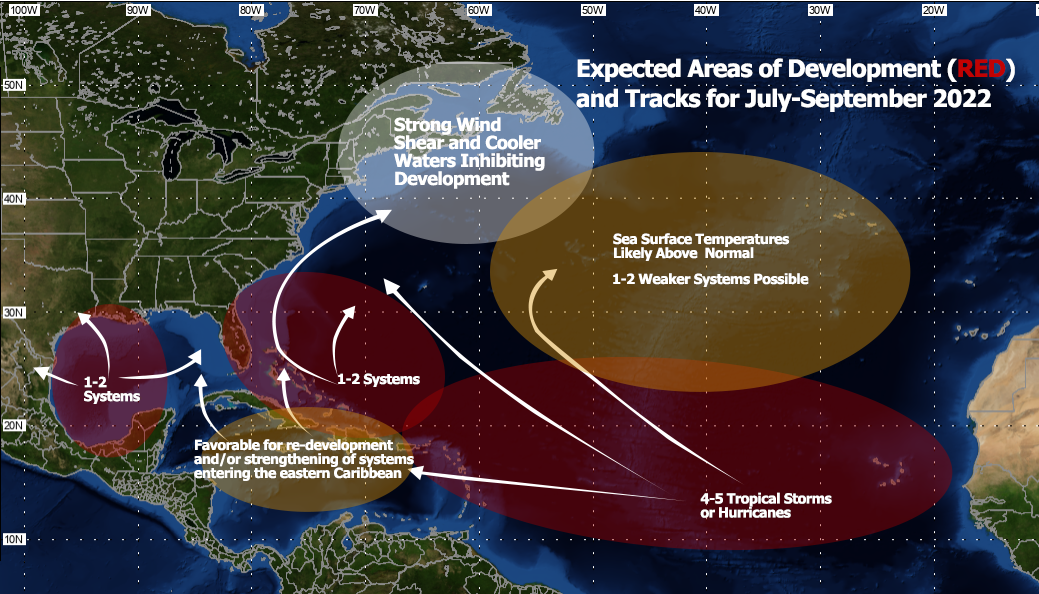 Expected areas of tropical development over the North Atlantic Basin for July-September 2022.
Overall, there is agreement between WRI and other agencies that the 2022 Season is expected to be above normal. Colorado State University is predicting 19 named storms, while Accuweather is predicting between 16-20 named storms.
During the upcoming active North Atlantic hurricane season, WRI meteorologists are working hard to keep you informed of any potential tropical threats through a variety of products. These products include our Dolphin website Tropical Tracker and basin wide tropical summaries (which given the recent early formation of storms will commence on May 15th.) These products are issued to your operations team and vessels most often 3+ days ahead of the system being named, allowing for advanced notice of any potential tropical concerns, which allows for the necessary actions to be safely taken well ahead of time.

Contacts us today, to receive the most up-to-date information by consulting one of our Meteorologists who are available 24/7 to assist you.

Carbon Intensity Indicator (CII)
Adam Rusak, Meteorologist
CII, or Carbon Intensity Indicator, is a measure of how efficient a ship is with respect to carbon emissions over distance traveled. Every cargo, ro-ro, and cruise ship over 5000GT is rated from A to E on an annual basis, with vessels needing to achieve a C or greater rating. If vessels achieve a D rating for 3 consecutive years or an E rating for 1 year, a correction plan will be put in place to try and improve the vessel's CO2 emissions. The CII ratings will go into effect by 2023. The IMO will be enforcing penalties, although these penalties are not 100% clear yet. As it stands, vessels will have to submit a Ship Energy Efficiency Management Plan (SEEMP) to improve their emissions. The plan must be set out in the SEEMP within one month after reporting the vessel's Attained Annual Operational CII, and will be verified by the Flag State. With the vessels needing to achieve a C rating or greater, there will need to be corrections made to vessels to improve their rating.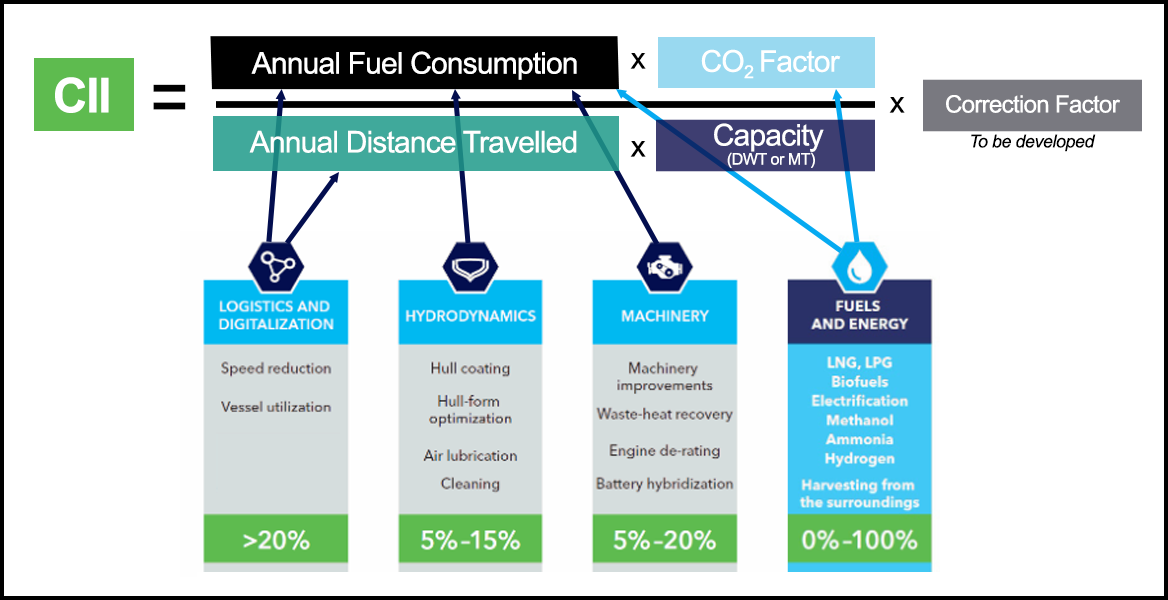 Graphic showing the CII calculation and ways to potentially improve a vessel's rating.

The above image illustrates some of what can be done by ship owners to improve their CII rating. One of the most effective ways of controlling CII is by reducing speed to reduce consumption, although this comes at the cost of additional steaming day, and potential issues with meeting ETAs. However, some owners may stipulate lower speeds in the C/P agreements so that vessels do achieve at least a C rating. For example, this clause may read:
"Charterers acknowledge and accept that Owners in their discretion will be at liberty to reduce the main engine power/vessel's speeds and to do whatever else they consider necessary…to ensure that the vessel will achieve a carbon intensity rating of A, B, or C at all times in accordance with CII regulations".
Additionally, improving the vessel "efficinecy" via hull coatings, propeller cleaning, or enging maintenance can also help to reduce consumption and therefore CII. Another method of CII reduction is alternate fuels which reduce CO2 emissions, such as LNG. It is worth noting that LSMGO has a higher CO2 Emission Factor than other fuel types.
As vessels will need to comply with CII regulations beginning in 2023, it is primarily owners who will be affected, as their fleet will now be subject to compliance. Owners cannot offset the rating of one ship with another, and all ships must be compliant in a fleet. Due to the reduction factors, the CII a vessel needs to achieve will need to be lower each year, with an estimate of 70% of tankers being in D or E grade by 2030 without any modifications. Therefore, owners will need to make some of the above modifications to remain in compliance. Currently, a vessel that scores a D rating for three consecutive years or an E rating in a single year will be prohibited from sailing until the owner submits a corrective plan as per SEEMP, which will then need to be approved.
It is possible that charterers may opt to charter ships with a higher CII rating, as they don't have a risk of owners putting restrictions on vessel's speed to achieve the required CII rating. Additionally, as the reduction factors increase with time, engine power limitation may not be enough to achieve an acceptable rating.
WRI is monitoring the development of CII and how it will affect the shipping industry. WRI is also in the process of implementing calculations for CII which will in place in the coming months. If any questions, please feel free to contact us at any time.
Upcoming Events

•

12 May 2022 - Webinar - North Atlantic Outlook

•

6 Jun 2022 - Posidonia 2022 Athens

•

6 Sep 2022 - SMM 2022 Hamburg