Select an edition to view:


Northwest Pacific Tropical Season
By: Ernesto Findlay, Meteorologist
The Northwestern Pacific (NWP) Tropical Cyclone basin is the most active tropical basin in the world with an average of 26 tropical cyclones that reach tropical storm strength or greater, and of those an average of 16 Typhoons occur per year.
Tropical cyclone activity in this basin can occur at any time of the year, however, most tropical cyclones form from May through November.
To be able to understand how active a given tropical cyclone season will be, we need to understand the conditions needed to form a tropical cyclone, which are listed as follows:
Warm sea surface temperatures (SST's) of 26°C or greater
Light winds aloft
Moisture rich atmosphere
One of the main sources of year-to-year variability of Tropical Cyclone activity in the NWP basin is the Summer South China Sea (SSCS) monsoonal trough. SSCS monsoonal trough forms due to the temperature contrast between SST's over the E'rn Indian Ocean and SE'rn Asia. Cooler (Warmer) than average SST's over the Indian Ocean, results in a larger (smaller) temperature contrast, which results in a stronger (weaker) SSCS monsoonal trough.
The effects of the SSCS monsoonal trough on the NWP tropical cyclone basin activity are summarized on the table below:
| | | |
| --- | --- | --- |
| SSCS Monsoonal trough | Stronger | Weaker |
| Trade winds | Weaker than normal | Stronger than normal |
| Squalls | More frequent | Less Frequent |
| Tropical Cyclone Activity | Above normal | Below normal |
In 2020, SST's over the E'rn Indian Ocean has been running above normal over the last few months, which have led to a weaker than normal monsoonal trough. Consequently, this has led one of the slowest starts to the NWP tropical season so far.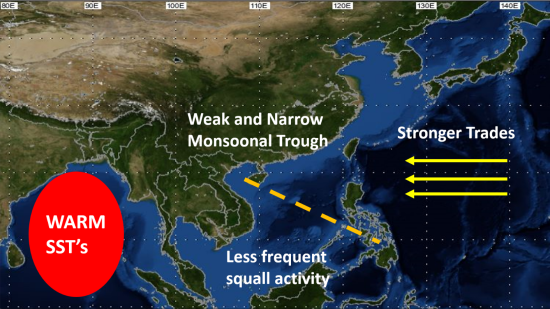 The current set up that has led to a below average start to the Northwest Pacific Tropical Cyclone season. Above average sea surface temperatures over the Eastern Indian Ocean have led to a weaker than normal South China sea monsoonal trough. As a result, stronger upper level winds and less frequent squalls over the North West Pacific tropical cyclone basin have led to a below average start to the Tropical Cyclone season.
However, looking forward SST'S over the E'rn IO are expected to cool to near normal levels through the summer into the fall, which will lead to a more average tropical cyclone season going forward
Given the above factors, WRI expects a near to below average tropical activity for the 2020 Northern Pacific tropical season, with an anticipated 22-25 named tropical cyclones
.
Overall, all the agencies that predict the Northwestern Pacific Tropical Basin agree that the 2020 Season is expected to be a below normal year in terms of Tropical Cyclone Activity.
During the upcoming active Northwest Pacific cyclone season, WRI meteorologists are working diligently to keep you informed of any potential tropical threats through a variety of products. These products include our Dolphin website
Tropical Tracker
, basin wide
tropical summaries
and
storm-specific alerts
. These products are issued to your operations team and vessels, allowing for advanced notice of any potential tropical concerns.
Contacts us today, to receive the most up to date information by consulting one of our Meteorologists who are available 24/7 to assist you.

Dolphin Website Upgrades
By: Keith Wagner, Director of Operations
Users of our
Dolphin
website (
www.wridolphin.com
) have undoubtably noticed many improvements and enhancements which have been added over the past few months. Below is a summary of some of the main upgrades:
Improved

speed in loading charts and maneuvering within the site
Overall

"sleeker"

appearance of the site

Improved Radar and Satellite

data

"Ship Tools"

section with products designed for specific vessels

"Fleet Management"

section with products designed for land-based operations

"Map Favorites"

section allowing for quick access to your favorite map products

"Voyage Simulator"

to view weather maps and historical data for past transits

"Port Weather History"

to view historical observation data for any port location with nearby observing stations

Enhanced AIS display

highlighting vessels whose position does not match with their expected location

Fronts

are now available across the US and much of the Atlantic and Pacific ocean basins

Lightning strikes

are now displayed with customizable settings

User-specific log-in

features are now applied

Storm-specific Tropical Advisories

are now available every 6 hours

"Reduce Map Size"

feature to further improve speed for vessels with poor internet capability

Alerts

for vessels when new messages have been sent by WRI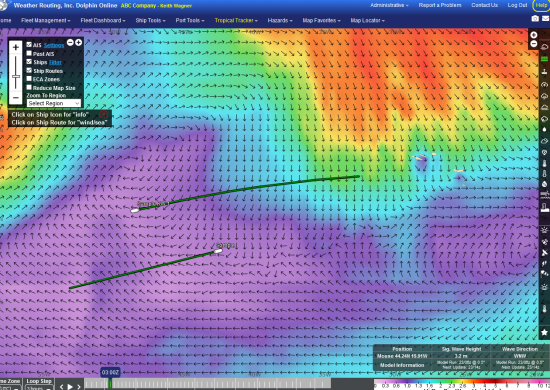 Overall view of enhanced Dolphin website display
More upgrades and enhancements are currently in progress
. If you do not have a Dolphin account, please contact us to receive a username and password. The Dolphin site and our team of meteorologists and performance specialists, provide you with an unparalleled combination of technology and experience, ensuring safe and efficient transits for your fleet.
Upcoming Events

•

06/25/2020 - Webinar - 2020 West Pacific Tropical Outlook

•

10/12/2020 - 10/14/2020 - Shipping Insight (Stamford, CT)

•

10/14/2020 - 10/16/2020 - CMA Shipping (Stamford, CT)