Select an edition to view:


Currents in Charter Party Good Weather Clauses
By: Joseph Desilva, Meteorologist
The handling of ocean currents in speed/consumption performance claims has been the source of ongoing disputes over the last 10 years. There have been differing opinions among arbiters regarding how both adverse currents and favorable currents are to be analyzed. This article examines the different schools of thought.
The interpretation of the C/P stipulation
"no adverse currents"
is an oft debated term in good weather descriptions. There are two different interpretations, both with logical arguments, and both with support in past London arbitrations.
When the phrase "no adverse currents" is present, qualified good weather days must NOT have prevailing adverse currents. This is a literal interpretation of the phrase. This interpretation is supported by

London Arbitrations 2018 1017 LMLN2 and LMLN 723 (2007)

.


Performance is first evaluated on "good weather" days without adverse currents. If the vessel performs on those days, the vessel is said to have performed. If there are no days that meet these criteria, there can be no underperformance claim. However, if the vessel does not perform on these days, then all "good weather" days, regardless of currents, are evaluated, with an appropriate current factor applied. This allows for a larger sample size of steaming days toward the final performance evaluation and therefore a more representative analysis of the vessel's true performance. This methodology is supported by

London Arbitration 2012 854 LMLN 4.
Another hotly debated topic is the acceptance of
positive current factors
in performance evaluations. Once again, there are two schools of thought in arbitrations.
A positive current factor cannot be applied to the performance speed of the vessel unless the C/P specifically states as such. This methodology is supported by

London Arbitration 2019 LMLN 1024.



A positive current factor should be applied unless the C/P description specifically prohibits it. The philosophy in this interpretation is that currents are a "fact of life", and should be taken into account in the normal course of events. This argument is supported by

London Arbitration 2005 LMLN 670

.
Recent trends in arbitrations have favored the literal interpretation of "no adverse currents", and the exclusion of positive current factors unless the C/P specifically allows for such an adjustment. It is important to note that each case has its own set of facts and special circumstances, and no High Court rulings have been established on either point, thus it is likely that disputes will continue for the foreseeable future.
One point to take into consideration in the above dispute is the availability of highly accurate ocean current analysis data. This data can be applied on an hourly basis, which provides an excellent representation of how ocean currents are impacting a vessel's speed. For this reason, we would argue that the effects of currents can be accurately analyzed to draw a true conclusion of the vessel's ability to perform.
WRI's performance analysts recommend that all C/P clauses clearly state all intentions with full and exact wording to avoid any potential conflict
. A C/P clause which clearly defines all parameters, rather than relying on what is "not written", is most likely to be looked upon favorably in any dispute.
WRI is available to provide performance analysis services with commentary and supporting data to assist your needs and protect your financial interests.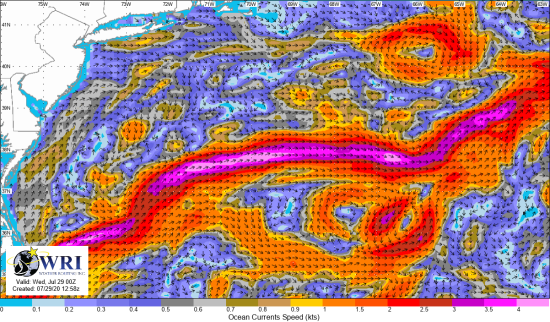 High resolution RTOFS ocean current data off the US East Coast

Atlantic Tropical In-Season Update
Mike Stockwell, Assistant Operations Manager
The Atlantic tropical season is off to a fast start with 9 named systems to-date, well ahead of the climatological average of 2 named systems by the end of July.
There have been some oddities worth noting:
Tropical Storm Cristobal

formed over the Bay of Campeche on June 02nd, marking the earliest the "C" storm has formed in the Atlantic (previously Tropical Storm Colin, June 05th 2016).



Tropical Storm Dolly

forming at 38.1N on June 23rd became the farthest north a storm has formed prior to July 01st.



Tropical Storm Eduoard

became the record earliest "E" storm for the Atlantic on July 15th, six days earlier than the previous record, Hurricane Emily in 2005.



Tropical Storm Fay's

northward track along the East Coast was only the 4th named storm to track within 75 miles of New York City during July or earlier since 1950 (the last being Hurricane Bertha in 1996).
A busy start to hurricane season doesn't always mean it will remain that way, but this falls in line with our outlook issued in early May and we expect conditions to remain favorable for continued development over the Western Atlantic. With near neutral to weak La Nina conditions forecast to continue through the autumn, environmental conditions will be more favorable with warmer than average sea surface temperatures and weaker than average trades across the Central Atlantic. Thus, we expect a continued above normal Atlantic Tropical Season.
We note Tropical Storm Gonzalo formed last week east of the Lesser Antilles and Tropical Storm Isaias has now formed and is expected to move northwestward across Hispaniola and the Bahamas over the next few days, signaling a start to the Cape Verde tropical wave season.
Stay informed with WRI's daily tropical summaries and Tropical Tracker on Dolphin as we safely navigate you through this active season
.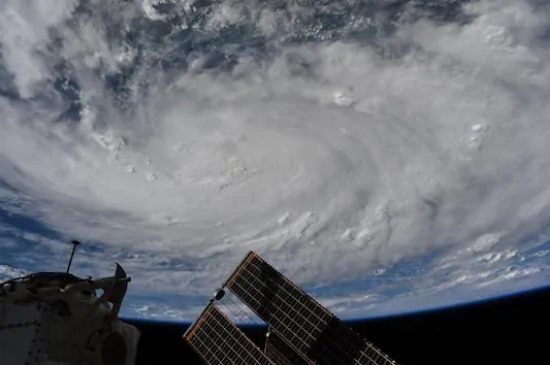 Hurricane Hanna approaching the Texas Coast on July 25th as seen by the International Space Station, courtesy of NASA.
Upcoming Events

•

08/12/2020 - Webinar - Dolphin Website for Cruise Vessels

•

10/12/2020 - 10/14/2020 - Shipping Insight

•

10/14/2020 - 10/16/2020 - CMA Shipping