Select an edition to view:



Great Lakes Winter & Ice Outlook
By: Kyle Stockman, Meteorologist & Cameron Kowalski, Meteorologist
With autumn now in full swing we can now begin to evaluate temperature trends for the upcoming months and how this will affect the expected ice cover over the Great Lakes Region this year.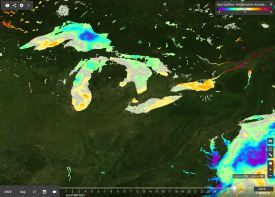 Figure 1. The above graphics display lake temperature anomalies during the past 2 weeks. We note cooler than average waters over the Western Great Lakes, while near normal to above normal over the Eastern Great Lakes
The series of recent cold air outbreaks during middle to late September has had a minor influence over the Great Lakes water temperatures, with cooler than normal waters currently in place over the Western Great Lakes. However, these cooler than normal water temperatures are expected to become offset by normal to slightly above normal air temperatures through the end of October.
The main factors that we evaluate for the onset of ice and overall ice coverage are the following:
The ENSO cycle (El Niño or La Niña)
Number of cold air outbreaks and 0 Degree days (in late autumn/early winter)
Seasonal/Long Range Temperature Forecast
The best indicator for long range seasonal ice conditions is the ENSO cycle. La Niña is expected to develop this winter, albeit it is expected to be weak. La Niña normally correlates with overall cooler air temperatures and thus an earlier onset of ice. However, the short-term outlook from the Climate Prediction Center (CPC) indicates a 20-40% chance of above average air temperatures to occur for the next three months across the Eastern Great Lakes Region, while near normal or below normal temperatures are expected for the Western Great Lakes.
Figure #2 below depicts some historical data showing the correlation between the seasonal air temperatures and its effect on maximum ice coverage. This historical data shows that air temperatures across the Great Lakes in late November into December are a key indicator for ice development later in the season. Monitoring air temperatures through November will help to increase the confidence of the ice forecast significantly in the months ahead.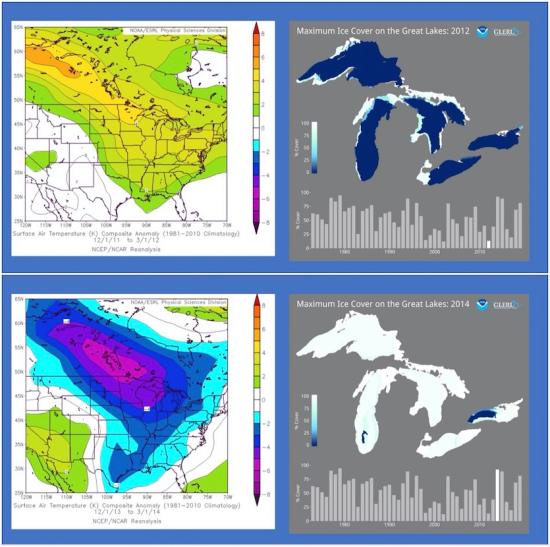 Figure 2. Ice coverage for a warmer year (2012) is compared to ice coverage for a colder year (2014).
In view of the above, we would expect normal to below normal ice development across the Eastern Great Lakes, and above normal development for the Western Great Lakes. These aspects and more will be discussed in a webinar expected in late November regarding the Great Lakes Winter Ice Outlook. We will also discuss tools available on the Dolphin website to assist with planning during these "cold weather" months.

Dolphin Port Tools
Keith Wagner, Director of Operations
WRI's Dolphin website (wriDolphin.com) is your one-stop-shop for weather/marine and performance information for your fleet. In addition to maps/charts, one feature which is especially helpful on Dolphin is access to port weather information, including Forecasts and other specialized port-related products, including historical port data.
In the upper information bar, you will see the "Port Tools" menu. Mouse over to choose any port across the globe, and choose to generate one of the following reports:
Short Range (4 day) Forecast
Long Range (7 day) Forecast
Visibility Forecast
Tender Forecast
Port Weather History
Port Risk Report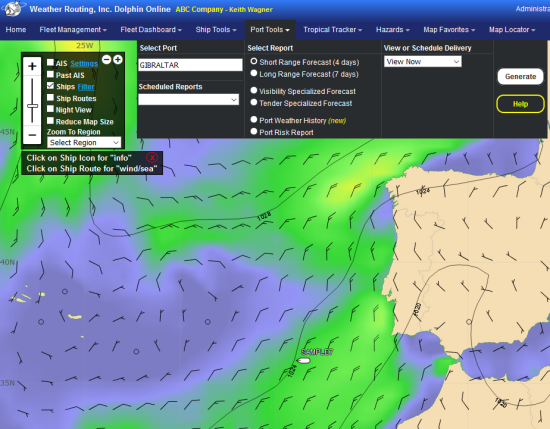 Port Tools Menu on Dolphin
The
Short Range and Long Range Forecasts
provide detailed 1, 3, or 6-hourly data for both the port and the seabuoy/pilot station, including winds, seas, temperature, precipitation, and more. Data is "color coded" for easy reference. The
Visibility Forecast
provides detailed 1-hourly visibility data for the port and pilot station, with maps showing expected visibility. The
Tender Forecast
is useful for smaller vessels or sensitive operations,and shows 1-hourly wind/sea forecasts at the pilot station over the next 3 days. Forecasts are provided using WRI's in-house High-Resolution forecast data which are updated every 6 hours, for always "fresh" and accurate forecast data.
The
Port Weather History
feature allows you to access actual weather observations from the port over the past several months, as long as there is an official observing station at/nearby that port location (normally a nearby airport). If no observing station is nearby, you will be prompted to contact WRI directly for additional assistance.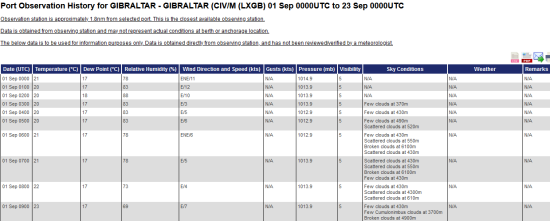 Port Weather History on Dolphin
The
Port Risk Report
allows you to view the "likelihood" of various weather thresholds being met/exceeded at the selected port during the upcoming 10 day period. The user is allowed to set up to 5 wind, sea, visibility, or precipitation thresholds, and the report will display the "risk" of those thresholds being met.
The Port Tools menu also allows you to schedule automatic delivery of these products to any email addresses at a time/frequency of your choosing. Once you have selected your port and product of choice, use the "View or Schedule Delivery" menu to set your desired frequency, time, and email addresses, then "Schedule". You can view/modify/delete previously scheduled reports under the "Scheduled Reports" menu.
With
Dolphin's Port Tools
menu, you will always have the latest port forecasts and historical data at your fingertips.
Upcoming Events

•

10/12/2020 - 10/14/2020 - Shipping Insight

•

10/14/2020 - 10/16/2020 - CMA Shipping

•

10/21/2020 - Webinar - C/P Clauses