Select an edition to view:

Volume 10 Issue 6 Jul 2021

Cruise Surveillance Services
Joseph DeSilva, Asst. Operations Managers & Senior Meteorologist
After COVID-19 had essentially "shut down" the cruise industry over the past year, the anticipation for cruises to resume has been at an all-time high. Fortunately, it appears that most major cruise lines will begin to resume scheduled cruises later this summer. Although protocols will be different onboard, the high demand for forecast and routing assistance remains the same.
With the abundance of new ships/fleets awaiting their maiden voyages, we anticipate a greater uptick in the need for forecasting services. We would like to highlight our Cruise Surveillance package which can assist with your needs.
WRI's Cruise Surveillance package provides 24/7 monitoring of transits at sea and in port, where our team of meteorologists are monitoring for any heavy weather, tropical, or any other potential hazards. Our goal is to provide your vessels with concise data for enjoyable transits and port stays, while also optimizing the transit for greatest efficiency when conditions allow.
WRI Cruise Liner Surveillance and Monitoring includes the following:
Tropical Alerts/Discussions (up to 4x/day)
Daily Forecast Maps, Port Forecasts, Trip Summaries, and Adverse Weather Summaries
Daily Visibility Reports & Tender Reports
Earthquake/Tsunami Alerts & Local Government Advisories
Unlimited Online Dolphin website access
24/7 consultation with our team of meteorologists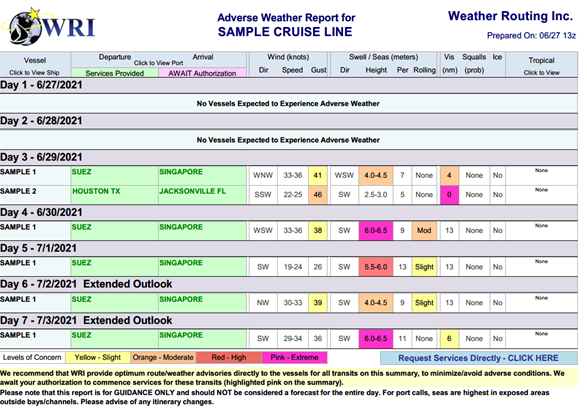 Figure 1: Adverse Weather Summary
The Adverse Weather Summary highlights potential threats for heavy weather, visibility, squalls, ice or tropical threat within the next 7 days. The report is also color coded to show the "level of concern" scaling from no threat to extreme threat. If you find any concern over the next 7 days, you can request services immediately by filling out the form found on the bottom right of the report. We will then provide detailed forecasts & route recommendations for any routes upon the request of your operations team or your vessel.
WRI Dolphin Website includes the following features:
Unlimited access to Forecast Maps with vessel positions plotted and AIS data

Port Forecasts, Tender/Visibility Reports

Tropical Tracker

Dolphin Voyage Planner

Weather Map Request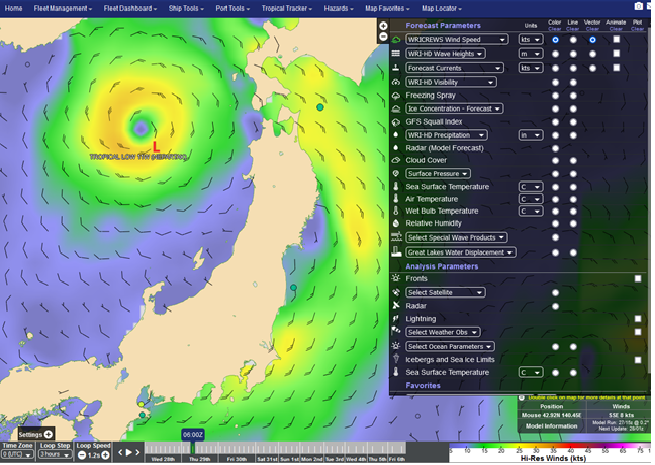 Figure 2: WRICREWS 60m winds on Dolphin
WRI's Dolphin website provides the latest real-time observations and weather forecast data charts worldwide for all to view along a route or anywhere in the world. We display your ships/fleet dead-reckoned position on all maps which is user-friendly for viewing purposes. Some of Dolphin's forecast parameters include but are not limited to: WRICREWS (60m winds), Wave Height/Direction, and Air/Sea Temperatures.
If you have any questions regarding our products or services, or need any assistance with the Dolphin website, please contact us at any time. Our team of meteorologists are available 24/7 to assist.
Tropical Storm Nepartak (11W) Making Waves at the Tokyo Olympics
Ryan Kiely, Operations Manager & Senior Meteorologist
If you have watched the surfing competitions in the Tokyo 2020 Olympics (being held in 2021) you may have noticed the large waves for the surfers at Tsurigasaki Surfing Beach. This is due in part to the approach of Tropical Storm Nepartak over the past few days. While the system has not made landfall near Tokyo, it has been bringing large swell to the eastern coast of the Boso Peninsula where the surfing competition is taking place.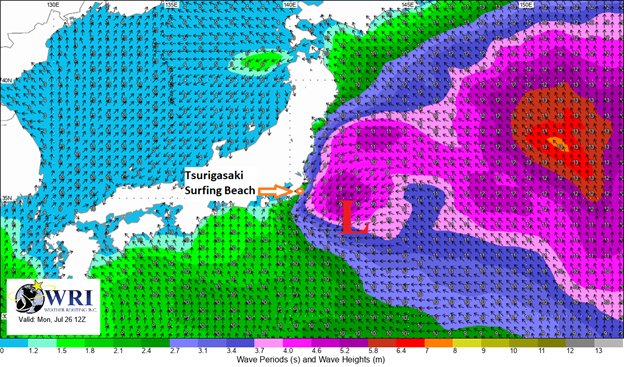 Figure 1: Map showing waves approaching Tsurigasaki Beach from Tropical Storm Nepartak
The above map shows the NE'ly swell of up to 3.0m offshore during the afternoon/evening of the 26th. These conditions remained in place through the 27th as well which resulted in the Olympic Committee deciding to have the final competitions take place one day sooner to take advantage of the large waves from Tropical Storm Nepartak.
This raises the question of "How often are the Olympic Games impacted by tropical systems?". Looking back at 50+ years of historical tropical tracks, there has only been one time previously that a tropical system (or remnants of one) have been this close to the Olympic Games. Coincidentally, this was the 1964 Summer Olympics which were also hosted in Tokyo. In 1964, Tropical Storm Dot was classified near Palau on 6 October and would go on to make landfall as a Typhoon near Hong Kong on 13 October. The remnants of the system moved back over the East China Sea on the 15th, and the extratropical remnants passed about 160nm south of Tokyo on 18 October. However, none of the sailing events at Enoshima took place on that day when conditions would have been at their worst.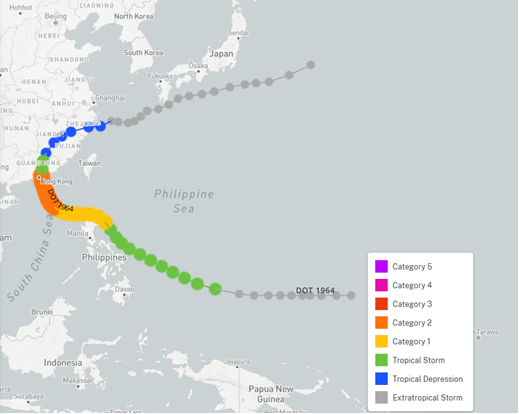 Figure 2: Path of Tropical Storm Dot in 1964
Fortunately, Tropical Storm Neparatak did not cause any major issues, but it was certainly "making waves" for the surfing competition.
Upcoming Events

•

12 August 2021 - Webinar/Atlantic Tropical Season Update

•

13-15 October 2021 - CMA Shipping, Stamford CT