Select an edition to view:

Comparing the Active 2005 & 2020 Atlantic Hurricane Seasons
By: Alex Avalos, Meteorologist
The 2020 Atlantic Hurricane was an active year as expected. Some of the cyclones, such as Hurricane Laura and Hurricane Iota were amongst the most intense recorded this season. Prior to 2020, 2005 was the most active year.
In the below video, we discuss:
The active nature of the 2005 and the 2020 Atlantic Hurricane Season.


A detailed breakdown of the two years by system type.


The greater number of hurricanes and major hurricanes and landfalls in 2005.


The subsequent damage and death tolls resulting from these cyclones.


The 2005 ACE Index is the highest on record.


The 2020 ACE Index was steady through early August.


The highest rate of increase with the ACE Index occurred from September, onward.


Even so, 2020 does not rank in the top ten seasons of the highest ACE Index.
Even though the Atlantic Hurricane Season ends on November 30
th
, tropical development has been known to occur in December and even as late as January. We will continue to monitor any such concerns and will keep you well informed.

Winter Weather Challenges to the Caribbean Webinars
By: Brian Whitley, Yacht Operations Manager
On Friday November 20
th
WRI presented a webinar about the challenges captains and crew face trying to move E'ward to the Caribbean Sea. Yacht Operations Manager and Senior Meteorologist Jeremy Davis was the presenter for this event with Yacht Operations Manager and Senior Meteorologist Brian Whitley as the moderator. We discussed the usual weather features for this transit, what causes the heavy weather, the trouble spots and how to avoid them, and how one can use WRI and our online service
SeaWeather
to mitigate concerns and make for a safe and comfortable trip.
You can see a replay of the webinar
here
on Crowdcast, along with all of our previous webinars.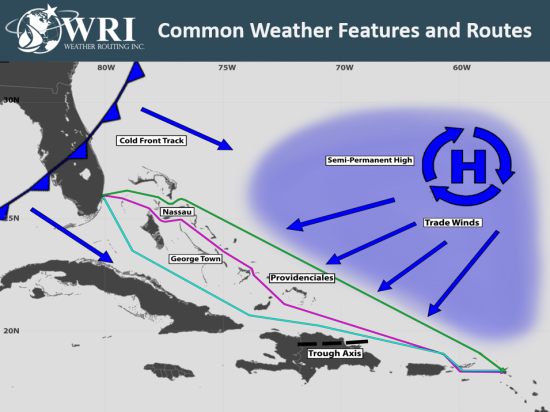 The above screengrab from the webinar shows several routing options and the usual weather features for this particular time of year.
Upcoming Events

•

December Webinar - Baja, Sea of Cortez, and Gulf of Tehuantepec Wind Surges

•

12/02/20 - Triton Virtual Networking

•

TBA- 2021 Pacific Sail & Powerboat Show