Select an edition to view:


Lightning Detection & More on SeaWeather!
By: Mark Neiswender, Director of Operations
We are pleased to announce the release of SeaWeather's Lightning Analysis Parameter, to be overlaid on the interactive charts.
Lightning, as well as global Radar, Fronts, and Satellite imagery
are now available in the right Forecast Parameters menu, aiding captains in managing weather and safety for your vessel.
Here are just some of the items that SeaWeather now offers:
Lightning



Western Hemisphere plots, showing as recent as within the last 2 minutes. Plots are clickable with GPS coordinates and time of strike.



Radar



Worldwide radar imagery with the ability to animate the past few hours of imagery.



Satellite



Options to view Infrared, Visible, and Water Vapor, and loop the previous 3 hours of data.



Surface fronts



Are now shown for North Atlantic and North Pacific Ocean basins.
Additional updates have been applied to the site as well, supporting our mission for improving the user experience for product access. An itemized list of the changes is shown to the user once they log in for review. We will continue to make more updates to the site in the coming months and will look for subscriber feedback.
With SeaWeather and any other products/services provided by WRI, you can be rest assured that you will always be "in the know" on the latest weather concerns to keep your crew and vessel prepared along the way.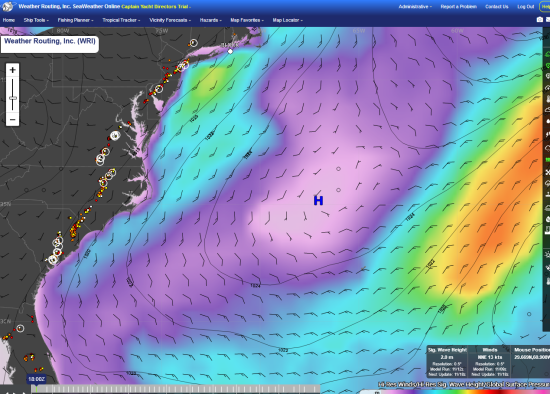 SeaWeather's New Lightning & Radar Overlays.

WRI and IGY Marinas: A Winning Combination
By: David Cannon, Director of Operations
WRI has enjoyed a decade-long and fruitful working relationship with
IGY Marinas
. With global headquarters in New York City, IGY marinas boasts the largest international marina company in the world, with marina affiliated locations in:
The United States


Europe


The Caribbean


Latin America
Vessels of
all
types - from sailing yachts to sportfishers to large megayachts (and everything in between) can visit one of IGY's marinas to take advantage of the
modern, state of the art amenities offered
. Further, we at WRI provide daily weather forecasts specific to each marina, as part of individual SeaWeather accounts for each marina. SeaWeather as many of you know is an all-internet weather information service, which also includes real-time data, forecast charts, a tropical cyclone tracker, and more.
Those interested in learning more about IGY are encouraged to visit their website at
httpss://www.igymarinas.com/
.
We look forward to continuing and enhancing our relationship with IGY Marinas for many years to come!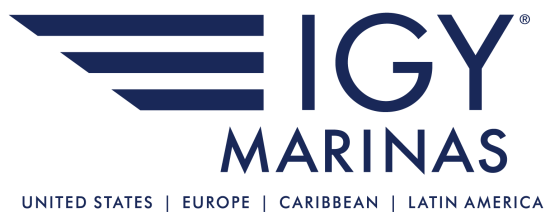 WRI and IGY has enjoyed a long-standing working relationship and looks forward to this continuing for many years to come.

Mediterranean Wind Events Webinar
By: Brian Whitley, Assistant Operations Manager
On Thursday July 09
th
, WRI presented a webinar about the various wind events that are particular to the Mediterranean, including Levantes, Mistrals, and Etesians. Yacht Operations Manager and Senior Meteorologist Jeremy Davis was the moderator for this event with Assistant Yacht Operations Manager and Senior Meteorologist Brian Whitley as the presenter. We discussed where these events take place, what causes them, and how WRI helps our clients avoid and/or minimize the effects of these sometimes-dangerous events.
You can see a replay of the webinar
here
on Crowdcast.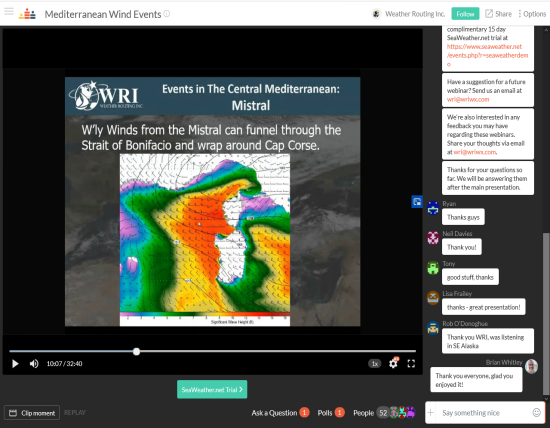 Webinar Presentation slide
Upcoming Events

•

August Webinar - SeaWeather Premium & Premium Plus Packages

•

08/18/2020 - 08/20/2020 - Virtual IPF Meeting

•

10/07/2020 - 10/13/2020 - US Sailboat Show (Annapolis, MD)

•

10/27/2020 - 11/02/2020 - Fort Lauderdale International Boat Show (Fort Lauderdale, FL)