Select an edition to view:


2021 North Atlantic Hurricane Season Outlook
By: Ernesto Findlay, Meteorologist
After last year's record breaking North Atlantic Hurricane Season, let's look at what we can expect for the 2021 Hurricane season.
The North Atlantic Hurricane Season begins on June 1st and runs through November 30
th
, with the historical peak in activity around September 11
th
. Over the last 30 years, the North Atlantic Hurricane basin has averaged a total of 14 named storms, 7 Hurricanes, and 3 Major Hurricanes per season.
To be able to understand how active a given tropical season will be, we need to understand the conditions needed to form a tropical cyclone, which are as follows:
Warm sea surface temperatures (SST's) of 26°C or greater


Light winds in the upper atmosphere


Tropical Surveillance/Heavy Weather Alerts
One of the main sources of year-to-year variability of Hurricane activity in the North Atlantic Hurricane basin is the El Niño Southern Oscillation (ENSO), which has strong effects on the upper level wind patterns over the Atlantic Ocean.
The effects of the ENSO on the North Atlantic Hurricane Basin are summarized on the table below:
| | | |
| --- | --- | --- |
| | El Niño | La Niña |
| Trade winds | Stronger than normal | Weaker than normal |
| Sea Surface Temperatures | Cooler than average | Warmer than average |
| Tropical Cyclone Activity | Below normal | Above normal |
Looking ahead, we expect the current weak La Niña state to persist through early summer and then transition into a neutral phase state. The Neutral Phase of ENSO is expected to persist through the Autumn with a small chance of transitioning into a weak El Niño later in the Autumn.
The sea surface temperatures across the central and western Atlantic are currently running 1-2 degrees Celsius above average with some below average temperatures in the E'rn Atlantic over the Main Development Region. Given these factors above, we can expect conditions to be favorable to start the North Atlantic season. However, unlike 2020, conditions are expected to become less favorable as we get into later in the season as we transition into a neutral Phase of El Niño.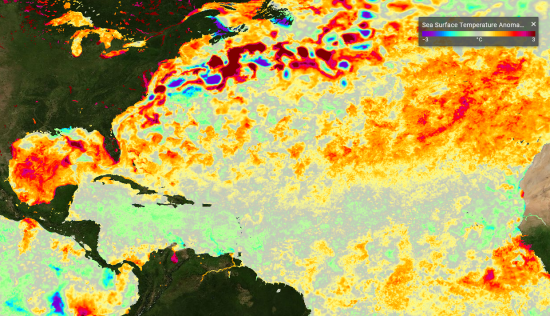 Sea surface temperature anomalies across the North Atlantic Basin as of April 18th. (Courtesy of PODAAC)
Given the above factors, WRI expects a slightly above average tropical activity for the 2021 North Atlantic tropical season, with an anticipated 15-18 named tropical storms, 7-10 Hurricanes and 2-4 Major Hurricanes (Cat 3+).
Last year, the U.S. was directly impacted by a record breaking 12 land falling named storms. This year we can expect less direct impacts to the U.S. Looking at the last 5 seasons that transition from La Niña to a Neutral or El Niño Phase, the Bermuda high which drives storms west into the U.S. has been weaker than normal. As a result of this, tropical cyclones are more likely to recurve away from the U.S., therefore, resulting in less U.S. landfalls. This can be seen in below image where only 8 storms made landfall in the U.S. during these 5 seasons with most recurving out to sea.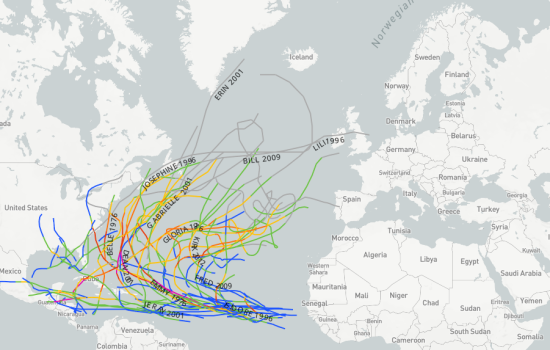 Tracks for every named storm from July to November for the 1976, 1996, 2001, 2009, and 2012 Hurricane Seasons. (Courtesy of NOAA)
Overall, all the agencies that predict the North Atlantic Hurricane Basin agree that the 2021 Season is expected to be above normal. Colorado State University is predicting 17 named storms, while Accuweather is predicting between 16-20 named storms. This in in good agreement with our forecast as well.
During the upcoming active North Atlantic Hurricane season, WRI meteorologists are working hard to keep you informed of any potential tropical threats through a variety of products. These products include our SeaWeather website Tropical Tracker and basin wide tropical summaries (which, given the recent early formation of storms, will commence on May 15
th
this year). These products are issued approximately 3+ days ahead of the system being named, allowing for advanced notice of any potential tropical concerns.
Contact us today to receive the most up-to-date information by consulting one of our Meteorologists who are available 24/7 to assist you.

Returning North: The Weather Outlook along the U.S. East Coast
By: Amanda Delaney, Senior Meteorologist
On April 28
th
, WRI presented a webinar for late Spring/Early Summer conditions from the Bahamas/Caribbean and up the U.S. East Coast.
Historical wind patterns for May and June were discussed. Then we detailed topics that included a 10 day weather outlook for early May along the U.S. East Coast, and a general outlook for the rest of May and June. We also covered the possibility of early tropical cyclone development in the Atlantic Ocean.
If you missed the webinar, you can view it here on the
Crowdcast
page, where you can also click on 'follow' to be informed about other webinars we are offering at this time.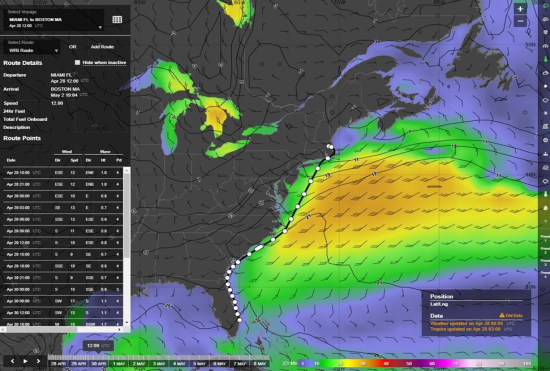 U.S. East Coast Weather displayed on SeaWeather OnBoard.
Upcoming Events

•

May Webinar - Atlantic/East Pacific Tropical Outlook

•

10/13/21 - 10/19/21 - U.S. Sailboat Show (Annapolis, MD)

•

10/26/21 - 11/01/21 - Fort Lauderdale Boat Show (Fort Lauderdale, FL)