Select an edition to view:

Volume 16 Issue 5 May 2023
2023 North Atlantic Hurricane Season Outlook
Kelly Burghart, Meteorologist
Meteorologist Nick Pisapio and Assistant Operations Manager Ernesto Findlay also contributed to this article.
The 2023 North Atlantic hurricane season begins this year on June 01st and continues until November 30th. Over the last 30 years, the North Atlantic basin has averaged a total of 14 named storms, 7 Hurricanes, and 3 Major Hurricanes.
As WRI evaluates the upcoming hurricane season, we consider the following components needed to form a tropical cyclone:
1. Warm sea surface temperatures
2. Light winds in the upper atmosphere
3. Availability of moisture in the atmosphere
Additionally, one of the main sources of year-to-year variability of hurricane activity in the North Atlantic basin is the El Niño Southern Oscillation (ENSO), which has strong effects on the upper level wind patterns over the Atlantic Ocean.
As the hurricane season approaches this year, we are transitioning out of a La Niña that has persisted since mid-2020. Increasing sea surface temperatures in the tropical Pacific Ocean indicate the end of the recent La Niña, and that an El Niño event is developing. This is supported by climate models indicating that an El Niño is expected to form between May and July this year.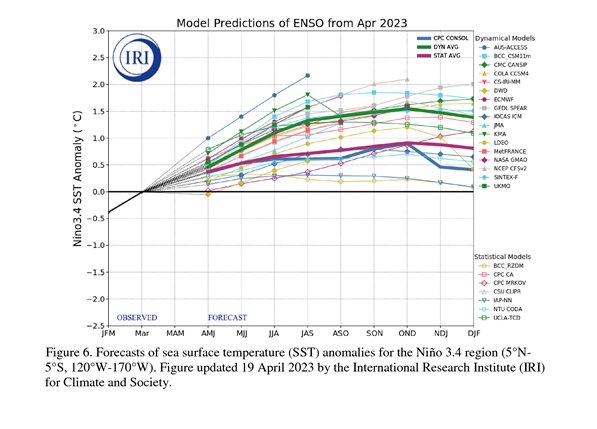 Figure 1: Model Predictions of ENSO from April 2023, based on Nino3.4 SST Anomaly. (Courtesy of NOAA CPC).
The typical effects of El Niño vs La Niña on the North Atlantic hurricane season are summarized in the table below:
| | | |
| --- | --- | --- |
| | El Niño | La Niña |
| Trade winds | Stronger than normal | Weaker than normal |
| Sea Surface Temperatures | Cooler than average | Warmer than average |
| Tropical Cyclone Activity | Below normal | Above normal |

With respect to sea surface temperatures in the Atlantic Ocean, we are currently monitoring warm sea surface temperature anomalies, notably along the US Gulf Coast and Southeast Coast. Due to the developing El Niño, WRI also anticipates that increased wind shear in the Caribbean Sea will suppress tropical cyclone activity in that region, particularly in the latter part of the season.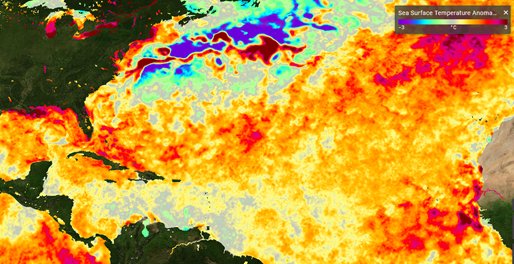 Figure 2: North Atlantic Ocean sea surface temperature anomalies as of May 17th, 2023. (Courtesy of PODAAC)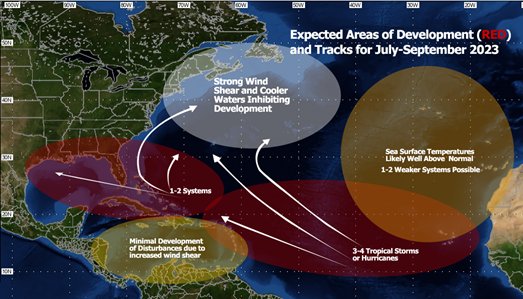 Figure 3: Expected areas of tropical development and tracks for July – September 2023.
Given the above factors, WRI expects a slightly below average hurricane season for the 2023 North Atlantic tropical season, with an anticipated 12-14 named tropical storms, 5-7 Hurricanes and 1-3 Major Hurricanes (Cat 3+).
In May-June, we expect the area of greatest threat to be the NW'rn Caribbean/Gulf of Mexico, followed by a few storms developing off Africa to track towards the NE'rn Caribbean with some recurving NW'ward off the SE'rn US coast from July to September.
Along the US coast, WRI anticipates near-average probability for landfalling Hurricanes along the SE'rn coast and Florida, with below average probability for the Gulf of Mexico.
To date, climate agencies are also forecasting a slightly below average Atlantic hurricane season this year. Colorado State University is predicting 13 named storms, while North Carolina State University predicts between 11 and 15 named storms over the course of the season.
During the upcoming North Atlantic hurricane season, WRI meteorologists are working hard to keep you informed of any potential tropical threat. We offer products including our SeaWeather website Tropical Tracker and basin wide tropical summaries (which, given the recent early formation of storms, commenced on May 15th this year). Our SeaWeather App also provides convenient access to these products for our subscribers. These tropical products are issued approximately 3+ days ahead of the system being named, allowing for advanced notice of any potential tropical concerns.
Contact us today to receive the most up-to-date information by consulting one of our Meteorologists who are available 24/7 to assist you.

Historic Flash Flooding Occurs Across South Florida
David Cannon, Director of Yacht Operations
Historic flash flooding occurred in Fort Lauderdale, FL and in surrounding areas on 12 April 2023. Several locations received between 15 and 20 inches of rain, with reports of close to 25 inches noted during the event. A state of emergency was declared in Fort Lauderdale as a result of the flooding.
Two synoptic weather features were responsible for the flooding:
- A warm front, which slowly drifted northward across South Florida
- Intensifying low pressure across the North Central Gulf of Mexico
As the front lifted northward, moisture laden air supported the development of slow-moving thunderstorms across South Central Florida during the morning hours, which combined with rainfall from previous days saturated the soil across the area. Thunderstorms persisted during the afternoon and evening, fueled by inflow from adjacent Atlantic waters toward the Florida Coast.
Stationary thunderstorms produced torrential rains across Fort Lauderdale during the evening, and the day's thunderstorms produced two weak (EF 0) tornadoes across Broward County. Thunderstorms finally weakened late in the evening and during the overnight hours.
Nearly 26 inches of rain fell at Fort Lauderdale-Hollywood International Airport during the event, surpassing the 14.59 inches that fell on 25 April 1979, and amounting to roughly one-third of the location's annual rainfall, and seven times the normal total for the month. Amounts to the south ranged from 15-20 inches from Hollywood to Dania Beach. During the most intense rains on the evening of the 12th, rainfall rates exceeded 3-4 inches per hour.
WRI's Instant Severe Weather Alerts notified many of our clients in and around Fort Lauderdale during the afternoon hours. As part of this complimentary service, interested clients receive government-issued watches, warnings, advisories, etc., including special weather statements on severe weather and tornadoes. This is part of our customized routing and forecast services for active and recent users of these services, and is part of our SeaWeather.net weather information service. It's just another way that we keep our clients informed of impending weather dangers and ahead of severe weather. Contact us today to learn more.
A satellite view of the Gulf of Mexico and the Southeast U.S. on 12 April 2023. Low pressure in the Northern Gulf combined with a slow-moving frontal boundary, combined to bring stationary thunderstoms and historic flooding to portions of South Florida (image courtesy of NOAA).
Upcoming Events

•

14-17 September 2023 - Newport International Boat Show (Newport, RI)

•

12-16 October 2023 - U.S. Sailboat Show (Annapolis, MD)

•

25-29 October 2023 - Fort Lauderdale International Boat Show (Fort Lauderdale, FL)

Product/Services

NEW SeaWeather App