Select an edition to view:


WRI Proudly Joins Two Maritime Organizations
By: Jeremy Davis, Operations Manager
Weather Routing Inc. (WRI) strives to be an active contributor to the marine industry. In the last few years, we have provided charitable events with forecasting support, provided educational webinars and seminars, and sponsored the crew Oasis at the Fort Lauderdale International Boat Show.
This month, to continue our outreach, we are excited to announce that we have joined two well-respected organizations in the marine community,
Sail America
and the
International Superyacht Society
.
Sail America's
mission is to "promote the health and growth of the sailing industry and its stakeholders." The organizations goals include:
Creating connectivity between sailors and the sailing lifestyle.


Contributing to the growth of members.


Representing the sailing segment of the recreational boating industry.
The International Superyacht Society's (ISS)
mission is to "promote excellence and ensure sustainability in the global yachting industry." Their goals include:
Building alliances worldwide.


Serving as a collective voice on issues affecting the industry.


Promoting good business practices of the yachting industry.


Serving as a collective voice on issues affecting the industry.
We look forward to being actively involved with these hard working organizations, to help further our growth in the sailing and yachting communities in the years to come.

Caribbean Weather Outlook: What Lies Ahead?
By: Chris Iraggi, Senior Meteorologist
On February 25
th
, WRI presented a webinar on the expected trade wind potency for March of 2021. The topics included a demonstration of our
SeaWeather.net
service, a discussion on analog forecasting, and how we expect the trade winds to play out in the next month or so.
After performing our analysis comparing the current status of La Niña, and the expected NAO intensity, we have determined the expected trade wind potency for the remainder of March. Is this something that interests you? Tune in and find out the results of our findings!
If you missed the webinar, you can view it on our Crowdcast
here
where you can also click on "follow" to be informed about future Webinars too.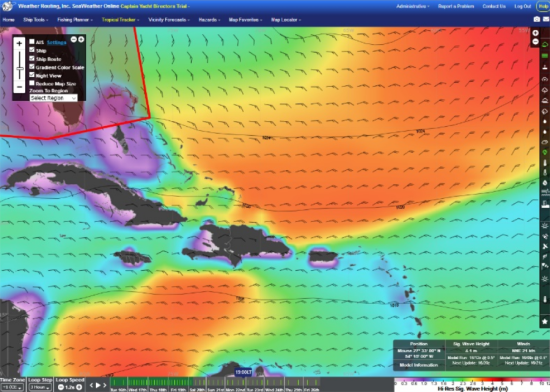 Image above from SeaWeather.net notes current winds/seas across S'rn Florida, The Bahamas, and the SE'rn Caribbean
Upcoming Events

•

March Webinar: North Atlantic Gale Track Outlook

•

03/10/2021 - Vineyard Cup Virtual Winter Lecture Series

•

TBA - 2021 U.S. Sailboat Show