Select an edition to view:


WRI's Severe Weather Alerts: Keeping You Safe and Informed
By: Jeremy Davis, Operations Manager
Strong to severe squalls are a concern for all mariners. They can produce sudden wind gusts, dangerous lightning, low visibilities, and rough, steep seas. During the warmer months, these squalls happen in many places popular for yachting, including:
The Great Lakes


U.S. East Coast and Gulf of Mexico


The Bahamas


The Mediterranean


West Coast of Mexico
With enough warning, you can alter your plans to minimize the effects of these systems and, in some cases, avoid them altogether.
Our goal at Weather Routing (WRI) is to minimize the heavy weather created by squalls as much as possible. When you receive customized services from WRI, and squalls are a concern, we will highlight them in your forecasts. Any route changes that can help avoid these squalls, including utilizing different waypoints, speeds, or departure dates will be discussed. We continually monitor these forecasts for any changes, including real-time lightning detection in house, which will soon be available to our
SeaWeather.net subscribers
.
If you are in U.S. waters, you can also elect to receive NOAA alerts for thunderstorms and other watches, warnings, and advisories. These alerts are sent to you for areas threatened within sixty miles of your last known location, in case you have moved or are planning to do so.
We also create our own
severe weather alerts
when widespread activity is expected. These are sent 24-48 hours ahead of time and highlight a geographical area that is expected to experience widespread strong to severe squalls. If you are threatened by this activity and are receiving forecasts from us, or are a
SeaWeather.net subscriber
, you will receive these alerts.
As an example, on 3 June, 2020 a major severe weather event occurred along the coast of the Mid-Atlantic States, called a "derecho". A derecho is a widespread strong wind event tied to severe thunderstorms, causing high winds over a large area. WRI was able to warn all clients in the severe box shown below in advance of the system.
Figure 1: All clients within the red shaded zone received a customized alert from WRI warning them of developing severe weather.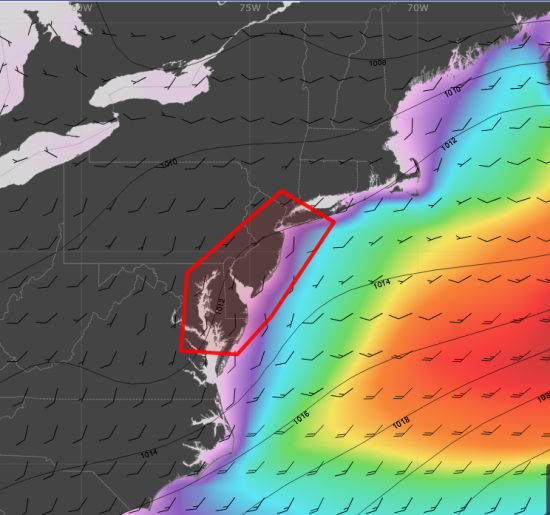 As you can see by the radar, the squall line, once it emerged off the coast of New Jersey, remained potent and produced 60-80kt winds.
Figure 2: The below radar image shows the intense squall line after it had moved offshore. Note the location of the bow echo from the derecho, which produced 60-80kt winds offshore the Mid-Atlantic States.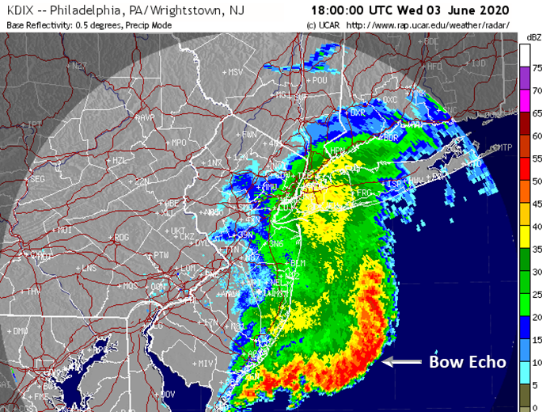 At Weather Routing, we provide many additional value-added products when using our services that go beyond just getting a forecast. These alerts are provided to you at no extra cost when you are receiving a forecast, or when you have a SeaWeather.net subscription. With many mariners in different and unfamiliar locations than usual due to Covid-19, these alerts are of extra benefit to keep you, your crew, and the vessel safe.

Upgrades to WRI's Tropical Tracker
By: Chris Irraggi, Senior Meteorologist
Just in time for the beginning phase of the 2020 Atlantic Tropical Season, WRI has made some recent upgrades to the
Tropical Tracker
feature on our
SeaWeather
website. The Tropical Tracker is used to visualize any and all active tropical systems in all ocean basins and evaluate their current intensities and tracks from present to future. Not only can the viewer evaluate classified systems, they can also view "Tropical Lows" which WRI classifies potential areas of tropical development prior to official naming.
When you click on a certain system, you will have the power to toggle between the track of the system, the expected positions, or both with the upgrade. Another option would be to view any marine advisories, which would show automatically when a system is selected. Subscribers can also read the WRI summary and discussion, by clicking the WRI Summary button. These can be seen by clicking on the Tropical Tracker Tab, as seen in Figure 1 below.

Figure 1 : Displays the Tropical Tracker tab with any active tropical systems.
Clicking the storm in the tracker will take the user to a centered map with the system's track. You'll be able to see a chart with the closest points of approach and at what time, as well as clickable links redirecting you to the forecast/advisory, hiding nearby ships/ports, as well as latest satellite imagery (if available). Please see Figure 2 below illustrating these features.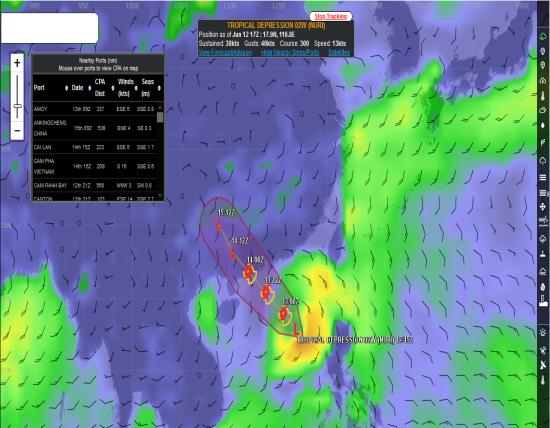 Figure 2 : Displays a tropical system with a distance chart and other clickable links.
Did you know that WRI presents informational webinars on various topics? This past month's subject was SeaWeather, and instructions on how to navigate the Tropical Tracker were discussed. You can find the presentation
here
. WRI will be providing future webinars on any and all SeaWeather upgrades that occur so keep a close eye out!
We trust you'll enjoy these improvements which are intended to enhance the Tropical Tracking feature. Not a SeaWeather user? Contact WRI to set up a subscription or visit SeaWeather.net for a 15 day free trial of the service. We look forward to any questions/feedback you may have as we continue to improve the service in the months and years ahead!

WRI is Now Offering Free Webinars
By: Brian Whitley, Assistant Operations Manager
Since the onset of the Covid-19 pandemic, WRI had been looking for a new way to connect with and educate our clients as well as reach out to potential new clients. Following in the success of our interactions with webinars put on by the 59-North crew, we decided it was time for us to start putting on our own webinars. These have been hosted and moderated by WRI's own Jeremy Davis (Operations Manager and Senior Meteorologist) and Brian Whitley (Assistant Operations Manager and Senior Meteorologist). These are interactive webinars with the ability for the attendees to use a "chat" feature as well as ask questions of the presenter.
So far, we have done two webinars. The first of these (viewable
here
) is geared toward our online service
SeaWeather.net
and includes:
Pointers for efficiently navigating the website


How to adjust viewing different weather parameters and adjusting the "pre-sets"


Adjusting some of the map features and administrative tools


A special 30-day trial of SeaWeather
The second (viewable
here
) is about our outlook for the 2020 Atlantic Tropical Season and this covers:
The outlook for the season (hint: it's looking active!)


The season so far, short term, and then long-term concerns


How WRI keeps our clients well-informed on tropical risks


WRI's newest Tropical Tracker on SeaWeather.net
WRI is using Crowdcast as the platform for the webinars. You can create your own free account and follow WRI on there by navigating to our page
here
, and then just click on the "Follow" button near the top right. Following WRI will notify you when the next webinar is scheduled. We will also be sending out notices a week in advance.Please see the demo video for additional instructions.
We have had great success with our webinars so far and hope to have you join us for our next one where we will discuss some of the more advanced features of SeaWeather.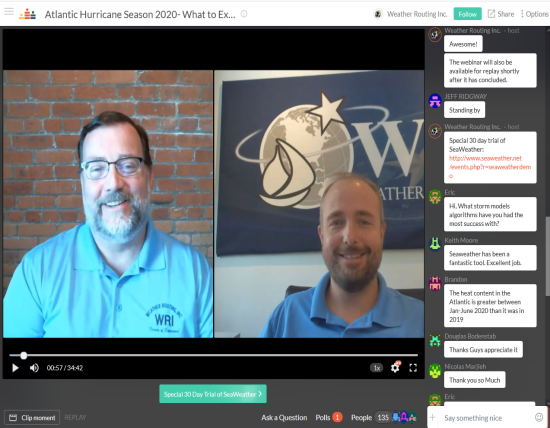 The above image shows a screengrab from our second webinar. Notice the chat system along the right side of the screen as well as the options along the bottom of asking a question or participating in a poll.
Upcoming Events

•

07/14/2020 - Webinar - SeaWeather Premium & Premium Plus Packages

•

08/18/2020 - 08/20/2020 - Virtual IPF Meeting

•

10/07/2020 - 10/13/2020 - US Sailboat Show (Annapolis, MD)

•

10/27/2020 - 11/02/2020 - Fort Lauderdale International Boat Show (Fort Lauderdale, FL)