Select an edition to view:


SeaWeather.net Upgraded Voyage Planner
By: Brian Whitley, Assistant Operations Manager
WRI is always working to improve upon our services to best serve our customers, both with our customized forecasts as well as our online service,
SeaWeather.net
. You may be aware that we recently unveiled a new version of SeaWeather with numerous improvements. Building further upon those upgrades, we are happy to announce that we have now also upgraded the Voyage Planner interface within SeaWeather. Among the changes are:
Voyage Planner now has a sleeker, more modern look with more easily recognizable controls.


A Tools button can be clicked to display different options and controls to choose from.


For voyages with alternate routes created, you can either delete individual routes, or you may delete the entire voyage, including all alternates, all at once.


Tabular data for the voyage breaking down times/locations where winds and/or seas are either approaching or exceeding the vessels weather constraints.
While using Voyage Planner, if your decision making is becoming difficult, and maybe you're viewing several routes that are close to your constraints, and/or the forecast confidence between the computer models is low, you can always get the meteorologists at WRI involved by clicking on the "Request Forecast from WRI" link in the Voyage Planner.
If you would like to take a look at SeaWeather and the upgraded Voyage Planner, you can get a
free
15 day trial by visiting the website and clicking on the "Trial" link near the top right. We think you will find these changes helpful. As always, we welcome your feedback and any questions you may have.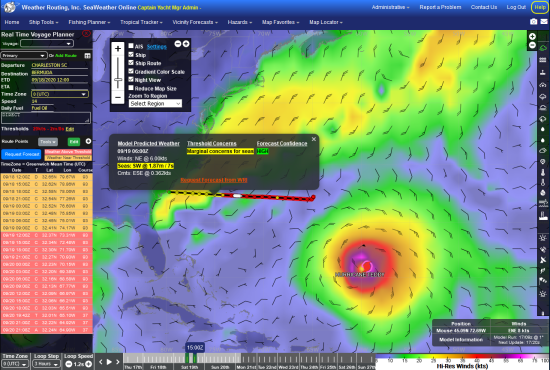 See above example from the upgraded Voyage Planner. Notice the color-coded chart indicating times where conditions are near the vessel constraints (in orange) and above the vessel constraints (in red)

Mediterranean Medicanes and Meso Lows: What Are They?
By: Amanda Delaney, Senior Meteorologist
On September 15
th
2020, satellite imagery captured a strong low that had moved offshore Tunisia. As the low strengthened south of Italy on the 16
th
, it had similar characteristics of a tropical cyclone with a tightly wound circulation, a visible eye at times, and numerous squalls near the center. At the time, sea surface temperatures were 27°C-28°C (80°F-83°F). WRI did not hesitate and created the system as a tropical low for properly alerting our clients. Additionally, some European agencies called it a Medicane, so named from its similar appearance of a hurricane. When the Medicane made landfall over the Ionian Islands on the 17
th
, it generated winds up to 65kts which downed trees and power lines and produced widespread flooding.
Medicanes are rare but not unprecedented for this part of the world. 6 of these systems have been classified in the last 9 years. Although a Medicane looks like a tropical cyclone, there are differences to its oceanic counterparts:
These lows are typically cold core (a region of cold air aloft) instead of warm core (a region of warm air aloft) systems.


They are usually smaller in size, approximately 200-550 nautical miles in diameter.


Weaker Mediterranean lows are known as Meso Lows. The more powerful Meso Lows are called Medicanes.


There are several weather features that are required to develop a Meso Low:
There is a circulation in the upper levels of the atmosphere.


The winds aloft are typically weak which sustains the circulation.


Cooler air in the upper atmosphere over warmer surface air generates instability, which will lead to typically numerous showers and squalls.
Meso Lows can form near warmer land masses before shifting over the Mediterranean Sea. These systems generally form in two regions. The first is offshore Southeast Spain and either track to the northeast towards Corsica, Sardinia and Northern Italy. These Meso Lows generally are picked up by fronts to the north over Continental Europe. Please see the Figure below.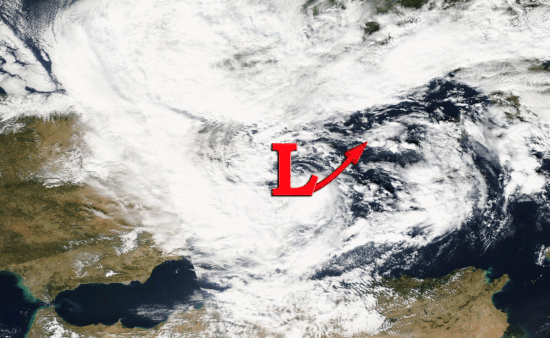 The other movement is to the southeast towards Sardinia, Sicily and/or the Ionian Sea. These systems are usually steered by broad highs over Northern Europe to the north. Please see the figure below.
The second area is usually offshore Tunisia and across the Ionian Sea towards Southwestern Greece or the Southern Adriatic Sea.
While these systems generally form throughout the year, Meso Lows become more frequent during September and last through January. These systems do develop quickly once the upper level lows spin down to the surface and model data does not always pick up on these systems right away.
The Medicane that formed south of Italy in mid-September was classified as Tropical Low 35 by WRI, for our clients to be able to view this system on our forecasts and on SeaWeather. Since severe weather is prevalent with these Meso Lows, our heavy weather alerts are issued that are associated with these systems. If you are finishing up your Mediterranean charter season or are planning to travel in the Mediterranean next year, contact WRI and inquire about SeaWeather and our heavy weather alerts. This way you will be advised of any potential heavy weather from these small but strong Meso Lows.

Racing and Regatta Services Webinar
By: Chris Iraggi, Senior Meteorologist
On September 22
nd
, WRI presented a webinar on our
Racing and Regatta Services
. Yacht Operations Manager and Senior Meteorologist Jeremy Davis was the moderator for this event, and Senior Meteorologist and Racing Specialist Chris Iraggi was the presenter. The topics included during the webinar included past events WRI has assisted with, the types of racing and regatta services that we offer with discussions on both our
customized and online services
, and a demonstration of our SeaWeather Voyage Planner to find the best currents.
If you missed the webinar, you can view it on our Crowdcast
here
, where you can also click on "follow" to be informed about future webinars too.
A slide from the webinar, showing a demonstration in the Voyage Planner on SeaWeather of how to manipulate a route to maximize favorable currents in the Gulf Stream.
Upcoming Events

•

October Webinar - Fishing Planner & Angler Services

•

10/12/2020 - 10/15/2020 - Virtual AWEA Conference

•

02/11/2021 - 02/15/2021 - Miami Boat Show (Miami, FL)