Select an edition to view:

Volume 15 Issue 4 Apr 2022

WRI Severe Weather Alerts - Keeping You Safe
Jeremy Davis, Assistant Director of Operations
It has been a busy start to the severe weather season for the Northern Gulf of Mexico and Southeastern U.S. coastlines. Several strong fronts over the past month have moved through this region, producing multiple days of severe weather, including a few tornado outbreaks. In fact, most locations have been under a tornado watch between three and six times so far this year. As spring progresses into summer, we will look farther northeast along the U.S. East Coast and into the Great Lakes as the climatological risk spreads north.

Severe weather, including the potential for tornadoes, can have large impact on vessels. If not properly warned, vessels in port can become damaged if not secured. At sea, a squall line can produce dangerous shifting and high winds, lightning strikes, and a rough confused sea state that can adversely affect vessels of all sizes, particularly smaller ones with lower weather constraints
Figure 1: Tornado Watches Issued as of April 25, 2022. Many locations along the Northern U.S. Gulf and Southeast Coasts have been under a watch 3-6 times so far this year. Courtesy NOAA.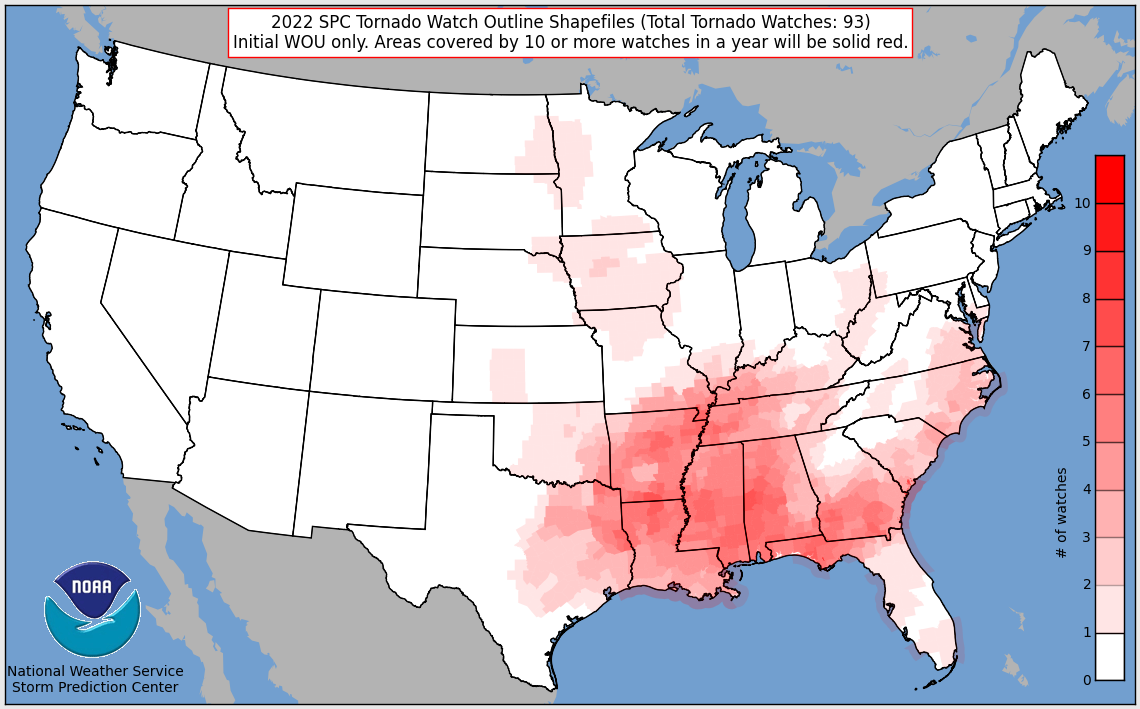 At WRI, we aim to give our clients as much notice as possible to the potential of a severe weather outbreak. If you are receiving services, have recently completed services, or are a SeaWeather.net subscriber, you will be warned by one of our Severe Weather Alerts, including for any area in world threatened by an outbreak. These are sent 24-36 hours prior to what we expect to be a widespread outbreak and are complimentary. The alert explains a brief description of where and when the outbreak is expected. If you wish more detailed information for your location, you can simply request a forecast.

Closer to the event, you can opt in for complimentary heavy weather alerts as well. These are for NOAA watches, warnings, and special weather statements, and are sent via email or text message. As with our Alerts, you can also request a more detailed forecast if you wish.

We also examine the potential for severe weather when we prepare our forecasts. If a high risk is expected, we will often advise to alter course, pull into a safe harbor, or postpone a trip until the danger has passed.

If you are interested in receiving our heavy weather alerts, please contact us and we will set these up for you.

Winds Along The U.S. West Coast
Chris Iraggi, Senior Meteorologist
On April 15th, WRI presented a webinar that provided information on West Coast Wind Patterns. Senior Meteorologist and Operations Manager, Brian Whitley was moderator and I was the presenter. Some of the topics that we discussed during the webinar were:

• Common weather features that affect weather conditions along W'rn California across the Pacific Northwest
• Problem areas in which need to be closely evaluated when determining weather windows.
• A more favorable weather pattern to provide more opportunity for favorable conditions.
• How to use our supplemental service SeaWeather.Net to assist with planning.

If you missed the webinar or would like to view it again, please follow this link here on our Crowdcast, along with our previous webinars.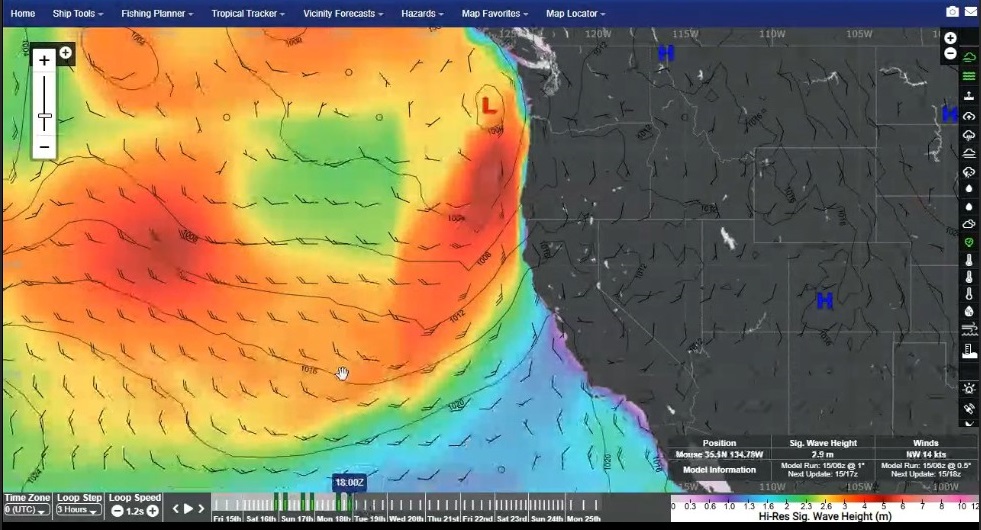 Figure above is an image from our online service SeaWeather, noting weather features, winds, and sea state across the West Coast of the U.S.
Upcoming Events

•

18 May 2022 - Atlantic Tropical Outlook Webinar

•

13-17 Oct 2022 - United States Sailboat Show (Annapolis, MD)

•

26-30 Oct 2022 - Fort Lauderdale International Boat Show