Select an edition to view:


Atlantic Tropical In-Season Update
By: Brian Whitley, Assistant Operations Manager
The Atlantic tropical season is off to a fast start with 9 named systems to-date, well ahead of the climatological average of 3 named systems by early August.
There have been some oddities worth noting:
Tropical Storm Cristobal

formed over the Bay of Campeche on June 02nd, marking the earliest the "C" storm has formed in the Atlantic (previously Tropical Storm Colin, June 05th 2016).



Tropical Storm Dolly

forming at 38.1N on June 23rd became the farthest north a storm has formed prior to July 01st.



Tropical Storm Eduoard

became the record earliest "E" storm for the Atlantic on July 15th, six days earlier than the previous record, Hurricane Emily in 2005.



Tropical Storm Fay's

northward track along the East Coast was only the 4th named storm to track within 75 miles of New York City during July or earlier since 1950 (the last being Hurricane Bertha in 1996).



Hurricane Isaias

became a named system (Tropical Storm) on July 29th. This is the earliest ninth storm on record, beating 2005's Hurricane Irene by 8 days.
A busy start to hurricane season doesn't always mean it will remain that way, but this falls in line with our outlook issued in early May and we expect conditions to remain favorable for continued development over the Western Atlantic. With near neutral to weak La Niña conditions forecast to continue through the autumn, environmental conditions will be more favorable with warmer than average sea surface temperatures and weaker than average trades across the Central Atlantic. Thus, we expect a continued above normal Atlantic Tropical Season.
Stay informed with WRI's daily tropical summaries and Tropical Tracker on SeaWeather as we safely navigate you through this active season.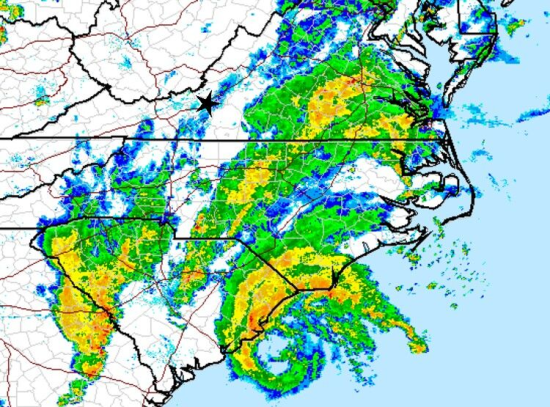 Radar Imagery showing the eye of Hurricane Isaias shortly before moving ashore in S'rn North Carolina

Advanced SeaWeather Webinar
By: Jeremy Davis, Operations Manager
On August 18
th
, WRI presented a webinar on Advanced SeaWeather topics. This was a follow up to our May webinar on the basics of SeaWeather. Yacht Operations Manager and Senior Meteorologist Jeremy Davis was the moderator for this event with Assistant Yacht Operations Manager and Senior Meteorologist Brian Whitley as the presenter. Topics included new SeaWeather products such as lightning detection, upgraded and predictive radars, fronts and their forecasted positions, improved observations, and many new map features. The differences between subscriptions, including Premium and Premium Plus were also discussed.
If you missed the webinar, you can view it on our Crowdcast page
here
, where you can also click on "follow" to be informed about future webinars too.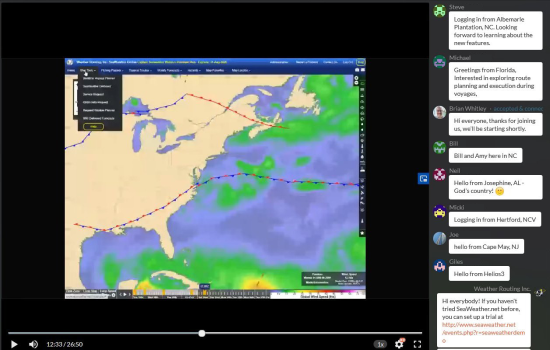 A slide from the webinar, showing one of SeaWeather's new features - front forecasts.
Upcoming Events

•

September Webinar - Racing & Regatta Services

•

08/18/2020 - 08/20/2020 - Virtual IPF Meeting

•

10/07/2020 - 10/13/2020 - US Sailboat Show (Annapolis, MD)

•

10/27/2020 - 11/02/2020 - Fort Lauderdale International Boat Show (Fort Lauderdale, FL)