WRI offers discount forecast packages for those embarking on trans-ocean crossings, and offshore voyages for sailing yachts. Contact us for further details.
Yachting/Fishing Overview
Yachtsmen worldwide rely on

WRI

to provide timely and accurate weather for trans-ocean crossings, coastal transits, area cruises, and day trips. Since 1961,

Weather Routing, Inc

. has established a reputation as the World Leader in Yacht Forecasting, with:
Detailed, Personalized World-Wide Forecasts
Forecast Maps and Meteograms
Online Supplemental Weather Service SeaWeather
Heavy Weather Alerts and Tropical Surveillance
Climatology Studies
Race and Rally Forecasts
Sailing/Fishing Charts  and Forecasts
Marina Locator and Forecasts
WRI

combines the best of technology with experienced marine meteorologists to

ensure your vessels are kept safe

. Our team continuously monitors your fleet and provides products/services to protect the financial interests of our clients.
Customized Services
Our forecasts and routing advice are custom-tailored for your yacht. We constantly monitor your vessel and as conditions dictate, will contact you directly to keep you in the know of any changes.
Services and Forecast Information Include:
Synopsis of weather features in play
A Conclusions section that provides route and prognostic reasoning
A "Go/Delay" recommendation and recommended route
A Detailed tabular forecast, in PDF form
Meteograms (graphical forecast information for your area or trip)
Forecast weather and oceanographic charts
Race, Rally, and Fishing Tournament Services
View Our Yacht Services Brochure
Climatology Studies

WRI's Climatology Studies detail prevailing weather patterns and optimal departure and routing options for transits weeks/months in advance, allowing for ease in long-range trip planning.

Our Climatology Studies Include:


Race and Rally Services
Our race and rally services provide optimal routing recommendations for most favorable conditions, factoring both weather and currents, using high-resolution data, generated in-house.
Race and Rally Services Include:


Detailed routing and forecast information leading up to the start of the race/rally
Enroute weather updates as rules permit
Complimentary Instant Severe Weather Alerts
High resolution racing charts

SeaWeather.net

online weather information service
Fishing Tournament Services
WRI's

fishing tournament services include weather forecasts and

high-resolution fishing charts

. Our

SeaWeather.net

service includes an interactive Fishing Planner page where you can view hotspot fishing zones for inshore and offshore species, along with weather and fishing chart overlays.
Fishing Tournament Services Include:
Detailed weather forecasts for the tournament region
High Resolution Fishing Charts
Instant Severe Weather Alerts

SeaWeather.net

with Fishing Planner Page
View A Sample Tournament Forecast
View Our Fishing Tournaments Brochure
Tropical Adverse Weather Monitoring
WRI

provides  daily tropical summaries and when any threat is detected, our alert system provides instant notification so you can plan and receive detailed information as needed.
Continuous monitoring for any heavy weather or tropical threat
Customized "heavy weather" thresholds
Earthquake/Tsunami Alerts
Daily basin-wide Tropical Summaries
Upgrade to optimum routing/forecasting if any threat develops
SeaWeather OnLine
Interactive web-based weather information resource
Latest data continuously updated
Vessel location plotted on all forecast charts (with AIS tracking)
Winds, Seas, Precipitation, Currents, Temperatures, Visibility, Ice/Freezing Spray
Port Forecasts and specialized reports for any location
Tropical Tracker provides latest tropical analysis, forecasts, discussions, and charts
Interactive Voyage Planner allows user to create/compare routes
SeaWeather Mobile App
Native phone apps are available to Android and Apple users
Offers many of the same features as SeaWeather OnLine
Vessel location plotted on all forecast charts (with AIS tracking)
Winds, Seas, Precipitation, Currents, Temperatures, Visibility, Ice/Freezing Spray
Easy way to request a customized WRI forecast
Notifications for forecasts, heavy weather, and tropical alerts!
SeaWeather OnBoard
WRI's

SeaWeather

OnBoard

is the desktop version of our

Voyage Planner

. Users can create and compare multiple routing options, and overlay weather and current charts to aid in trip planning.
Continuous Internet connection is not required
Voyage Planner program allowing user to view/edit routing options and overlay forecast weather maps
Summary table guides user to optimum route for their requirements
Premium Plus subscribers can download at www.seaweather.net
Marina Services
WRI

also provides forecasts on request and tropical surveillance, and our SeaWeather.net service includes a marina locator directory and links to marina websites.
Site specific daily Seven Day Forecasts & Synopsis
Daily High Tide and Low Tide Times
Instant alerts sent to your marina for various weather hazards
Marina Locator Directory and clickable logos
Four month complimentary trials offered under no obligation
Great Harbour Marina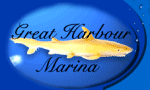 Great Harbour Cay Marina, located only 123 miles from Fort Lauderdale has 70 slips, fuel, water,laundry, showers, grocery, liquor, restaurants and pool. Car rental or taxi service is available as are bike rentals. Miles and miles of beautiful beaches can be reached by boat, dinghy, bike or taxi.
Brochures
Please view the below links for additional details on our products/services for yachting/fishing vessels